Timeshare - Surrey Vacation Resort/Carriage Place
Room H2A Handicap Accessible
May 1st - 23rd, 2012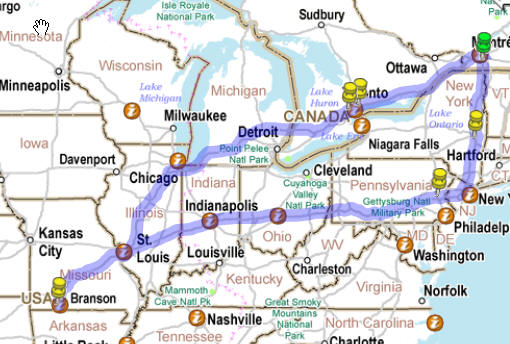 In Branson:
We left home on May 1st and our first stop was Toronto. We had lunch with my brother and supper with Kathy (our Cruise Critic friend that we met on our Bermuda 2011 cruise). The first day was the most we travelled as we divided our trip into 5 days of travel. The second day we crossed to the USA at Sarnia ON. I thought it would be better than Detroit, was I wrong. We were over an hour inching towards the customs on the bridge which is not the most reassuring feeling.
The rest of the drive was great we had clear weather and getting hotter as we were going south. We got all our hotels for $49.99 + tax with super continental breakfast except for Toronto which was 99.99 + tax.
We arrived around 1:45PM and were able to check-in and get our condo without waiting. I requested an H/C unit which is a one bedroom with roll-in shower and includes washer/dryer in the unit. We will have this unit for the next 2 weeks. The balcony overlooks a little man-made waterfall and stream and we can also see the pool, very peaceful out there.
We went for supper at the Olive Garden, one of my favourite and did some grocery shopping at the small Wal-Mart. There is still a lot of devastation on the main street. You can actually see where the Tornado passed. We did not book any shows for the first night as I new we would be tired from our drive.
We got up this morning it is 30C/86F with some clouds. We are relaxing today before the show tonight. Later during the afternoon we had lots of rain with lightning and thunder it was all done with when we left for the show. This rain also cooled the temperatures a bit.
We arrived 1h25m early for the 8PM show to make sure we got the handicap parking, there were only 2 left. I found out that they had a dinner for a group that was catered there. We exchanged our e-tickets for a paper tickets. The theatre is small so no matter where you are seated you will have a good view. We could not have been happier when we saw where we were seated. We were on the first row of the second section so we had lots of leg room and did not have to get up when people entered our row.
The show started with a comedian dressed up like an old man and would help people to their seats by sometimes walking all around or climbing over seats. Watching the people being seating this way was priceless. He was actually the preshow. He did a little stint on the stage with a walker and his pant braces getting caught in his foot and he would fall, it was very funny. He then removed his mask and we then saw he was a young man portraying this older man. He did a few more jokes before the show started.
The show started with Clay singing some country music songs. He then went down in the audience to meet people asking them where they are from and carrying on a conversation about them, it was very funny, and people do say the funniest things. The show consists of lots of dancers, a six piece band which most of them can sing on their own and do perform some solos during the show and back-up singers. Clay's son, about 12, also performs in the show he has been on stage since he was 18 months old. Here in Branson, most headliners have their family members perform with them. Clay also did a tribute to many country singers by singing some of their songs. He finished with a very beautiful song about America written by his wife.
We enjoyed the whole show, we loved the songs, we laughed at the jokes and we walked out of the theatre around 10:30PM feeling great.
This morning was a bit cooler but very sunny 18C/65F by mid-afternoon we were up to 26C/78F which is more the norm for this time of year.
We went out for groceries and took photos of some of the buildings hit by the tornado. They will all be torn down eventually. They are working hard on tearing down some of the buildings now.
What a wonderful talented family The Dutton's and I told their mother so after the show. We arrived early and found out that we were seated front row centre, could not have asked for better. We were expecting country music night but they sing everything from country to pop. The grandchildren also take small parts in the show. The 5 principle Dutton children (which are all grown with families of their own) do most of the singing and playing instruments, from violin to banjo, to guitars, playing violin on their knees or playing each others violin (see photo to understand that one). They also do a tap dance number very energetic and they do some comedic stints. Even the grandkids at the end are playing the violin. They do start them young and everyone one is very talented. This is another wonderful show not to be missed if you are in Branson.
Today it is cloudy with some sunshine with 21C/69F.
We took it easy today will only go out tonight for our show. Our condo is beautiful so it feels like a second home to us.
We arrived early again for the 7:30PM show. This theatre is immense it is 6 stories high, lovely fountain as you go in. It is the biggest theatre we have ever been in. We were not allowed to take any photos of the show, so I will do my best and try and described what we saw. The show is a combination of a play, musical with live animals like horses, camels, macaw parrot, sheep, donkeys, hairless cat. The animals and the actors arrived by the rear of the theatre with some of the animals, would also leave the stage the same way. The scenery kept changing and was does seamlessly, the stage sometimes went to the side of the theatre. Joseph was lifted a couple of times in the air during his dreams and the wires were attached without us seeing how it was done and the same with detaching again seamlessly. There are 42 actors and many animals at any given time. It is sure another show to see. They also have a theatre in Lancaster County, PA and Jonah is playing there until December 2012. The story of Joseph is about Joseph and his multi-colour coat, his father and brothers. Joseph is the son of Jacob.
Beautiful sunny day 22C/72F. These are very enjoyable weather days, no humidity.
We arrived again early for this show, it was at the Andy William's Moon River Theatre (by the way Andy will be performing again in September). The music from the Four Seasons really brought me back to when I was growing up. It reminded me also of cruising on Celebrity as they have a cappela group and they do a couple of numbers from the Four Seasons with the Celebrity Orchestra. We were seated in the very last row of the theatre, that is where the handicap accessible seats are located. If you are wheelchair bound your ticket is free, that is the way Andy wants it. But since Norman sits in a regular seat then we had to pay for the performance. We had the whole section to ourselves except for one couple, you will see what I mean when you see the photos. Each of the performers did solos and the 3 others where their backup. Another great performance.
Another sunny day and 22C/71F. We are so lucky with our weather.
Our show was at 5PM today. When we arrived at the Icon theatre the parking lot was full, there was a 2PM show with The Platters and it was just coming out. The Platters where saying goodbye to their fans.
This is a very small theatre and you sit where you want. It is on the second floor but they do have an elevator. We sat in the front. The Rat Pack (for those who don't know who they were they were Frank Sinatra, Sammy Davis Jr. and Dean Martin) were being portrayed by 3 singers that did not look like the originals, but pretended they were, they told jokes and sang all their favourites. They all did their solo and the finish was all of them singing together. During intermission, they mingled with their audience. By the way there were only 18 in the audience. This is not high season so traffic has been very light. Branson has much improved on their traffic dilemma compared to the first time we came in 2002. We were able to get a photo of them after the show.
After the show we went to eat at Ruby Tuesday's.
Today it is overcast 21C/69F.
We again arrived early, this show is played at the Hot Hits Theatre. Since it is downtown and there is only parking on the streets I was concerned about finding a parking close to this venue. I found out that all the stores close at 5PM and our show was at 7PM so there was no problem and was able to park in front of the door.
We were only 10 people to watch the show. This makes it up close and personal. We sat in the first row and of course Norman cracked a couple of jokes and had everyone in stitches, it was funny. There are 5 performers, that each does their own songs from the Motown era. We could sing all we wanted because the music is loud so no one can hear us. One of the singers came down and had us sing in the microphone. There was another person in the audience that they new and had him come up and do a couple of songs. It was another great show; we are having a great time.
We had another beautiful day today. We met, for breakfast, a couple that will be cruising with us in Aug 2013, they are from Arkansas and was in Branson for the weekend. We had a very nice visit. It is always nice meeting future cruisers before the cruise. Now when we chat on Cruise Critic Boards we will know each other.
Today's show was at 5PM as we were having supper at the Circle B. We were seated at a table for 4 but since they were not full we had the table to ourselves and all couples also had their tables to themselves. During supper we were watching an old movie with Roy Rogers and Dale Evens really brought you back to the fifties.
We had free popcorn while we waited for supper to be served. They served ice tea and ice water in jugs, so you had plenty. Our meal consisted of a breast of chicken (it was so tender and juicy) with baked beans, potato wedges and apple sauce. We also had cornmeal buns. For desert we had a cinnamon bun with coffee. It was a dinner that the cowboys would have eaten on the road. We also watched a little of the Long Ranger show. Then the show started. It is a family show. They sing cowboy songs that came from Ireland and were adapted by our cowboys here in the West. One of the daughters danced an Irish jig. It was a great show but not the best we have seen so far.
Today it is sunny with cloudy period's 24C/76F.
We were all excited about our show today which was Rock around the Clock with Bill Haley's Original Comets to find out it was cancelled, there were only 6 tickets sold for this performance. We tried to change it for another performance during our stay but we were already booked for their other dates. The lady at the counter was so nice, she was able to find us another show we could see and enjoy. It was the Rankin Brothers Western and Gospel show. This show was at the Clay Cooper Theatre and since we had already been to Clay's show, we would get a discount. We were able to make the show with extra time before the show started. The first part of their show is the Western part and the second part is the Gospel part. Matt Rankin does most of the solos and interprets the artist that he is portraying. He is very good, has a great voice. The back-up singers also perform solos when it was a female singer they were portraying. We saw another great show and very pleased that we did see them.
Another beautiful warm sunny day, though they say they need rain, we have had only one thunderstorm and it was during the night.
This afternoon we decided to go visit the Titanic Museum again, we were there last in 2008 but since it is the 100th anniversary and there was an extra exhibit of personal effects of Margaret Brown (she was never called Molly as was depicted in the movie with Debbie Reynolds). When we enter we each get a audio set to follow what we are seeing in this exhibit. We cannot take any photos. This is the best Titanic museum we have seen. We saw the one in Halifax and it cannot compare at all to this one. This one has lots of memorabilia recovered from the ship, photographs that were taken by a minister called Brown who took lots of photos of passengers on the ship, even a little boy playing with his spin top. He got off the ship in the last port of call before the Atlantic crossing. Also when we enter the museum we are giving a card with the name of one of the passenger and towards the end of the museum tour there is a wall with all the names of the survivors and the ones that perished so you can see if yours made it or not. It is certainly a museum to see if you are in the area. There were a few of the passengers that were from Missouri so that is the reason for this museum.
Our show started at 8PM and we try to get there an hour earlier, but what we did not know is that there is a pre-show at 7:15PM we just made it for that. A great pre-show with just one man telling lots of funny jokes and did some singing. It lasted for 30 minutes. The show started promptly at 8PM, as all the shows do, this show is primarily made up of a family called Mabe, and they have been doing it for 53 years, they were the first show in Branson. They have 7 musicians and the singers are all family. Another very talented family and great show with lost of country music and lots of jokes. These are all clean family shows, which you can bring your children to watch.
It is 27C/80F today with no clouds to be seeing. That is a good thing since our show tonight appears to be outdoors.
Our show tonight was at 8:30PM and it was outside. First we arrived in the parking lot and a little jeep pulling a trailer where we would embark and be driven to the theatre. We were able to bring the scooter as we were seated in the H/C section. We had a big ramp to go down to get to this section, so I mentioned to the attendant that Norman will need a push to get up that ramp after the show. The show is a story about the Sheppard of the Hills and it was like watching a western show. There was even a party with square dancing and at intermission they asked members of the audience to join them down on the stage for a little dancing. The sky was so clear we could see the stars and saw the big dipper.
They ride horses, buggies even a heard of sheep came running through. One of the actors also arrived in a horseless buggy, one of the first cars. At one point the bad men set fire to this cabin, it is a little scary but I guess they know what they are doing. It was a nice story and we enjoyed the show.
After the show, two young men appear at our seat and said they would be the pushers up the ramp, they did a great job. We boarded the wagon again back to our van and we were on our way. Another great evening in Branson.
It is 24C/75F and sunny with no clouds. Another perfect day.
This show was at 8PM and was located in the Grand Country Music Hall which is a small mall with some specialty stores, buffet restaurant and the hall where the shows are seen. The show starts off with two comedians dresses in weird colour clothes. They are very funny. Then the Jamboree singers and orchestra (7 musicians and 4 singers) perform for us lots of country songs, some we new and some we didn't. Two of the singers are also great dancers and performs two dances for us with the other two singing. There is also a solo country singer and each of the musicians is showcased playing their respective instruments. One of the guitarists also plays the fiddle and other type of string instruments. The comedians came out in between sets and get members of the audience participating in games, very funny. The audience members that participate get two tickets to any other show that is performed in this theatre. Another great show.
May

17th -
IT - dinner and show
Another sunny with no clouds and 32C/90F, we really lucked out on the weather, this is the time of year to visit Branson and there is no humidity. The last two times we came at the end of June and it was very hot, really hot.
We first went to dinner at the Hughes Bros. theatre for 6:30PM; they have a nice candlelight dinner in the balcony of the theatre. The dinner was just OK but it was a nice atmosphere.
The show started at 8PM. There are 5 Hughes Brothers that sing together and do solos. Then their kids sing also together in groups according to their ages. A 16 year old plays the piano another one (12) played the drums and a 14 year old daughter did a solo. The first part of the show the songs were between the 60s and 80s, then they brought out all their kids by family and then the oldest came out with 13 children in tow. Very impressive, I asked the father how many grandchildren he had and he answered 33 and counting. All the children except for the babies participate and sing in the show. It is amazing to see the little ones as small as about 4 holding their mike like pros. After intermission they sang Broadway songs and all of them participated in one song or another. They changed costumes according to the Broadway show they were singing about. The kids were so professional it was very nice to see. They are all homeschooled. The show then saluted all the veterans (that is one thing that all the shows do every night) and finished with some Gospel songs. This is the best show we saw and I highly recommend it to anyone coming to Branson. Thank you Brenda and Kenneth for suggesting IT to us. It was a nice finish to our two weeks here.
Another sunny hot day here in Branson 32C/90F. Today is packing day as we leave tomorrow morning for our trip home. It has been very nice being here, the shows were all wonderful and glad we did spend two weeks here. The condo was absolutely great, could not have asked for a better location.
We left Branson on the 19th. It was sunny and warm all the way until we got to Pennsylvania were we got some misty rain. We took a different route home as we were going to meet some of our cruising friends in Allentown, PA on the 22nd. We had a nice visit, spent the afternoon with them and finished with dinner. The next day we were headed to Albany, NY for our next stop then home. It was nice to reach home after doing 4,840.8KM/3008MI round trip. We enjoyed our trip, our two weeks in Branson with all the shows we saw and our ride home.
Until next time...
Last updated: May 26, 2012 05:58 PM