Branson MO
Timeshare - Surrey Vacation Resort/Carriage Place
Room I-003A Handicap Accessible, one bedroom
May 11th - June 1, 2014
Branson Shows:
May 8 - 11th travelled to Branson
We started early on May 8th for our first leg of our trip. We reached Toronto around 1:30PM and had a nice visit with my brother. We then drove to Mississauga to check into our hotel and my childhood friend and her hubby were waiting for us. We had a nice supper with them then returned to our room and we chatted to almost 10PM. We have been friends since I was 2 and she was 3. It is a long time to have such a great friendship.
We left Mississauga on May 9th around 9AM and headed to the 401 highway and reached the boarder around 2PM. We were very surprised that there were only 4 cars ahead of us, so about 15 minutes and we were through. Our stop that night was in Fort Wayne, IN. We had great weather all day.
May 10th we left again around 9AM and headed towards St. Louis MO where we were stopping again for the night. We did have a little rain but nothing to bother our driving. Most of the day was sunny and not too much traffic.
May 11th we left again around 9AM and headed for Branson, our final destination. We had a shorter day only 3h30min of driving time. We had sunny weather all the time.
May 11th - Arrived at our Condo in Branson
We arrived around 2PM to check into our unit but it was not ready so we went to get some groceries and received a call telling us our unit was ready this was about 3PM. We unpacked and we are now all installed for the next 3 weeks. All our shows were ordered and we started with the first one tomorrow at 2PM. We had a beautiful unit and free Wi-Fi which is a big plus. This unit also has a washer/dryer combo. Our condo was located between the RED and YELLOW routes on route 165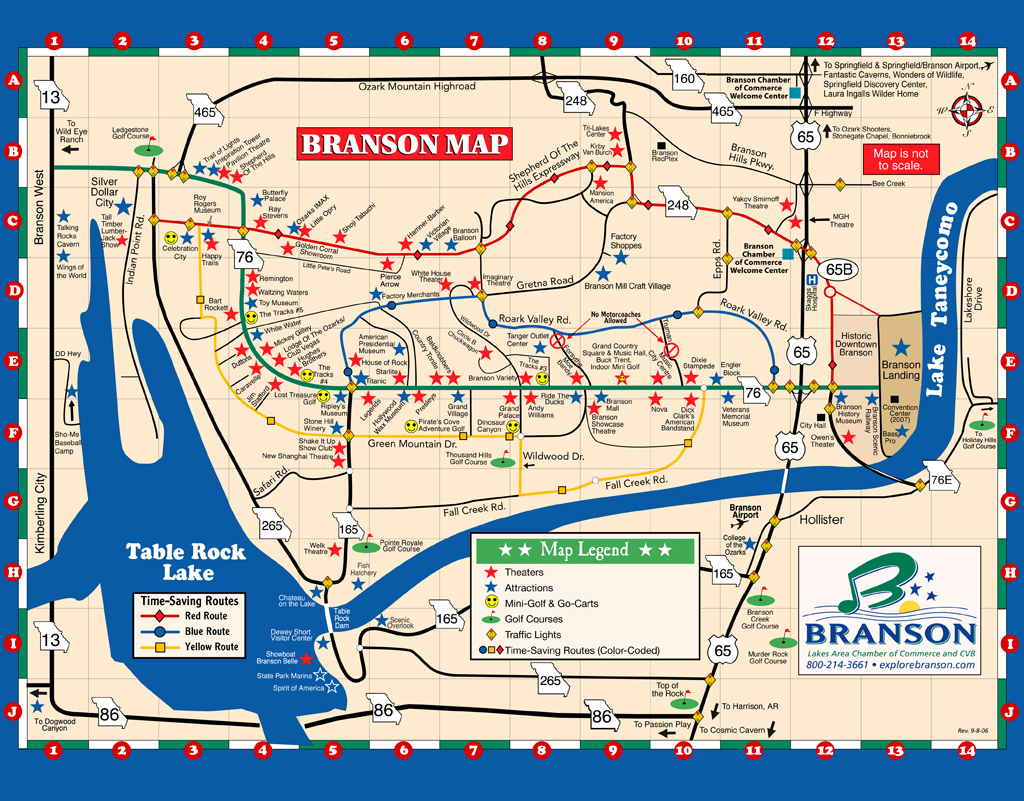 It was sunny today 81F. We picked up our ticket vouchers at Save on Branson with the list of shows in order of date. We then went to Fuddruckers for lunch.
Our show today was ABBA Tribute: Thank you for the Music ($32pp) at God and Country Theatre. The group sang all our favourite ABBA songs and gave us some history of the group. They also sang some less popular songs. There is a dance choreographed for each song. The group had great voices. If you like ABBA songs this is the show to see. The group (Henry, Eric, Chelsea and Ashley) is called Thank you for the Music and some of the songs they sang were: Mamma Mia, Waterloo, Take a Change On Me, Fernando, The Winner Takes It All, S.O.S. and the finally was Dancing Queen where they get the audience to stand, dance and sing with them.
Today the weather turned cold, it was 50F and cloudy, what a change from yesterday.
Our show today was Jonah at the Sight and Sound Theatre and the show tickets were $47.99/pp. This show is a big production that takes about 3 years to come together, there are many professionals that work on making this show a success. There are approximately 50 performers and many real animals. The actors come in from the stage or each aisle passed us. The stage is 180° so you have performers in front and/or either side of the stage. There were two acts, act 1 covered the Prologue, Jonah's Hometown, God's Call, Jonah Escapes, Jonah on the Run, Joppa Boat Dock, Setting Sail, The Storm. Act 2 was Under the Waves (where the whole audience felt as though we were under the sea), In the Belly of the Whale (interesting way they showed Jonah in the whale's belly), Spit out on the Beach, Meanwhile back at Gath-Hepher, The Gates of Nineveh, Preaching in Nineveh, The King's Palace, 39 Days, The Hilltop: East of Nineveh, The Plant: Day 40, The Worm The Wind The Sun, Finale. There is no photography allowed. This was a great show. It is a play/musical. You can see some photos on this link and choosing the photo tab
May 14th - 3 Redneck Tenors
This morning was 48F and raining. It will get warmer and nicer as the week goes on.
Tonight we saw the 3 Redneck Tenors ($35pp) at the Andy Williams Moon River Theatre. The handicap seating is the last row at the top of the theatre. We had an usher with us all the time as half the theatre is no longer used at this time of the year. The handicap sitting will be down nearer the stage any day now but they are waiting for the city to approve it. The first part of the show is lots of joking around telling us how they grew up and that the TV shows were their babysitter, they sang lots of the TV theme shows of the 50s, 60s and 70s, which always brings back lots of good memories. These tenors have great voices even one has a countertenor voice which is a very high voice sounding more like a woman. We get this sometimes in our operas that we go to see. After the intermission, the tenors came out dressed in their tuxedos and performed famous arias from the operas and famous songs from Broadway shows. This was another show that we really enjoyed.
May 15th - Almost Famous Murder Mystery Dinner Show
This morning it was 64F and sunny, much better than yesterday. We are having good night sleeps, our bed is very comfy.
Tonight's show was Almost Famous Murder Mystery Dinner Show ($39.99pp) at the Branson Central Theatre. Before entering, there was the usual photo op, which we did not take, still have the one from last time. We were escorted to our table of 4, we were joined by a mother and daughter from Florida. The waiters are also the cast of the show. The show is about a famous Hollywood couple that just got married and are honeymooning at this Bread and Breakfast. There is also another couple staying for the same period and all antics break loose then all the lights go off and we hear a shot, the bride was killed. We have to guess who did it and the person who guessed right won a prize. What was fun is the audience could partake so guess who did, of course, Norman. The supper was chicken with rice, potatoes and green beans. The appetizer was a salad and homemade bun, dessert was cake. The chicken was very dry so we did not eat much. We enjoyed the show even though I found it a little amateurish.
May 16th - IMAX - Rocky Mountain Express
It is getting warmer, we got up to 68F today overcast most of the day.
We went for a drive to find where Silver Dollar City is located as we will be spending two day there next week. It is about 5 miles out of town.
We then came back, had some lunch then went over to the IMAX to see Rocky Mountain Express. This is the story of how the Canadian Pacific Railway built the railway across Canada from Vancouver to Montreal. There were some stunning views of the Rocky Mountains. It was very hard and lots of life lost while building this railroad. It was William Van Horn from Illinois that was given the task to getting it built. He did it less time that was scheduled to do.
May 17th - "IT" By the Hughes Brothers
It is cooler again today, only 58F but sunny with some clouds.
We went back to the Sight and Sounds Theatre for the Back Stage Tour. The tour is $5pp and last about an hour. It is well worth it, you get to see the stage where they explain how the audio and lighting works, back stage, the animal dressing room, a short video on how sets are built and the actor's dressing room. The Sight and Sounds Company have 700 employees where 200 of them in Branson. In the current production of Jonah there are 48 actors and 3 sets of 5 children actors. They are currently doing 9 shows a week. We had Jan (who plays Jonah's mother) and Eric (who is one of the pirates) guiding us around. It was a very nice tour and we were glad we did it once we had seen the show.
Our show for tonight was "IT" with the Hughes Family ($36.71pp) at the Hughes Brothers Theatre. This is a show that the whole family partake there are now 38 children with the 5 brothers and their wives. The five Hughes Brothers have been harmonizing since the youngest brother, Andy, was two years old. Oldest to youngest they are Marty, Jason, Adam, Ryan, and Andy. They are married to Cindy, Mara, Vikki, Carina, and Becky, respectively. Marty & Cindy have 14 children. All five of the Hughes Wives were either singers, dancers or actors before they married into this amazing family. They all perform in every show, singing and dancing. And they each help the kids in rehearsals for their part of the show. Hughes Brothers are the "World's Largest Performing Family. This show is not to be missed.
May 18th - Paul Harris & The Cleverlys
A beautiful 74F and sunny. The warmer weather is back.
We went over to the Tanger Outlets, there are a lot of them, and almost any store you can think of is there. We walked around bought a few things and came back to the condo where we had our supper before leaving for the show.
We went to the Paul Harris & Thye Cleverlys ($36.27pp) at the Starlight Theatre. Paul Harris is a comedian/singer/guitar player. He starts off his show with a comedic act mostly on the Ozarks, he was very funny but we did not get every joke. He then brings out his group and they do a set of blue grass songs. After the intermission, Thye Cleverlys, which are the same group but dress up differently and using a different persona. They also sang more pops songs with a blue grass tone. We would not go back to see this show, it was just not up to our expectations.
May 19th - Adventures of Marco Polo & Dinner Show
Today it was 82F and sunny. It will be getting warmer as the week progresses.
We arrive for the Adventures of Marco Polo & Dinner Show ($53.26pp) at the White House Theatre, what we thought was early, but found out that the supper was already being served. We were sat at a table where there was no stairs but a ramp, easy access. Our supper consisted of a salad, teriyaki chicken, pilaf rice, green beans and for desert a bread pudding with a vanilla sauce. The show started promptly at 7:30PM. The story was of Marco Polo in China. The show had lots of graphics and moving sets with an international cast of more than sixty magnificent dancers, highly skilled acrobats, and Chinese illusionists showcased in over three hundred lavish costumes. I did take some photos but was told that I could not so I do have a few to share. When we went out to the lobby, all I could find was no video and audio taping so I do not know why I could not take still photos. We enjoyed the show.
May 20th - Dancin' through The Ages
Today is another sunny beautiful day, it was 73F this morning but did reach 89F in the afternoon.
We went to Dancin' through The Ages at the God and Country Theatre. The first part of the show was songs of the 30s & 40s, with some dancing, there was not as much dancing as we thought there would be. After the intermission the songs were from the 50s. We enjoyed the show very much, the costume changes for each song and the dancing even though there was not that much. There were three performers, husband and wife plus an extra female singer. It was very entertaining and a walk back into time especially for my hubby.
May 21st - New Jersey Nights a Frankie Valli & Four Seasons Celebration
Our day started off at 77F but going up to 92F by mid-day a beautiful and sunny day.
Our show today was at 2PM - New Jersey Nights a Frankie Valli & Four Seasons Celebration ($38pp) at the King's Castle Theatre. It was a great show, great singers, great dancers, music of Frankie Valli from the 60s to the 90s. They had the crowd moving in their seats. Before the show, there was a group of high school kids from Kansas that performed for the audience. This is a theatre where you are not allowed to take any photos of any kind. The first time we came to Branson, this theatre belongs to Bobby Vinton, the last time we came it had changed to Branson Variety Show and now it is the King's Castle Theatre. Lots of theatre change names and or venues.
May 22nd - Hollywood Wax Museum
We had another beautiful sunny day today with temperatures in the high 80s.
We had no show for today so we decided to visit the local Hollywood Wax Museum ($17.80pp). I did take lots of photos of most of the figures. It did not take that long to go through the museum, so we then decided to go shopping. It was a very light day for us today.
We had another beautiful day sunny and high 80s.
We saw a wonderful show about six brothers, zero instruments and all music, the show SIX ($34.99pp) at the Mickey Gilley Theatre. The brothers are Barry (known for his solid falsetto and rich mid-range, he also provides his own distinctive horn to the overall sound of SIX), Kevin (strong vocals and sound effects as unique as his hair), Lynn (powerful vocals lend rich depth to the natural genetic blend), Jak (bass of the group), Owen (vocal percussionist), Curtis (vocal electric guitar). They sang everything from the 50s to today. They also showed us a movie where, with their vocals only, made all the sounds of the cars, trains, horses and more in the movie. This is a show not to be missed, we were glad we got to see them.
May 24th
-

Dublin's Irish Tenors and the Celtic Ladies
Bee Gees and Beyond

Another beautiful sunny day mid 80s.

We had two shows today, our 2PM show was Dublin's Irish Tenors and the Celtic Ladies ($38pp) at the King's Castle Theatre. There are five Irish Tenors and four Celtic Ladies. They each share the stage for some songs and they are together for others. They sing lots of Irish songs, some opera and pop songs. Their voices are very rich and have been compared to the richness of Irish cream. These are some of the hits they sang: Scarborough Fair, Danny Boy, You Raised me Up, Rolling in the Deep, O Sole Mio, Smile, We Are the Champions, Scottish Favourites and Iris Classics. This is another show not to be missed.

Our 8PM show was the Bee Gees and Beyond ($32pp) at the God and Country Theatre with intense vocals, high energy dance and historical narrative synergized to bring us the best of over three decades of the Bee Gees songs and also included the hits of Andy Gibb. This is another show we really enjoyed. If you love the Bee Gees then you should not miss this show.
May 25th
-

Silver Dollar City Special 2-Day Ticket-Day 1

A beautiful sunny day 86F.

We left around 11AM for Silver Dollar City ($68pp for 2-day ticket) to spend the day. The traffic on our way there was unbelievable, bumper to bumper. I thought that everyone from Branson must have decided that today was the day to visit Silver Dollar City. They have free parking where they provide a shuttle to the amusement park or paid valet parking ($30) which makes your parking closer to the entrance. The Handicap parking is free and located where the valet parking near the entrance. Since we already had our tickets, we proceeded to the entry of the park. We first took the complementary train ride which is a 20 minute ride around the park. They do have some actors that do stints throughout the park. There are also musicians that play for you. This month is the House of Barbeque located at the Red Gold Heritage Hall. The size of the plates was huge so we both had a child's portion which was more than enough. While we were eating, there was a trio of siblings The Burie Family singing blue grass songs. We walked around and did about half of the park before we decided to call it a day. We will be back on Tuesday.

Another sunny day with mid 80Fs. Everyday they say possible thunderstorms, which we had some late this afternoon.

It was a quiet day today I was not well last night so we took it easy today. We have a big day tomorrow at Silver Dollar City.
May 27th - Silver Dollar City Special 2-Day Ticket
Today it is 82F but feels more like 93F. When we got to Silver Dollar City it started raining a lot, so we took out our ponchos and proceeded to the gate, once passed the gate the rain stopped and the sun came out not long after that.
Silver Dollar City had a handicap parking that is free and close to the entrance. The free parking for others you need to take a shuttle to get to the entrance. Since we had a 2-day ticket we went back today. We had done the right side of the map on Sunday so today we did the left side of the map. I thought there were lots of hills on Sunday but nothing like today. We headed to the end of the park which was downhill all the way and really downhill. We kept going down and down and down. The last building on that side was the Opera House were we headed to listen to the Gibson Brothers who are a group that sings blue grass. This week is the Blue Grass Festival, so all of the venues that had groups singing were all Blue Grass. We also listen to Lonesome Road group. Coming back from the Opera House, now it was all uphill, Norman's scooter, being very light, does not do hills very well, so I have to push to help him, well I was having problems myself with my breathing, so a young couple gave Norman the push he needed to make it up the hill and I had to stop to recuperate before finishing this climb. We are always very thankful when people offer to help when we really need it. We then went for lunch but made sure we stayed on level ground. We had a buffet then decided to head back to our condo. We had a nice time there, but would not do it again knowing how steep the hills are.
May 28th - The Texas Tenors
Today we did have some rain and it was a little cooler today only 75F.
We had an afternoon show today at 2PM. It was The Texas Tenors ($43.53pp) at the Starlite Theatre. What a great show, great group, great personalities. They sing everything from country, gospel, pop, opera and many more genres. I took lots of photos Marcus even stopped singing while I took his photo when he was in the audience. John is the one who arranges all the entire vocals for the songs that they sing. They all have wonderful voices that blend perfectly together. They were finalist on America's Got Talent in 2009. We saw them on our Oasis Cruise in 2010. We enjoyed them then and more so today. If you ever get a chance to see them don't miss it. They have also done a PBS special in November 2013.
May 29th - Dolly Parton Dixie Stampede
Today, we did have some rain and the temperature is 75F but should reach low 80s.
Our show today was the Dolly Parton's Dixie Stampede dinner attraction ($55.79pp) at the Dixie Stampede Arena. Since we arrived early, we had time to visit some of the horses in their stalls. We had a pre-show with a juggler he was fantastic and even Norman thought so. Then we go into the arena for the main show. The arena is divided between the North and the South and many events are competitions between the both sides. We were on the North side and we won. The horsemanship was fantastic, the comedic acts are funny. They also include people from the audience in some of the competitions. There are different animals that take part in the show, like buffalos, pigs, chickens, horses.
Our meal which was eaten without utensils included a mouth-watering tender whole rotisserie small chicken, delicious hickory smoked barbecued pork loin, Dixie Stampede's original creamy vegetable soup, scrumptious homemade biscuit, hot buttered corn on the cob, tasty herb-basted potato, Dixie's very own apple turnover dessert, unlimited soda, tea or coffee. We are even encouraged to take some home, which we did.
The last time we saw this show was in 2008, some of the show has changed which is nice to see that they keep updating their shows. No photos allowed during the show, but you can take some during the pre-show and the horses in their stalls. This was another great show not to be missed.
May 30th - Le Grand Cirque
Today we have more rain in the forecast with 73F and moving up to mid 80s.
Tonight our show was at 8PM Le Grand Cirque ($17pp) at The King's Castle Theatre. The reason our tickets were so cheap this was our 3rd show at this venue that we have done so we got a rebate. I am glad we did not pay any more than we did, this was the worse circus show that we have seen. There were lots of mistakes. The ribbon acrobats were better on our Celebrity cruises than these were. The only event that was good was the two motorcycles and a lady in the middle in this sphere driving round and round. Out of all the shows that we have seen, this has to be the least one that we enjoyed. We can't win them all.
Today is our last day in Branson we will be leaving tomorrow morning for our drive home. It is 77F but will be going up to 90F today with threats of thunderstorms.
We had an 8PM show The Duttons ($30pp) at The Dutton Family Theatre. We saw them in 2012. It is a family run show where the 5 siblings sing, dance and play multiple instruments. There are 26 grandchildren and most do perform somewhat in the show. Most of the siblings can each play multiple instruments. They play songs from blue grass to pop. They are a very multi talented family even the parents play in the band and sing. Tonight was a special night there was a VIP event before the show out in the parking lot where food was being served. They are big supporters of the St. Jude Hospital in Springfield where one of their grandsons was treated for leukemia. They had the children up on stage with their doctor. It was very touching. We don't like repeating shows that we have seen, but like this one, well worth seeing it again. In the winter they move to Mesa, AZ where they perform there. If you ever visit Branson, this is another show not to be missed.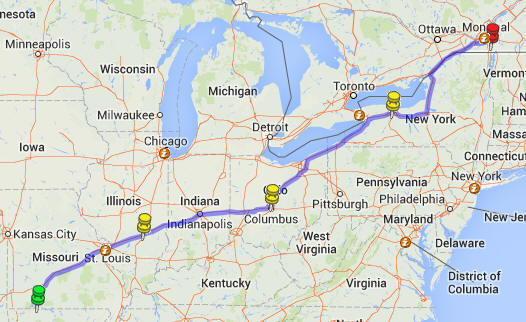 We left June 1st at 9AM, sorry to leave Branson, we had a great time. Our drive today was good, we had rain most of our last hour of driving, and our first stop was in Effingham, IL.
June 2nd we left Effingham, IL at 8:45AM. We had a great day again for travelling, lots of heavy clouds but no rain. The last hour of our travel the clouds thinned out. We are now in Columbus, OH. We have a nice room with roll-in shower.
June 3rd, we left Columbus, HO at 8:45AM. Another great day for driving, mostly sunny. We are now in Rochester, NY. Another nice room with a roll-in shower.
June 4th, we left Rochester, NY around 8:45AM. We had cloudy with some sunny skies today. Traffic was light, roads were good. We made it home at 3:30PM. It is good to be home.
We had a great time in Branson, even though you might think it is a Country and Western city we did not do any of the Country Music this time. We did mostly 60s and pop music. All the shows were great except for a couple.
We had a great condo which was located in the centre of the action. We were situated between the green and yellow routes on route 165 (see map), could not ask for a better location. Our condo made us feel like home with all the conveniences of home.
The weather at the beginning was on the cooler side but did warm up on the last two weeks. We only had a couple of times with rain.
We would go back in a heart beat who knows maybe we will.
Until next
time...
Last updated: June 05, 2014 07:13 PM