Cruise to Western Caribbean
Jan 22 - Feb 5, 2011 B2B2B
(Celebrity Century: Cabin 5062 cat 06 OV - H/C)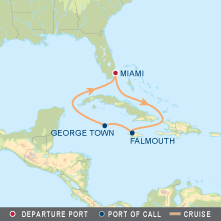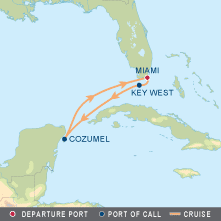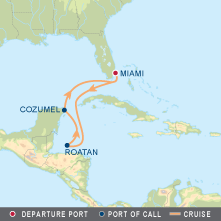 We flew out of Montreal on Jan 15 with a direct flight to Miami, this was the most perfect weather we could have asked for. We arrived at Miami airport on time, recouped our luggage and proceeded to take the shuttle bus to the car rental building. Once in the car we had arrange to meet my brother and his wife in Miami, as they were taking their cruise on Sunday. We had supper at Olive Garden. It was so good, just love Olive Garden.
We registered for our condo in Weston and had reserved a handicap unit, A unit which has a full kitchen, handicap bars and roll-in shower in the bathroom. We also have a king size bed and a Jacuzzi in the bedroom. Each unit also has two TVs. Our unit is very clean and has everything you need, including a dishwasher. All the convenience of home away from home.
The next morning we did our groceries at Publix which is about 2 miles from the condo. Love shopping in the US, they have so much more choices than we have in Canada.
We are resting up for our upcoming 5 cruises that start this Saturday. We are enjoying the nice warm weather that has arrived in Southern Florida.
We left our condo around 9AM this morning and went for breakfast at the Weston Dinner. It must be the place in town, it was almost full. Then refuelled the car and off to the Miami Airport to return our rental car. Took a taxi from their, cost $26 + tip. We arrived at the Miami port terminal at 11:45AM. The checking went smoothly and we were on board by Noon. Since our cabin was not ready before 1PM we went up to the Resort Deck to the Island Café. We had an egg salad sandwich, the bun was so fresh. I did go down to see the Maitre D' to see where our seating was and requested that it be changed. He sent us a new table assignment on Deck 6. Our first assignment was on Deck 5, but since our cabin is on Deck 5, you would think that this would be a great assignment, but we can't go all the way through from AFT to FRW on this deck. On Deck 6, which is the Promenade Deck, we can circulate all the way, makes it much easier with the scooter.
We had our Muster Drill in the Celebrity Theatre. Though we do not have to bring our life jackets, they do show us how to put them on, if needed.
I had organized a Sail Away, with our Cruise Critic friends, at the Sunset Bar on the Resort Deck. Only Ellen and Art showed up. The Celebrity Eclipse, the ship that we will be taking on Feb 5th & 12th, was docked just behind us, sailed away at 4:30PM. So got lost of pictures and also the location of our cabin. Our sail away was at 5PM. It was quite breeze up on deck and overcast.
We got a new table on deck 6, which is good for us, but the Maitre D' placed us, again, in the far end of the dining room. We decided to say with this table as we met some very nice people, actually both couples are first time cruisers, nice to see they enthusiasm. Will speak with the Maitre D' to try an get a table near the entrance for our next cruise.
The show tonight was Celebrity Showtime: A Taste of Things to Come. This show introduces the performers to come during the cruise (ie Celebrity Dancers & Singers, Celebrity Orchestra, our Cruise Director Mike, Activities Manager, Justin Wade a guitarist that plays in the Cova Café, Will a pianist that plays in Michaels club (we will sure look in on both of them as they were excellent), the comedian and Aerialists. We have some great shows coming up.
When we got to our cabin, the Captain made an announcement, around 10:30PM, that there was an medical emergency and that he turned the ship around and we were heading back to Miami where the Coast Guard helicopter will meet the ship and airlift of the patient. He wanted everyone to stay inside, not to use any flash photography. The ship normally has to go back to around 150 miles from Miami, because that is how far a helicopter can fly round trip. We hope the patient will be ok. The Captain made several announcements all over the ship and in our cabins.
Today we woke to up 71F/22C and overcast. It is breezy as everyone on the upper deck are wrapped up in towels and blankets.
The Captain announced that since we had to return to Miami area last night, we will be in Ochio Rios only at 12:30PM instead of 9AM and leave at 6PM instead of 5PM. I am sure some people will be disappointed but they should still be able to make some of the excursions.
We had a late breakfast, as we often do when on the ship. We walked around the ship, this is a smaller ship so the walk around is very quick.
Tonight is formal but before dinner we have a Cocktail Party for all Captain's Club Members from 5 to 6PM in the Crystal Room. We saw the Hotel Director and he promised to fix our dining table situation for the next 2 cruises on Century. We dined alone tonight, I think the word formal scared our newbies. Hope we see them tomorrow.
Show tonight is Celebrity Showtime: A Touch of Broadway. It was a great show as always.
Woke up this morning to some sun with clouds, it should be in the 80s today.
The ship got clear for debarkation at 12:55PM. Lots of people were crowding in the stairs near the gangway.
It is nice a peaceful on the pool deck, lots stayed on board but most are off the ship. This cruise has about a dozen young children, under school age.
Tonight's show is the comedian: James Stephens III. He is a great comedian and impressionist.
After the show there was an Island Dance Party at the pool area. Lots of dancing, some fresh fruit with chocolate sauce, yummy...
Another great sunny with some clouds. The temps should be about 84F today.
This is a tender port and it is amazing to see 5 big ships floating around, there is the Norwegain Dawn, One of the Disney Ships, the Carnaval Valor and Carnaval Legend along with us.
We are relaxing at the pool deck, it is amazing but quite a few have stayed on the ship, I would stay more than yesterday.
At 4:30PM today there was another Captain's Club for the Select and Elite Members: Wine Appreciation 101 Seminar. The Head Sommelier will teach us how to taste and compare several wine varietals and styles.
The show tonight was Celebrity Showtime: Dance Around the World. This was another great show, nice seeing the different dances around the world. What always amazes me is how many costume changes they do and they have such a small space do to it in.
After the show we went to the Newly-Wed, Not-So-Newly Wed Game Show, always fun to watch. They ask the wife questions while the husbands are out of the room and then the husband need to answer the same questions and try to guest what their wives answered, then it is the husbands turn to answer questions and then the wives have to guess. Always a laugh.
Then they had a battle of the 80s and 90s songs by dividing the audience in two. They would play a song then the audience of that decade had to finish signing the song. It was so much fun and really loud. A good way to de-stress yourself.
Then it was Late Night Comedy with James Stephens III. He is so funny, did his comedy routine without any profanity and he plays mostly off the audience. It went well over an hour. We got to bed what pass 1AM. We both Felt like kids again, a nice feeling.
We are on our way back to Miami, a beautiful sunny with some clouds and a nice breeze. it is low 80s again today, just a beautiful day. The pool area is full, no loungers to be found.
We had the brunch this morning in the dining room. They put on this wonderful spread, with ice carvings, chocolate fountain.
We are on deck 12 listening to Justin Wade (guitarist/vocalist), he is very good, nice and relaxing.
Watched the Officers vs Guests Volleyball in the pool, fun to watch, the Officers won.
Will (Pianist) and Justin (guitarist/vocalist) Jam in the Cova Café. Both of them are soloist but they do make a great team.
Show tonight was Kimika, high energy show with great music, great songs. Nick and Tina spend most of their time entertaining audiences all over the world. Another great show.
The temps are getting colder now, it is 68F. This is still warm for us.
Woke up early this morning, 6AM, that is real early for us. Temps this morning were a chilly 55F sunny with no clouds. The temps should get to 70F/21C during the day.
Debarkation is going as planned. We have to meet at 9:30AM for our turn-around in the Martini Bar.
The turn-around was pretty effortless, we proceeded to Immigration, showed our passports and re-boarded. For the moment we have the ship to ourselves.
This cruise is the SOAP CRUISE and I am registered. So lots of events over the next four days. Today started off at noon with registration, at 2PM a Meet and Greet, got lots of pictures of my soap stars, I watch only the Young and the Restless and The Bold and the Beautiful.
Had our Sail-Away after Muster Drill. There were 6 of us, small group but we chatted alot.
We got a great table, near the window and near the door with space to park the scooter, so all is good and we will have the same table for the next cruise also. Met our tablemates, we are at a table for 8, nice group.
The Show tonight was Celebrity Showtime: A Taste of Things to Come. Same show as last week, still good.
After the show, there was Dancing with the Soap Stars, again got lots of pictures. It is fun interacting with each of them, we are all like star struck kids.
Another late night and have an early morning tomorrow.
This was an early morning as the ship docks in Key West from 7AM to 1:30PM. It was cool this morning around 58F but was going up to 70F/21C.
We had breakfast then we were meeting Joyce & Gordon (from our last Bermuda cruise). They were vacationing in the Keys so we had arrange to meet. We walked around, found and coffee shop to sit and chat. They we walked back to the ship and sat on a bench and continued to chat. It was nice seeing them again. They will be off to Barbados in a few days.
Back on the ship, the Soap Opera Cruise continued. From 2PM to 3:30PM there was Act it Out and Q&A Session. Some of the guest wrote scripts and had their favourite actors act them out. It was funny. Cathy's script was picked out, so that was fun to watch her and her daughter. Then followed the Q&A where the members of the audience could ask any question, nice questions and interesting answers.
We had the Captain's Club Celebration Cocktail Party for the Select and Elite members where the Captain and his officers mingle with the members.
Tonight was formal night. I am finding that less and less people of dressing up for the formal nights. Some men don't even wear jackets.
The show tonight was Celebrity Showtime: Touch of Broadway which we already saw last cruise.
Soap Opera Cruise tonight had Talent Night & Karaoke. We all gathered again for a fun night of Karaoke. When a guest went up to sign, they would choose a star or stars to sing with. Some of the stars have beautiful voices and some should keep their day job. It was a fun party.
Jan 29th Cozumel, Mexico
We woke up in Cozumel, it is 80F today sunny with some clouds.
We had lunch then met up with Cathy (my soap buddy) and we met later again to go over to Senior Frog's for the Beach Party. The one person I wanted to meet arrived there (Don Diamont) and stood about 5 feet from me taking pictures with everyone. I got my picture and autograph, so I am a happy camper. Cathy, her daughter and myself spent a couple of ours there, watching guests playing volleyball. It was a beautiful sunny warm day at the beach.
We had supper then went back to our cabin, Norman caught a cold, so we will be spending a quiet night.
Tonight the Entertainment is James Stephens III: comedian and impressionist. Since we saw this show last cruise, we decided to pass on it.
When we woke up this morning, another sunny but it was cool 66F should go up to 75F during the day.
After breakfast went to Star Chef's Cooking Competition where two of the chefs with two audience members where them make up a meal from the ingredients that is available. They are jugged on presentation and flavour.
Next was back to the Soap Opera events with Bingo and Q&A Session. Bingo master was Don Diamont, so funny; for the Q&A Christian LeBlanc was the master of ceremonies.
Found out that Jacob Young/JR of AMC broke a front tooth and Daniel Goddard/Cane of Y&R sprained his ankle and banged up his leg pretty bad in Cozumel yesterday. Galen was able to find a dentist in Cozumel and Daniel is walking now with crutches, Y&R will probably have to write it into the script.
The last event for the Soap Opera was the Farewell Cocktail Party just before the 6PM dinner. We got to mingle again and I was able to talk and get a hug from Don Diamont and spoke with Daniel Goddard one last time. This was a fun cruise and being able to meet some of my favourite Star.
Here is the list of Soap Stars that were on the ship:
Y&R - Christian LeBlanc/Michael; Michelle Stafford/Phyllis; Daniel Goddard/Cane
B&B - Brandon Beemer/Owen; Don Diamont/Bill
AMC - Adam Mayfield/Scott; Bradford Anderson/Spinelli; Walt Willey/Jackson; Jacob Young/JR
DAYS - James Scott/EJ; Nadia Bjorlin/Chloe; Eric Martsolf/Brady; Galen Gering/Rafe; Mark Hapka/Nathan
GH - Brandon Barash/Johnny; Lisa LoCicero/Olivia
OLTL - Mark Lawson/Brody
The entertainment for tonight was Liverpool Knights. It is about the British invasion in 1964. It was another great show with the Celebrity Singers & Dancers and Party Band Stingray.
This is the last night of this second cruise. Tomorrow we arrive in Miami at 7AM.
Jan 31st Miami, FL
It is bright and sunny here in Miami with 75F as a high. Our debarkation went smoothly, we just get off the ship, go through immigration and then back on the ship. We did have to wait about 10 min before we could get back on the ship as they were still missing a passenger, but that passenger just probably got off without checking out. So the officials cleared the ship and then we were aloud back on.
We are sitting on Deck 11 (Resort Deck) near the outdoor BBQ, relaxing before the other passengers come onboard.
Finally got our Elite Status (the highest status for Celebrity Captain's Club), so we now have 90 min each free Internet, cocktails from 4 -6PM, some free laundry and dry cleaning just what we need after 9 nights at sea so far. There are other perks, but those are the main ones that I was looking for.
We had a great Sail Away, about 25 showed up from our roll call on Cruise Critic. Met some wonderful people, many mingle and arranged tour between themselves. It was a success.
After dinner we went to see the movie: The A-Team, we enjoyed it. We had seen the show that was playing twice now so it was time to do something different.
Today it is 77F and sunny, not a cloud in the sky. We had breakfast then just relaxed. It is a sea day.
Tonight is formal, remember we were having problems with our first table placement, well we have been at the new table for the last two cruises. It is near the entrance door, there is a place to park the scooter and we are next to a window. We were not crazy about our last waiter, so I asked the Maitre D' if we could have our first waiter on the last cruise. When we got to our table last night, we had our first waiter Musi back. He was happy that we had requested him and we are happy to have him.
Tonight's show is the same show we have seen twice A Touch of Broadway preceded with the Captain's gala. Since we will have met the Captain and his Director's at the Captain's Club cocktail, we will be forgoing this one. We will go and listen to Justin Wade the guitarist and singer then followed by the The Tideflats A Cappella group.
The feature Film tonight is: The Social Network we enjoyed the movie very much, now we know what all the fuss was about. It was another late night for us we got back to our room around 1AM.
Feb 2nd Roatan, Honduras
We arrived later than planned, instead of 9AM it was almost 10AM but the Captain is extending our stay an hour, so instead of leaving at 4:30PM we will be leaving at 5:30PM, so this should still please everyone.
Roatan is just off the coast of Honduras, it spans 37 x 5 miles. The waters that surround Roatan are clean, warm with lots of exotic fish and sea mammals for snorkelers to admirer.
We are sitting on Deck 12, in our favourite spot, in the shade of course. It is 84F sunny, no clouds and a light warm breeze, compare to up North, this is heavenly.
As part of our new perks for being Elite we will have VIP Elegant Tea today in the Murano Restaurant then we will have our free cocktail from 4-6PM in the Crystal Lounge, we also get hot and cold canapés, just was we need, more food.
I must say that these cruises have been great, the seas have been calm so no rocking of the ship, so far. Just a great cruise.
We turned in early last night, it was the comedian on at the show and we have already seen him.
Feb 3rd Cozumel, Mexico
We are docked at a different port than last time. It is sunny with some clouds and about 82F.
We went to our favourite spot on deck 12 and read for awhile. It is a very relaxing day for us. We are not docked at the same pier as last time, we are closer to downtown.
The show tonight is Dance Around the World, so since we have seen it twice already, we will go to the movies and see Knight & Day with Tom Cruise and Cameron Diaz, it was so funny.
We got our luggage tags tonight and we have the last colour to get off, which is what I wanted since we just walk over to the other terminal to board the Eclipse, we will still be too early but we will wait, that is all we have to do.
What a nice day for a sea day, temperature should reach 83F and it is sunny.
Today is packing day, it is the last day of our b2b2b on the Celebrity Century. We will be moving over to the Century Eclipse tomorrow after we dock. Looking forward to spending a b2b on the Eclipse for a total of 14 more nights.
We watch the Officers vs Guests pool volleyball, always interesting to watch.
Tonight's show is Kimika, we saw it on our first cruise and love it so we are going back. This show is so funny, there was an Irish man that was in a kilt and one of their sons asks the Irish to jump out of their sets and dance the Irish jig, well this man, in the kilt, had nothing on and lifted his kilt, it was so funny, it broke up the audience.
Feb 5th Miami, FL
We took our time this morning as we were the last colour to get off and scheduled for 9:30AM. We had a relaxing breakfast then at 9:10AM all the colours had been called, so we headed to the gangway. Got a porter, picked-up our luggage, past customs and we were off to the Eclipse.
We had a great cruise, especially after all our issues with the dining room and our cabin were fixed. The ship is, in general, in good condition. The seas were very calm, did not feel any motion for most of the cruise and when we did it was very slight. Now on to the Eclipse for 14 nights
Until next time...