Cruise to Caribbean West & East
Feb 5 - 19, 2011 B2B
(Celebrity Eclipse: Cabin 1522 Aqua Class - H/C)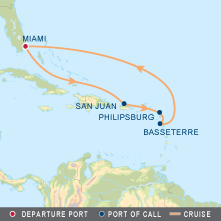 Embarkation on the Celebrity Eclipse. With our porter we left the Celebrity Century and walked to the Eclipse which was docked just behind the Century. It took about 30min at our speed. When we got there we left our luggage with the new porters and had to wait to board. It was 10:00AM. The weather in Miami was just great, warm & sunny high 70s. At 11AM, we were able to check-in. We are in Aqua Class, which is a new class for the Solstice class ships, Eclipse is the 3rd ship of this class and was launch last April, so still very new.
Once we boarded, around 11:30AM, we were in AH!! This ship is so beautiful, the most beautiful ship we have ever been on, more beautiful than the Oasis. Every are is nicely decorated, every area has it own type of chairs, the decor is just magnificent. We went to the Oceanview Café for lunch. This is the buffer area. There are different islands for different types of food, we had that also on the Oasis. This is much better as there are no lines, everyone just goes to the island to get the type of food they want to eat.
At 1PM we were able to access our cabins. We have a beautiful handicap Aqua Class cabin, as you will see in the photos. One of the nicest thing is that the door opens with an automatic large button which is nice for Norman who is on the scooter, easy for him to access or leave the cabin. We have a beautiful balcony with adjustable chairs and foot rest. I am sure I will enjoy that during our stay.
Our dining is different this cruise. Being in Aqua Class, we have our own dining room called BLU. It holds about 120 people only. We can dine anytime between 6 at 9:30PM. Since we are like to eat early, we will be there between 6 and 6:30PM.
The entertainment tonight was Celebrity Showtime: Opening Night. This show features some of the entertainment we are going to see around the ship this week.
We went back to our cabin after the show, we were so tired from all the excitement and moving today.
Today we had mid 70s and sunny, lots of tanning being done on the pool deck. The kids were having fun with the fountains.
We had our Cruise Critic meeting this morning at 10AM at the Quasar Lounge. Not many attended and by time we got there, no Celebrity representative was there.
We then went for late breakfast at the Oceanview Café. Even for a late breakfast they still have everything you could want, even eggs made to order.
Then off to the Celebrity Central for Ocean's Ahead Presentation with your 1st Officer: Secrets of Ship Navigation. It was a very interesting presentation and he answered everyone's question.
Next was the Global Flavors Cooking Show with our Executive Chef Rijo and the Executive Pasty Chef Bruno. Bruno was very funny, he could be a comedian if he wasn't a chef. Lots of laughs by everyone.
We had our first Elite cocktail in the Sky club. There are lots of Elites on this cruise. Then off to BLU for our diner. We both had short ribs that we could cut with a fork, so tender.
Since the Superbowl tonight is being broadcast in the Celebrity Theatre, there was no show. We went to listen to our piano player Lloyd Baskin in Michael Club. We met Lloyd on our last Hawaii cruise on the Celebrity Mercury. We then moved to the Sky club to listen to the Celebrity Orchestra before retiring to our cabin for the night.
It is beautiful out, warm, listening to the ocean, so relaxing on our balcony.
Today, there are only 2 ships in port (Crown Princess and the Eclipse) compared to last time we were 5 ships. It is beautiful, sunny with some clouds and the temperature is 83F/28C.
We had late breakfast again at the Oceanview Café. It will be a very relaxing day for us as we are staying on board. This is a tender port so not very contusive to scooters.
For the Elite members there was Elegant Tea at the Murano and Cocktails at the Sky Lounge. During our cocktail, we saw a funnel (not sure if a cyclone) behind us. Was able to get a photo of it. You could see the water being churned up quite high. It was far enough away the ship did not alter its course.
This was formal night, it was delayed one day because of the Superbowl. Tonight we ate again in BLU but hit two items that were not to my satisfaction, first the soup was so salty I could not eat it. The Maitre'D went and tried it and ask the chef to try it, the chef was now trying to make it less salty. Then I had the rack of lamb and it was tough. So they were very apologetic and offered me other things, but by this time I was not hungry anymore. Being formal night, the men needed to wear a jacket, so two guess showed up in a shirt so the Maitre'D lent them a jacket to put on the back of their chair. I had not seen that before.
Entertainment tonight was the Captain's Toast (Captain Panagiotis Skylogiannis) and he introduced his officers and Edge the production show. This show is a Classic Rock & Pop meet cutting-edge technology in an evocative production spectacular. It was a great show. Celebrity really puts on great production shows.
Feb 8th Cozumel, Mexico
We are back at the dock where we were for the Soap Opera Cruise. It is overcast and 77F / 25C.
We are spending a relaxing day on our balcony reading, can't beat that!!!
We went to the Sailaway Dance Party by the Pool with the officers. They were all dancing where the fountains are, then the fountains turned on and all got wet and continued to dance. The officers were all in their clothes and got soaking wet. This was the first time they did this, it should be interesting to see if their pants shrunk.
Tonight in BLU, I had lamb shank and Norman had Hawaiian salmon, both were delicious. Since I had a few problems last night, all were over to find out if my meal was good. They really want you to be satisfied with their food and service.
Today their will be no cocktail for the Elites instead there was s Select & Elite Senior Officer's Cocktail Party at 7:45PM. We won't be making that one, so we decided to have the canapés delivered at 4PM and we will have our own cocktail party with our free welcome champagne that we still have not had. We asked our stateroom attendant to fill the bucket with ice, so it is chilling now and will be ready later.
Celebrity Showtime: Eclipse was a European-style theatrical circus extraordinaire celebrating this incredible celestial phenomenon, the Eclipse. This show would stand up to Cirque du Soleil anytime. The dancers were also the acrobats tonight. Some of the positions they get themselves into are unreal. You would think they are made of rubber. This show got a standing ovation.
Feb 9th Puerto Costa Maya, Mexico
We arrived in Costa Maya for 8AM, still don't know what is so fascinating about this island, the Oasis just pulled up, so you can imagine 9,000 guests on this part of Mexico at one time.
The weather is cloudy, 79F/26C, so another good day. The seas have been very calm this cruise, we don't feel the ship hardly moving.
We had one of the Caribbean showers that last about 15 mins.
Spent most of the afternoon reading on the balcony and people watching coming of the Oasis. People are very interesting to watch.
We had our Elite Cocktail back today.
Celebrity Showtime: Vocal Impressionist Jason Hewlitt. He did lots of impressions, he was very good.
Feb 10th Roatan, Honduras
Another beautiful day, sunny 85F/29C. It was very hot in the sun, you could feel yourself baking in the sun. We always look for shade. When we come back from vacation, we are not tanned.
We had a very quiet day today, since I did not sleep well last night, did not really want to do much today, so that is what we did. I did read a lot, have read more on this cruise than I have ever done.
Celebrity Showtime: Ovations this is a dazzling production that takes you on a whirlwind tour of the most famous shows of Broadway and London's West End such as Cats, Les Miserables and more. It was another great show. We have not been disappointed in any of the entertainment. Celebrity really outdo themselves.
Today we woke up to some clouds with 81F/27C and some wind as we are sailing all day today.
The first event we had today was Star Chefs Cooking Challenge where two of the tops chefs battle it out on the stove-top, in the pan and on the plate in the ultimate Culinary Battle Royale on the High Seas, hosted by Chef Rijo. We knew the Chef Bruno (the Executive Pastry Chef would be there and he is so funny). Chef Bruno won. They select 2 guests to help the chefs and 3 guests to judge what the Chefs made. It is too funny!!
Next we went to the Brunch being served in the Moonlight Sonata Restaurant, excellent of course.
Then we went to Ocean's Ahead with Alvaro Mendoza, 3rd Engineer "How Our Ships Move - Engineering", very interesting talk, this is the next best thing to going to the engine room to see it in person.
We went back to our cabin briefly to change for the Captain's Club Celebration where all the members are invited for cocktails and some little bites to eat, as though we have not have eaten enough. When we got back to our cabin, our door would not open (since we are in a handicap accessible room, our door open automatically when we insert our sea pass key), our assistant stateroom attendant was nearby so he manage to get it open, then it would not close anymore, it kept opening and closing, so we left Caesar in charge of our room and when we returned it was fixed.
Celebrity Showtime: Farewell Variety Show which included the Celebrity Orchestra, Adam Trent (illusionist), Jason Hewlitt (impressionist). Another great show.
Tomorrow is our the start of our last cruise (sniff, sniff...). We are having such a great time on the Eclipse, the decor of this ship is very elegant. More to come on the next cruise.
Feb 12th Miami, FL
We are back in Miami, it has been raining and it was 55F/12C but should get up to 73F/23C. We had breakfast then we were meeting at 10AM in the Passport Club in front of Guest Relations to start the back to back procedure. We were 105 B2Bers. We were escorted off the ship to Immigration and then we had to wait, which seem endless, to re-board the ship, the reason, the server was down and they could not take our picture when scanning our SeaPass card. We were let back on around 11:30AM. Since we were lots of back to backers, we were being served a special lunch in the dining room at Noon.
The Lifeboat Drill was at 3:45PM, so all guest must meet at their Muster stations.
We had Sail Away with our Cruise Critics friends and we are also in another group with George. It was cold and very windy, how it changes from week to week. The seas became very choppy and it was fun navigating through the ship. This was the worse we saw the whole cruise so far.
We are still dining in BLU this cruise as we are in the same stateroom which is Aqua Class. It was nice to have our same table and waiter/assistant waiter.
Celebrity Showtime: Opening Night which features the performers we will see this week. Kip Brock is the only new one so we will see him on his night. We chose to go to see the Feature Film: Solitary Man with Michael Douglas.
We woke up to very cloudy and still cool weather, though the wind was starting to warm up. Later during the day it got warmer with lots of sun at should reach 81F today.
We had a busy day today, first we had our Cruise Critic meeting that should have been about 125 members. Celebrity's CD Paul Baja welcomed us but then he disappeared and we just mingled with everyone.
Our Great Group Cruise group was having a SLOT PULL, so I gave $20. On my pull I won for the group $100. Our final tally was $505. that will be distributed on the last sea day at our cocktail party.
Next we went to the Future Cruises Presentation where we learnt all the new ports and ships that will be sailing in the next 2 years. We are now interested in doing a Transatlantic and maybe a South America cruises, so we need to wait until the next cruises for 2012 summer and fall come out next April, so we will probably book more cruises on our next cruise to Bermuda in May.
We went to the Global Flavors Cooking Demonstration by the Executive Chefs Steve and Bruno, we enjoyed so much last cruise that we had to go back and we were not disappointed there were some new things but they are so funny that we laugh for over an hour.
Tonight is our first formal night for this cruise and we will have our Elite cocktail from 4-6PM.
Celebrity Showtime: Captain's Toast followed by Ovations, since we just saw this show, we will be skipping it. We are loosing an hour tonight so we will be turning in early.
Feb 14th San Juan, Puerto Rico
We woke up late again this morning, we are so relaxed. The weather today could have some showers with a high of 84F/29C.
First thing on the agenda today was a Valentine's Day Chocolate Exchange with our Great Group Cruise group. That was fun, everyone brought chocolates and put them on a table and we went around with little bags and chose different chocolates. After we had a group photo in the grand staircase. We were all wearing our red group t-shirts, you could not miss us on the ship.
We dashed up for some lunch at the Oceanview Café then went to see the Hot Glass Show with the Corning Museum of Glass. While we were there, they made 2 different pieces, first was a pitcher then a vase.
While we were docking in San Juan, it started one of the tropical showers but did not last more than 20 min or so, it cleared up after that. We were docked next to two Holland American ships (Westerdam and Maasdam). We did our last Panama Canal cruise on the Maasdam. We were in San Juan from 2-10PM.
While we were docked, spent time on our balcony reading. It is so relaxing.
Celebrity Showtime: The Magic & Illusion of Adam Trent. This was just an OK show. His magic is good but he talks to much about his personal life instead of doing more magic.
This morning we woke up in St. Maarten, beautiful sunny day at 81F/27C. We had breakfast at the Oceanview Café overlooking St. Maarten, it is a beautiful island. From our balcony, we see the Norwegian Epic so that is all we can see. We are facing other balconies.
We both spent the afternoon, on our balcony, sipping our welcome Champagne, reading and talking. It is such a beautiful day, and we had the shade in the afternoon, which was great.
We stayed to watch sailaway and saw that the Disney Magic was also in port. Took more photos of this beautiful island.
After dinner we went to see the Hot Glass How with the Corning Museum of Glass, it is really any amazing show, this time they made a glass fish, they really do such wonderful work. There are three of them and they each take their turn making something, it is their own creation every time. They don't sell any of their creation but on the last sea day they do an auction and any money raised goes to the Corning Museum towards scholarships.
We arrived in St. Kitts at 8AM this morning, perfect weather, sunny, no clouds, 82F/28C. This is a beautiful island with lots of mountains, reminds me of Maui. The Celebrity Millennium is in port also docked next to us.
We had the shade on our balcony so we relaxed out there, reading, admiring the view of the island.
There was a Sailaway Dance Party with the Officers at the poolside, where they dance on the fountain and the Officers get all wet while in there uniform. Then towards the end they all jump into the pool, still in their clothes. It is so funny to watch.
After dinner we had Dancing with the Stripes with D'Revelation, it is like Dancing with the Stars, there are 10 officers and 10 guest that do a dance off. Again, so funny to see. The winner was the Doctor and his guest.
Celebrity Showtime: Lindsay Hamilton of London's West End a vocal performer bye the star of classic musicals such as "Evita" and "Les Miserables" on London's West End. What a great show, she will be back on Friday, look forward to her again.
When we got up this morning it was sunny but we lost the sun to some clouds. It was 73F/23C. We had breakfast then walk around the pool deck, there where no chairs to be had. Lost were covered with towels only. We came back to our room for awhile and stayed on our balcony. This has been the best part of our room, we always have a chair and it is quiet so good for reading or talking.
Then we got rain and rain and more rain, so all the deck chairs became free.
We had the Captain's Club Celebration where all the members are invited. They give out a bouquet of roses to the couple with the highest number of cruise credits. This is replacing our cocktail for the Elites today. We chatted with a couple from Vancouver. We have met so many Canadians, I guess we are all escaping the winter for a little while.
We had a cocktail with the Great Group Cruise in the Quasar lounge and got our winning from the Slot pull. We invested $20 per person and we got back $13. It was a nice gathering, very nice group.
Tonight is formal and lobster, most people love lobster, I, for one, don't really care.
Since we saw the show Eclipse last week, we will went to see the movie Secretariat. It was a nice movie, hadn't seen it before.
We get our hour back tonight. When we left Miami we went on Atlantic Time and tonight we go back on Eastern Standard Time.
Another beautiful day today, there is some clouds with 76F/26C.
Ocean's Ahead with Loukas Vallianatos, Evironmental "Onboard Recycling: Where Does It All Go" very interesting to know that Celebrity is doing its best to recycle
We had the Elite's Elegant Tea in the Tuscan Grill where we get more to eat. Then we went to our last Elite Cocktail, said goodbye to some new friends.
It was sad to say goodbye to our fellow BLU staff that have been so wonderful to us for the past 14 days.
Celebrity Showtime: Farewell Variety Show with Adam Trent & Lindsay Hamilton, A Cappella Group Sound Decision. I must say that Lindsay is a good singer and finished with a duet with Paul Baja our CD.
We are all packed and ready to go, that has been a great month of cruising.
We woke up to 75F and sunny, what a difference from last week. We had breakfast at the Oceanview Café. Our disembarkation was scheduled for 9AM so we had lots of time. We had to meet in the Moonlight Café deck 4. Our number was called and we proceeded to disembark. It took about 15 min to go through immigration, collect our suitcases and proceed to the bus for our transfer to MIA.
Once at the airport we checked-in, went through security and had lunch. All went without any hiccups.
Our flight was on time. The temperature was 16F/-9C, what a change, back to reality.
We really liked this ship (or class of ship - Solstice class). It is elegant, not too big, not too small, easy access everywhere for scooters. We had an Aqua Class stateroom. We got a good deal and we had a great time dining in BLU (only for Aqua Class). It is a small venue so lots of special attention. It is open seating, but since we like dining early, the Maitre D' had reserved our table for us for the whole 14 nights. Which meant we had the same waiter and assistant waiter, great service. Now would I do it again, not unless I would get a great deal. We did not take advantage of the extra amenities. We will be on the Equinox next January but this time in a regular handicap accessible stateroom.
The shows were all great, Celebrity does put on great production shows.
The staff is always saying hello and smiling and trying to do anything to make your cruise the best.
We love Celebrity and especially the Solstice Class.
Until next time...