Cruise to Caribbean West & East
Jan 26 to Feb 23, 2013
(Celebrity Eclipse: Cabin 7145 Balcony - H/C)
and two timeshare weeks pre-cruise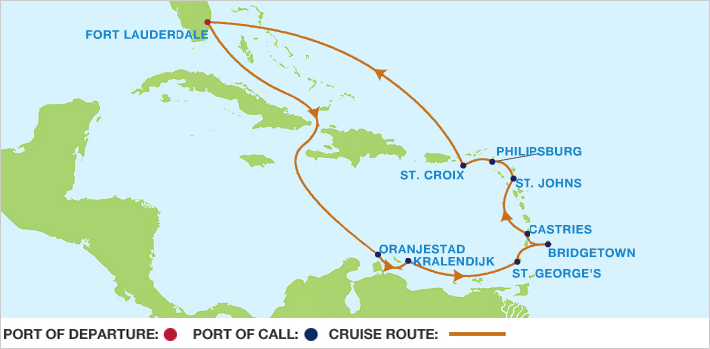 January 9th, we left home very early to start our drive to Florida. When we got to customs, there was nobody there, so went fast. We stopped to have breakfast and to make our first purchase in the US for insurance purposes (hope we won't need it). Our drive down went so good, dry roads all the way, even in the Adirondacks where it can be a little dicey. There was very little traffic, so that was a big plus. We did 729KM (453mi) so our first stop is on the NJ Turnpike, exit 4, just outside of Philadelphia. We are glad that we got this big chunk of road out of the way. It was funny, we ran into the same lady and her mother at 3 pit stops, they are also on their way to Florida.
January 10th, we had a beautiful sunny day for travelling today, more traffic and some construction delays. We stopped in Wilson NC tonight. We did 658KM/409miles. We are making good time.
January 11th, today we did 616KM/383miles in all kinds of weather, we had drizzle, rain, sun, cloudy, but the one thing we did not have was SNOW, we are away from that for 7 weeks. Our stop tonight is in Darien, GA. We have 400km/240miles left to our first destination.
January 12th, we left this morning in the high 70s, with beautiful sunlight all the way. We got to our destination around 3:30PM today. We are now in our condo in Kissimmee, FL. Today we did 400km/248mi. When we got here the temperature was 27C/83F. We are staying at Villas at Fortune Place. We have a 2 bedroom and 2 baths with all the appliances including washer/dryer. Now it will be time to enjoy our week here.
We arrived at Villas at Fortune Place around 3PM, check-in went very fast. We have a nice handicap accessible condo #1613 with 2 bedrooms and 2 bathrooms with the Master bath has a roll-in shower. Very nice and comfortable. My son joined us from San Diego for a few days, since he is being transferred to Orlando, he has bought a new house and needed to finalize some of the decor. It was nice to be able to share this event with him.
The weather all week has been mid 80s F/25-27C. We had sun all week. The only night that was colder was Thursday. It was warmer on Friday, but we did have the occasional rain. Packing day today as we move on to Weston.
We left Kissimmee and drove to Weston on the Florida Turnpike. Travel went very well even with the rain off and on. We moved into our Unit A & B in the Osprey #7111. These are wonderful units.
We went to the Flea Market near Pompano Beach, it is an enclosed one and air conditioned. This is the biggest one that we have ever seen.
We also did the Jungle Riverboat Cruise, we had a beautiful day going and seeing all the beautiful homes of the rich and their yachts that most of us could only every dream of having. On our way back we had some pretty intense showers but subsided once we got back to the dock. We went out to Flannigan's Seafood Bar and Grill for supper which is in Weston, they are famous for their baby back ribs.
The rest of the week, we just relaxed, did some shopping and got ready for our cruise.
January 26th, embarkation Port Everglades
We drove to Park 'Go where we left our van for 28 days while we are cruising. They shuttle us to the port and will pick us up when we return. We arrived around 10:30AM and was signed in within 15 minutes. We were then sent upstairs to wait for the go ahead to start embarkation which was around 11:30AM. We met several Cruise Critic friends at the Bistro on Five for lunch. It is much easier to lunch there, even at the cost of $5/pp then to go to the buffet with all our carry-ons. The next step was to go to the dining room to find out were we are seated, of course, even if I had asked for easy access, it is not what we got, so the Maitre D' found us a table for four with easy access with the scooter. Our cabins were ready to occupy by 1:30PM and our attendant was waiting for us. We gave him our instructions of what we needed while in this cabin and all was done when we came back to our room. We got our suitcases almost immediately and was all unpacked and ready to go before muster drill at 4:30PM.
Our Cruise Critic sailaway was a success as many from our roll call (88) did show up. I had made name tags for everyone, which makes it easier to find the people you have been chatting for all most 18 months. Our ship was to sail at 6PM, but we left for diner shortly after 6PM and we were still docked, we finally started to sail around 6:15PM by that time we were in the dining room for our first dinner. We are with a lovely couple from Ottawa, ON. We had the prime roast beef, which is always on the menu the first night and one of our favourite.
After diner, we proceeded to the Celebrity Theatre.
Celebrity Showtime: Opening Night which introduces us to some of the acts that we will see during the cruise. First was one of the lead singers of the Celebrity Production Cast, then we had the A Cappela Quartet Top Shelf, then Perry Grant who is a pianist/singer showman, this is his first night on the Eclipse after finishing a 10 year engagement on the Constellation. He has a great following, have heard so much about him and he will be performing in the Sky Lounge throughout the cruise, next the whole production staff did a number for us. Our Cruise Director is Patti Honacki from Chicago. She told us that there are about 2900 passengers (1500 USA, 600 Canadians, 400UK, 400 various countries). I think we are going to like her, she is telling us we will see her all over and not be shy to talk or ask her any questions.
Tonight we put our clocks ahead one hour to be on the same time as the Caribbean islands.
This cruise is the Eclipse's 100th cruise.
The seas have been very calm, did not feel the ship moving during the night, got up and open the balcony door to see if we were moving that is how calm it was over night. Today the temperature was 23C/73F and we are travelling at 16 kts just a beautiful day at sea.
We missed breakfast so had lunch at the Oceanview Café, this is one thing that I like about this ship is the buffet has stations so you just walk up to the station you want to get served, so very quick. Today is the first formal called the Captain's Gala Toast. We were offered a 20% off the Tuscan Grille for tonight, this is an Italian Steakhouse. We have eaten there before on the Equinox and enjoyed it very much. When you dine at a specialty restaurant on formal night, it is not necessary for the men to wear their suit and ties so this is right up Norman's alley.
Beyond the Podium: with Prof Lisa Didier and today's talk is entitled Buccaneers of the Spanish Main. She told us true stories about the first pirates of the Caribbean. She is very entertaining, a good story teller, she keeps your interest for the whole 45 minutes with no problem. Looking forward to more of her talks.
On this sailing there will be no Elite Cocktail, instead we get 3 coupons each to be used in most of the clubs between 5 and 7PM. These coupons have dates on them so we will get new coupons everynight.
We went to the Ensemble Lounge for our cocktail drinks.
Tuscan Grille: always the ultimate way to dine with lots of attention to details. We had the tiger shrimps and scallops they were delicious. Norman had the minestrone soup and I had Caesar salad made the proper way in front of me. For appetizer we had calamari which was delicious. By time desert came around we were stuffed, so we had a gelato.
Captain's Gala Toast, this is where the Captain Panagiotis Skylogiannis introduces all of his officers for the different departments.
Celebrity Showtime: first production show called Ovation, this show takes us on a tour of the most famous shows of Broadway and London's West End. The singer and dancers were great as usual but the lighting could have been better sync with the singers.
This morning is overcast and the temperature is 22C/73F. We have passed Cuba and Haiti, we are on our way to St. Thomas.
Connection Party for Cruise Critic members was scheduled at 10:15AM in the Sky Lounge and 57 showed. We mingled for awhile then those who were partaking in the cabin crawl got together and we started. We had all balcony cabins but with various size balconies, we also had two balcony handicap accessible.
Captain's Club Celebration were all the members are invited, since we are so many they have split the group in two according to your dinner time. We were on the first group, always a nice event with some food, the orchestra played, Top Self the A Capella group also sang with the orchestra and Patty, our CD.
Qsine with our Cruise Critic friends: we were 11 at our table, Qsine is a different restaurant, first you choose your menu from a iPad. Since we were a big table we were able to get a greater selection of food, we were all stuffed to the guilds. Wendy from our Cruise Critic roll call organized it for all of us. So a big thanks to Wendy. We were there for 3.5 hours and the time passed so quickly.
Celebrity Showtime: Buzz Sutherland, is a comic and had been at the very top of the college comedy world for the past seven years. Since we got out of our dinner around 9:45PM, we had missed the show. Maybe we will catch him the next cruise.
January 29th, Charlotte Amalie, St. Thomas
Today we are tendering in St. Thomas, that is a first for us since we have been here many times. There are 7 ships in (3 at the Heavensight port and 2 at the other port) and two tendering and we are one of them. It is cloudy today and temperatures are 25C/78C.
We went to the Oceanview Café for late breakfast. We were awoken early with all the announcements for the tenders.
We enjoyed our cocktail with friends from Sask., Olive and Les, up at Sunset Bar. Nice view of St. Thomas up there. There was also a wine and cheese on the lawn.
Celebrity Showtime: Antonio Salci who is a musician/composer/arranger/producer and an entertainer. He was also on our cruise in Sept 2012.
Perry Grant a piano player with lot of showmanship. He plays lots of old songs and everyone sings along with him. We had heard so much about him, so we went up to see some of his show. Celebrity has installed losts of chairs in theatre setting in the Sky Lounge and he was playing there from 10PM to late. We could only stay for a short while, but do intend on going back another night.
January 30th, Philipsburg, Sint Maarten
We I do tours, we have room service for breakfast, which makes it easier to get ready for the day.
Today I have a private tour with Bernard Tours organized by Mary from our Cruise Critic Roll Call. We left around 9AM and returned around 2:30PM. We were 11 on the tour and it costs each person $40. We started off in Phillipsburg on the Dutch side. Our first stop was the Iguana farm. The iguanas get along with the chickens and ducks, you can see on the photos that they play together. Then we continued to drive and passed the French boarder, in fact there is only a welcome sign no boarder crossing between the two countries. We made a stop at Oyster Pond that overlooks the island of St. Bart's. We stopped at Orient Beach, once at Pedro's and then at La Playa. Lots of people swimming in the ocean. Our group wanted to do more touring so we continued on to the Capital of the French side, Marigot. Here we browsed the open market where they sell all kinds of souvenirs, some instead when to a restaurant. On our return back to the Dutch side, we saw some beautiful scenery on our way to Sunset Beach bar at Maho Beach, this is the famous place where jets arrive at the airport flying right over the beach, they are so close you think you can touch them. While we were there we saw two small jets arrived, was able to capture one of them. Also we saw a jet leave which if you are too close you can get seriously burnt from the back draft. There are signs posted all over but still people will stand there.
Our temperatures today was 25C/77F with a few minutes of showers that dry up immediately.
We had cocktails at the Passport bar just outside the dining room on deck 3.
Celebrity Showtime: Doug Cameron, he is a violinist and has a great sense how to tell stories. He has recorded 10 CDs with Virgin Records and his music is a favourite on International radio. His music varies from classical to jazz and from Celtic to Country. A very good show, not to be missed. He was also on our cruise in Sept 2012.
We woke up this morning to sunny skies and temperatures of 27C/80F.
Since I was doing another private tour, we had room service for breakfast. It is nice to sit out on our balcony and have breakfast, nothing better than that.
Our private tour was with Cool Cats Catamaran, with was organized by Anita from our Cruise Critic Roll Call. We all met promptly at 9AM to walk down where the taxi were parked to get a taxi that would take us to Jolly Harbour, which was a 30 minute ride. We were 10 and found a driver that charged us each $5. each way. The taxi drivers are very aggressive when you are trying to get a taxi.
Once we arrived at Jolly Harbour our catamaran was waiting for us. We first have to remove our shoes before boarding. We sailed out slowly, we had Paul and Kerry as our guides and Captain. They asked if anyone new how to sail, so Richard from Vancouver did some of the sailing. They put up the sails as soon as we were out of the harbour. The took us were we were going to snorkel. Once we arrived they lowered the anchor and brought out the snorkelling gear for those who wanted to snorkel. I was going to try, but finally turned around. those who did said it was tough in the water. When the snorkelling was finished they tood us to one of the 365 beaches around Antigua for some swimming. At this time our Captain caught a fish (a red snapper) which he cleaned and Bar B Q along with very tender chicken. We also had salad and rice. Drinks were available all day and was included in the fare. The whole excursion was $600. for 10 people so $60pp which we found extremely a good deal for 5 hours. When we got back our same taxi driver we had in the morning was waiting for us for again $5pp to go back to the ship. We had good weather with just a few sprinkles at the end of the day. I would highly recommend them.
There is no cocktail tickets for tonight as it is the Senior Officer's Cocktail Party from 7:45PM to 8:30PM.
Celebrity Showtime: Perry Grant in Concert accompanied by the Celebrity Orchestra. Perry was on the Constellation for 10 years performing in Michael's Club and he has quite the following. Now his new home will be the Eclipse and his venue most nights will be the Sky Lounge.
The temperature today is 27C/80F and overcast with sunny breaks. We had breakfast in our room again as I have another private tour today.
We started our tour promptly at 10AM with Cosol Tours. We were a group of 22 in two vans that hold 14 each. In our van we had Cosol doing the driving and Sylvia was our guide. We drove through Castries, the Capital of St. Lucia the out towards the Pitons. The roads are very windy, never seen that. Here they drive on the left, so more confusing for all of us. We did stop at some vantage points to take photos. We stopped at a Banana Plantation where the banana process was explained to us and we were given each a banana. Of course there are souvenir tables at all our stops, but we don't buy them anymore, we just have too many. We drove thought the fishing villages of Anse La Raye and Canaries. We had lunch a local place, we samples different foods that are particulate with St. Lucia. Very nice, thought getting to the place was a very very steep hill and when we left we back out up on that steep hill again. Washrooms were a dollar and very clean. From one of the Villages we took a speedboat to Jalousie Beach which is situated between. the Gros Piton and the Petit Piton. We stayed at the beach for two hours, it was a little rocky so I was glad that I brought my swim shoes with me. It was the first time in the ocean since 1994 it was nice. We had lounge chair which was nice also. Swimming between the Pitons was nice. There was an area for snorkelling but I did not try it. The speedboat was back to pick us up and bring us back to the port and Sylvia joined us for the return trip. We pulled up to the largest bat cave on the island. We did stop in Canaries where Cosol was waiting for us with a box full of fresh bread and cheese. Sylvia served us each a bread with cheese inside it, it was melting and tasted so good. Needless to say I was not hungry for supper. We stopped at Marigot Bay where Dr. Doolittle movie was filmed. There were some pretty amazing yacht in the marina. When we arrived at the ship it was almost 5PM, a very great day organized my Mary from our Cruise Critic Roll Call. This tour including the speedboat return was $80pp.
We did go to Passport Bar for cocktails before dinner.
Celebrity Showtime: Jordan Bennett, was once the star of Les Miserables on Broadway. He is truly a one man show with many styles of music, some humour and a touch of the unexpected. At first I wasn't sure if I was going to like him but he did grow on me and at the end loved his whole performance.
Today we mainly sunny sky with the temperature reaching 28C/83F.
We awoke early and decided to have breakfast in the Oceanview Café. Norman was able to get assistance to get his meal together so that left me free to get mine. After breakfast we spent some time on the balcony. We are dock the first ship on the left side of the dock. Here the dock forms a U being first we did not need shuttles to take us to the terminal. We walked down to the terminal for some shopping, found a beautiful leather small purse to wear around everyday. The Wi-Fi is free in the terminal but hard to get connected. I started to connect and had time to walk around every shop inside and out and back before I got a connection. There are lots of crew and passengers taking this opportunity to email home. We have a steel band playing all day, they are very good and the music is varied.
We got back to the ship we had an ice cream and cookie for lunch as it was already 3PM. We spent the rest of the afternoon on our balcony with a gentle breeze and shade, perfect weather for sitting out.
We did Passport Bar again tonight for Cocktails, tonight is the 2nd formal night so we will be attending, we skipped out the last one when we went to Tuscane for dinner.
Celebrity Showtime: Production show 'Edge' with the Celebrity singers and dancers plus the Celebrity Orchestra. At lot of strobe lighting which makes it hard to see at times. Still a good show.
Perry Grant who is in the Sky Lounge most nights from 10PM to late. We stayed about a hours. He is a good entertainer, keeps his audiences intrigued.
A beautiful day in Grenada, no clouds, warm air and temperature highs will be 27C/81F. We had late breakfast at the Oceanview Café. Today they had a crew lifeboat drill so there was no one to assist Norman in the Café. The late breakfast is from 10-11:30AM. We down to see the Future Cruise Sales people, needed to know how many next passages that I still have and I still have two outstanding. Waiting for the next cruises to come out in April to book through March 2015.
We took at walk over to the terminal, they have a nice shopping area, was able to buy a couple of souvenirs and lots of spices. Grenada is know for its spices. It was a nice and breezy walk, so refreshing even though it is hot.
There are lots of water taxis that will take you to a beach for $4pp each way, it is right next to the ship so very easy access, there are a few steps to climb down, if steps are a problem.
Our cocktail tonight was at the Passport Bar and we listened to the Celebrity Orchestra playing ballroom dancing. The Main Diningroom was open at 5:30PM to accommodate the Super Bowl.
Superbowl XLVII Live broadcast - Ravens vs 49ers in the Eclipse Theatre and Fortunes Casino and in our staterooms. The theatre was packed, they were selling buckets of beers and they had lots of food available, since we just had dinner we did not try any of the food so don't know what they had. The theatre was sure lively. We stayed about an hour then came back to our room to chill out, we watched the game a little. Celebrity do put on a great Superbowl. This is our third one on a Celebrity Ship. One of our Cruise Critic members made a box where you could buy a square for $5. I bought 4 of them, every quarter the winner would win $100 and the one that won the final score would win $200, well guess what I won the $200, I am so excited.
It very hot and sunny today with temperatures 30C/86F. The seas are so calm, not even a white cap. We ordered room service for 9:30AM as I was doing a slot pull for our roll call.
Slot Pull was held in Fortunes Casino near the Cashier. It was not a success as many dropped out at the last minute because they could not see their $20 when inserted in the machine. Since we leave all winnings accumulate all we see is the accumulated winning amount go up by $20 then go down after each pull by $4 which makes for 5 pulls for everyone. We did not do that great as we were only 6 remaining for a total winnings of $56. We each got back $9 and the two top winners got back $10. The Casino host Ralph gave 3 t-shirts for the top winners.
We had a small lunch at the Oceanview Café as we are signed up for Elite Elegant Tea at 3:30PM. We came back to our stateroom to enjoy some quiet time before the Tea.
Elite Elegant Tea was held in the Moonlight Sonata dining room. We had little sandwiches, lots of pastries and of course scones with jam and whipped cream. Speaking with the Captain's Club representative, there are 650 Elites on this cruise and there will be 600 on the next cruise.
Our cocktail we had at the Passport Bar. Our waiter Tomas from Columbia brings us our drinks once he sees us sitting down. Our friends Olive and Les from Saskatoon, SK joined us for cocktails.
Celebrity Showtime: Neil Lockwood who is the former lead singer with ELO Part 2 and the Alan Parsons Project. He is a vocalist, songwriter and multi-instrumentalist. His show consisted of being Elton John, so sang and played the piano with very bizarre outfits. The show would have been better if he would have only played homage to Elton instead of trying to be Elton.
We are in Aruba from 8AM to 10PM. Beautiful sunny with some clouds and temperature high of 29C/85F. The buildings near where we are docked look very nice and well maintained. We got up late as we were just going to walk of the ship. We decided on lunch instead of breakfast. We usually only eat two meals a day.
We took a walk into downtown, lots of shops on the main street and some market vendors selling souvenirs of all sorts. We are spending the rest of the day on our balcony relaxing and reading. I will be taking a private tour on our second leg of our next cruise.
We went to the Passport Bar again tonight where our waiter Tomas was waiting for with our drinks. It is amazing the service you will get with a few dollars tips.
Celebrity Showtime: Jamie Allen - Magician - he is one of the finest magicians in the UK. He combines technology and magic to create a show unlike any other. He had cameras set up on the tables where he was performing card tricks so we could all see clearly, his tricks were amazing. Great show, great magician.
Today we are in Curaçao with another beautiful day with puffy white clouds. The highs for today were 29C/85F. We had our late breakfast in the Oceanview Café before heading out to walk around the shopping area.
It is a nice walk along the shore then into the fort that has been converted into stores and restaurant. Outside the fort there are more souvenir stands all the way to the pontoon bridge, it was too ruff for Norman's scooter and his hip so we did not cross it. On our way back to the ship we did some window shopping. We don't buy much usually, we have everything and the amount of travelling we do we would need a bigger house if we bought souvenirs everywhere we went. I usually buy a few t-shirts on a cruise as that is what I wear the most so have to renew them sometimes.
There was another ship docked passed the pontoon bridge called Horizon by Pullmantour
Again tonight we went to Passport Bar where Tomas brings us our drinks. Tonight there was Drink This Not That where
Celebrity Showtime: Gary Arbuthnot in "Stage and Screen". He is an international Virtuoso and his show highlights incredible musical scores from contemporary movies, Broadway and opera to some of the biggest rock and pop groups of the modern era. He plays the flute (cost of flute $35K), very good show.
Today it is warm 28C/82F at we are travelling at 19kts at the moment. Today was the BRUNCH in the main dining room, very well done, lots of food of every type. We had great company at our table, our friends from Saskatoon, SK and a couple from Hamilton, ON.
We spent a quiet day reading on our balcony. We love balconies were we have private time if we want or we can go upstairs on the pool deck if we want to be with others.
Our cocktail will be again in the Passport Bar, we are liking that spot and we are close to the dining room. Since we each get three free drinks for being Elite, we have been bringing one of our wines in with us for our dinner. Tonight is the last of three formal nights on this cruise.
Celebrity Showtime: Eclipse - The Show with the Celebrity singers, dancers and orchestra. It is the last production show of this cruise. On every cruise, no matter what the length of the cruise there is always three production shows.
Tonight we got back our hour that we lost at the beginning of this cruise.
Our last sea day on this leg of our cruise. It is sunny and hot with temperature 31C/86F. The sun worshipers will be happy with this last day before many of them heading back into the snowstorm on the Easter seaboard.
We skipped breakfast as we had an organized luncheon to go to.
Star Chefs Cooking Competition with Executive Chef Lee and Cruise Director Patti. There are two members of the audience chosen to cook along side one of the assistant Chefs and they have to make a meal in 15 minutes by choosing ingredients available and must use all the ingredients that they chose. Then three members from the audience are chosen as judges. They have to sample the food made, grade the flavours, presentation and name of the dish. They do a fabulous job with such a short time to prepare.
At noon, Mary from our Cruise Critic Roll Call had organized a Farewell Luncheon so we could see each other one last time before everyone went home tomorrow. Mary had met with the Even Coordinator and we all received invitations and a voice message yesterday to remind us of our luncheon. It was very nice to sit down with some of the members of our roll call, we had a nice luncheon and I want to personally thank Mary for all her hard work organizing this luncheon and private tours during this cruise. It was a great success.
Just before our cocktail hour at Passport Bar, the Celebrity Guest Choir performed for all of us.
Celebrity Showtime: A Voyage to Remember featuring Gary Arbuthnot, iMagician Jamie Allen, our A Cappella Quartet Top Shelf and our Cruise Director Patti along with the Eclipse Orchestra. Each entertainer gets to do one more number before we say good buy to them. Patti will be leaving the ship to go on vacation. She will have a foot operation so she will be recovering in her condo in Chicago. Sue Denning will be replacing her on our next voyage.
Perry Grant, piano entertainer in The Sky Lounge. Even being the last night of this cruise, people kept coming and coming to see Perry for the last time. He told us that the next cruise was a Perry Grant reunion cruise and he was expecting around 600 fans. I know from our roll call it has been mentioned about the reunion cruise. Norman knows all the songs that he plays. He is a good entertainer.
We were docked early at least by 6AM when I noticed. We could not feel the ship moving at all during the night and that has been most nights. It is sunny with some puffy clouds and the temperature is 24C/76F. Last night before retiring to our room we went to the Oceanview Café and picked up a few things to eat for breakfast so we stayed in our room to avoid the madness.
We met at the Passport Bar for 10:15AM for the back to backers, there was 35 of use going a second round. We were escorted off the ship to pass through Immigration get our new SeaPass and back on the ship. We had the ship to ourselves for a bit before the new passengers came aboard.
We ate at the Oceanview Café as the new guests arrived with their carry-ons, that is one of the things we did not have to worry about, much easier.
Emergency Lifeboat Drill was at 4PM, where everyone as to proceed to their assembly station, ours is the Eclipse Theatre Deck 4.
After the drill, our Cruise Critic Roll Call met for sailaway on Deck 15 at Sunset Bar. I had prepared name tags for everyone, we were 73. We sailed at 8PM to allow for those arriving late to catch the ship before we sailed for Aruba.
Tonight dinner was at 5:30PM, we are at table 250, a table for 6. So far we have another couple with us Bill & Mimi from Ohio.
Celebrity Showtime: Opening Night with the production cast, Top Shelf A Cappella, Perry Grant and hosted by our new cruise director Sue Denning. The show was a little different than the first cruise. Even for Opening Night it was a good show. Sue also sang a solo.
We are along the coast of Cuba for most of the day. There is some white caps but still a pretty smooth. We had late breakfast at the Oceanview Café. We then went to the Glass Blowing demo but the place was already full. We have to try another time.
Beyond the Podium with Mary Cerullo - today's topic was City Fish or Country Fish compares fishes that live in tropical seas and fishes in cooler climates.
Cocktail hour for Elites are again with coupons. Each Elite gets 3 coupons per night. We will go back to the Passport Bar with our waiter Tomas. He was so pleased to tell us yesterday that he would still be our waiter. Our friends from London (Nancy, Jerry and their friends Carol & Shirley) joined us. With dinner at 5:30PM, we get a very short cocktail.
Tonight was the first formal night and after dinner the Captain's Gala where he introduced his senior officers. We skipped it this time.
Celebrity Showtime: Ovations with the production cast and Celebrity Orchestra. Since we saw it last time, we went retired back to our room early.
Today a very sunny day but windy. There will be over 80 joining us in Aruba. We ordered breakfast in our room since we have a Connection Party at 10:15AM. The temperature today is 24C/75F.
Celebrity Connection Party is for the Cruise Critic members in the Sky Lounge. I made name tags for everyone, there were 102 that came this time. We even had a group photo taken. Sue Denning welcomed us and 5 to 6 officers were there also. We had refreshments and people mingled. It is always nice to put a face to a name that you have been talking with for over 18 months.
Captain's Club Celebration, again in the Sky Lounge, were all the Captain's club meet, they have food, so we are able to have a light lunch and beverages at the same time. They award a bouquet of flowers and specialty restaurant to the couple with the highest number of cruise points.
Beyond the Podium: Mary Cerullo - Exploring Sunken Cities - underwater explorer shave discovered in sunken cities beneath the sea and who lives there. When we got to the Celebrity Central, it was full. She is very interesting lecturer.
Celebrity Showtime: Doug Cameron, a violinist. We liked he so much that we returned again this evening. We love our CD Sue Denning she is so energetic.
Fabulous 50's Meets Swingin' 60's great party in the Grand Foyer on Deck 3.
We are again docked on the port side so Norman can watch was is going on. The highs today were 29C/85F cloudy with possibility of rain. We ordered breakfast from room service as I have a private tour this morning.
I did a private tour with Marilyn Burr's group that started at 8:30AM. She used WIX tours (www.limousinearuba.com). We had a island tour that lasted 3 hours for $30 pp + tip. We were 32 in two 22 seats busses, so very comfortable. Our first stop was the Casibari Rock formation. Most people went up to the top for an overview, but I was afraid of falling so I sent my camera up with gentleman from the other bus, he took some beautiful photos for me to share with you. There are many shapes of rocks and cactus, very unique. Next stop was the natural bridge that collapsed 6 years ago, you can still see some of it as you will see in the photos. We went on to the Chapel of Alto Vista, along the way it is desert area where they cannot build as there is too much salt in the air. In fact our driver told us to wipe down our cameras as the salt will ruin them. Our last stop was the California Lighthouse built in 1912. We also saw a gentleman cutting coconuts. On our way back to the ship, we passed by all the hotels and beautiful beaches. This is where the tourist would be staying. There are also some timeshares.
We met Nancy, Jerry, Shirley & Carol for cocktails at the Passport Bar, our waiter Tomas has all our drinks down pat.
Celebrity Showtime: Jordan Bennett, Star of Les Misérables in Showing Off. We decided to skip the show tonight, saw it last cruise. Since we are in Aruba until 10PM we wanted to spend some time on our balcony. It is a very beautiful island.
We arrived just before 8AM today in Bonaire. It is cloudy and warm with highs to be 29C/85F. We ordered room service for breakfast as I have another private tour this morning.
We reserved this private tour in Bonaire with Bonaire Vista Tours (www.bonnairevistatours.com) last May 2012. This is a great tour. We had to walk pass the North pier to find their stand. I had received an email with photo of where we would find them. We left promptly at 8:30AM to start our 3 hour tour. Brian, our driver/guide, drove us to the South part first so we could see the salt mountains and the slave huts where the slaves use to sleep at night. They slept 6 to 8 per hut. These are cement huts but very small. We were able to see how they grate the salt as a pay loader was out there doing just that. We also saw some flamingo. There are lots of flamingos in Bonaire and they named their international airport Flamingo Airport. The house are like in Aruba and Curaçao, clean, well maintained bright colours. The houses are built all in cinderblocks even the inside partitions mostly because Bonaire has lots of termites. We then headed to the North part of the island were there is some elevation. The South part is very flat. We saw lots of animals, like donkeys, goats, chickens, but we did not see any pigs. This is the rainy season from November to February, then the rest of the year is it sunshine all the time. It is sprinkle a little bit on our way to the bus but that was it. We made several stops along the way to take photos. One of our stops was overlooking Washington National Park. We did stop at a small museum but they would need the government to help out with that project. There wasn't much to see. While we were there, Brian wanted to take a photo of each couple travelling together and he had a surprise for us later. The surprise was he gave each couple and me a photo of ourselves that he had taken. It was a nice touch. He must of had a printer in the van to be able to do this. We got back at 12:15PM where I did a little shopping before returning to the ship. We were docked at the South Pier but all the shops and downtown is at the North Pier, a few minutes walk from where we are.
We had lunch at the Oceanview Café and had fish and chips, one of Norman's favourites.
Our cocktail was again at the Passport Bar.
Celebrity Showtime: Gary Arbuthnot in 'Stage and Screen'. Since we saw this show last cruise, we decided to forgo it and spend some time in our room. We have a beautiful room and balcony.
Beautiful sunny skies today with temperature of 26C/80F. Being a sea day we slept in this morning and decided we would do lunch instead of breakfast in the Oceanview Café.
Oceans Ahead: The secrets of ships navigation with our first Officer (just promoted two day ago). Very interesting seminar on how the bridge works, who mans the bridge and when. They work 4 hours shifts twice a day, so he did 8-12 and will be doing 20-00 later. They still chart on paper.
Beyond the Podium with Mary Cerullo - What Dolphins Can Teach us - she is very dynamic and her talk was very enlightening. Some passengers saw two dolphins following the ship today.
Cocktails at the Passport Bar with our friends from London, ON.
Perry Grant - we went to see Perry again before the show tonight. He is quite the showman and has a great following.
Celebrity Showtime: John Bressler who is a contemporary troubadour. He astonishes audiences with his mastery of six electronic keybords. He is a comedian as well as a singer. We enjoyed the show very much tonight.
We went to the game show - She Knows, He Knows, Who Knows? where three couples are chosen and asked questions first to the husbands and then to the wives. It is a funny show, but we have been to funnier ones. It all depends on who the couples are.
Another beautiful day in Grenada, sunny with some clouds. The high temperatures should be 27C/82F. I have a private tour this morning so ordered room service for breakfast.
Met my friends at 8:15AM to proceed to the terminal to meet Marilyn and her group. We had four busses (22 seaters each) very comfortable and with air conditioning. Our tour was with Mandoo Tours (www.grenadatours.com ). We were doing the Spice Plantation Route. Our tour lasted almost 5 hours for $40pp. This route gave us a great feel of the island. We drove through St. George onto the Douglaston spice depot where Mandoo did a presentation of all the spices, how they grow and we all got to sniff some of the spices. We drove through the lush volcanic mountains as saw some spices, cocoa and bananas plantations. Our next stop was the Grant Etang crater. I was able to take some photos of some of the flowers found on this island. We then drove through the Rain Forest and it did rain on us. Our last stop was the Annandale Waterfalls were we found divers diving off the cliffs. The roads are very narrow and sometimes it is hard to meet other vehicles on the same road.
Today we were invited to the sailaway from the helipad, but since Norman can't go with his scooter, I invited Nancy to join me and Jerry stayed with Norman for sailaway on our balcony. Took some nice photos of the helipad. Some of the officers were on hand also.
We also decided to give the dining room a break, so we are going to eat at the Oceanview Café for dinner.
After sailaway, we went down to the Passport Bar for some Elite drinks. We have the greatest waiter, Tomas, that you could want.
Celebrity Showtime: Doug Cameron, Jordan Bennett & Sara Story - this will be a variety show extravaganza. Sara is one of the lead singers of the Eclipse singers.
Sue Denning: One Woman Show - our Cruise Director put on a show all by herself. She sang and told some jokes, I thought the show was great.
Sunny with some clouds with highs of 28C/84F. We slept in this morning as we were just here two weeks ago. We skipped breakfast and went for lunch in the Oceanview Café.
We relaxed on our balcony as we are facing the people coming and going.
There are no tickets today for cocktails as their is an Elite Senior Officers Cocktail Party between both dinners.
Tonight is the second formal night, so we decided to take a break and eat in the Oceanview Café. There is quite the variety of food to choose from in the evening.
Celebrity Showtime: "Edge" since we saw it last cruise, we will skip it tonight. We went back to our room and watch some TV.
Today was a very relaxing day. We love our stateroom, lots of room, beautiful balcony that we have used every day.
This is a beautiful island that I did a full day private tour last cruise, so spending the day with Norman.
We slept in, our favourite thing to do but still made it to late breakfast that closes at 11:30AM. The forecast today is sunny with some clouds with highs of 28C/84F.
We did get off the ship and visited the locals stores at the port area, some nice shops but still did not buy anything. When we got back on the ship, I went to the solarium to do some swimming. Did 10 laps, chatted with some off the other swimmers, got out when I was like a prune. Our balcony is in the sun this afternoon, so I did some sunning, which I don't usually, but could not resist today.
Our cocktails were at the Passport Bar with our friends Nancy, Jerry, Shirley and Carol. Our waiter knows what we want and brings it to us exactly when we want it, Tomas is a great waiter. Our dinner, our this cruise, is at 5:30PM but since we are only dining with another couple we meet around 5:45PM.
Celebrity Showtime: Perry Grant in Concert - his fans were thrilled, I am sure to have Perry tonight but probably be upset that he is not on at 10PM in the Sky Lounge. You just can't have everything. Some of his fans stayed for both shows, now that is dedication. He does put on a great show.
Another beautiful sunny with clouds day. The highs for today are 27C/82F. We had breakfast in the Oceanview Café, we like it there always a good choice of food.
Since I did a private tour on the last cruise, we just got off and walked around some of the shops.
Went back to the solarium pool and did 10 more laps, it is such a nice pool.
Art of Entertaining: Secrets of the Pastry Chef, he showed us how to decorate a cake, looks very easy, will have to try to of his tricks when I get home.
Our cocktail was at the Passport Bar again with our friends from London, ON. Tomas took good care of us.
Celebrity Showtime: James Stephens III who is a comedian whose crossover appeal has taken him from the Apollo Theatre to Carnegie Hall. He also does impressions of different people, like Ray Charles, Frank Sinatra, Stevie Wonder and many more. He also told us that he is playing Bill Cosby in an upcoming movie. It was a very good show.
Today was overcast with chances of rain. The highs were 27C/82F. We had lunch at the Grill, they make great hamburgers.
There are 6 ships in port today, so we decided to stay on the ship, just too many people in town.
Our cocktail again was at the Passport Bar.
Celebrity Showtime: The Comedy & Magic of Chad Chesmark. He has a unique blend of mind blowing magic, offbeat humour and audiences participation. Great show, great magic.
Another warm day with temps highs 28C/83F. We had room service this morning as I was going on a taxi tour with my London, ON friends.
We met outside and had a burst of rain that lasted minutes. This is a long dock but St. Croix has a shuttle to bring us to the terminal and back. That was a big help. The four of us, Nancy, Shirley, Carol and myself walked over to the taxi stand. This is the only island that I ever saw organization. They have a list of different tours with prices. We wanted an island tour, so that was $25 pp + $5 pp entrance fee to the rum factory. This tour was to last about 3.5 hrs but ended up being about 5 hrs. These vans hold 15 people and we had 12 onboard.
We started out going towards the Tropical Rain Forest, saw many mahogany trees that are protected by the government. We did stop at Renaissance St. Croix Carambola Beach Resort and Spa. What a nice resort, very expensive. We ended up at the Columbus Landing. Columbus came here on his second voyage 1493. Near this landing there is a river called Salt River Bay which is fed buy the ocean's salt water. We continued our drive to Christiansted were we had an hour stop to shop or have lunch. We did both. We walked to the boardwalk along the marina and ate at Angry Nates and shopped at Purple Papaya. We passed by this big refinery owned by an Argentinean company. It was closed last May 2012. It has put a lot of people out of work. It is just sitting there doing nothing. Hopefully someone will buy it and start it up again. We then drove to the Cruzan Rum Distillery, we did our tour, we saw the vats where they are fermenting the rum, these vats are open at the top and I was able to take photos. Could not imagine this being done in Canada or USA and let people go so close to everything without putting up some Plexiglas. After our tour we were treated to two pina colatas, yum yum...
We had our cocktails at our usual place Passport Bar. We were all so tired from our day around St. Croix.
Celebrity Showtime: Charlie Peachock - a world champion Juggler, he was also on Americas Got Talent and made it to the final four. He was good and funny, a little comedian.
A warm and sunny day today with temps at 29C/85F. We got up late today, nowhere to go, relaxing before our drive home. Lots of people sunning on deck 14. We had lunch at the Oceanview Café. Today there was Brunch in the dining room, but we did it last cruise and it is easier and less tempting at the Oceanview Café.
Lots of activities are planned on sea day but we just wanted to relax before our drive home.
It was the last formal night with the lobster tails, lots go crazy over this but we did not find it that great.
Celebrity Showtime: Eclipse - The Show - this is one of the production shows with the singers and dancers plus the Celebrity Orchestra. We saw it on the last cruise so we decided to returner to our room early.
For our last day at sea it is sunny with some clouds with temps of 25C/77F. Everyone was out for their final sunning before going home.
We were up early for us and made it to breakfast.
Packing was all done this afternoon, easier then when we leave, we just pack everything in sight. Our luggage has to be out by 11PM tonight. This was a great cruise, barely feeling the ship moving. There were a couple of days at the beginning of the second cruise that it was a little rocky but not for long. Today there is no white caps out.
Celebrity Showtime: Voyage to Remember with Chad Chesmark, Charlie Peachock, Top Shelf our A Cappella Quarter, Eclipse Orchestra and Sue Denning our Cruise Director. Another great show, Celebrity knows how to entertain us.
We were scheduled to debark around 8:30am, and we were off around 9am. It went well, we found a porter to take our suitcases to the immigration, we go through the handicap exit so it is quite fast. The Park and Go van was there to pick us up and drive us back to the parking where our van was. This was the easiest parking and worth the price, much cheaper than at the port if you book and pay online.
We started our drive back home that was going to take five days but after looking at the weather maps we came back in four days and all the roads were dry and clear. The 27th we did get the snow storm and rain so glad we did come home earlier.
We really enjoyed this time away from winter, it was a good mix. We had nice timeshares and our 28 nights on the Eclipse was great, this ship is lovely so elegant. The food was great in the dining room. The mixtures of shows was great. We love Celebrity that is why we keep coming back. The staff pays 100% attention to the guest.
We do have one complaint thought, the music that was being played during our cocktail hour in the Passport Bar needed to be lowered so we could hold a conversation with our neighbour. We did complain in writing and we did get a call back from the CD and Hotel Director but nothing did change. That was the only thing that we did not like.