Cruise to Caribbean

Southern
Feb 15 to Mar 1, 2015
Celebrity Eclipse: Cabin 7145 Balcony - H/C
Left home Jan 9 and returned April 8, 2015
Spent our time in Orlando, FL pre and post cruise

| | |
| --- | --- |
| | |
| | |
| | |
| | |
| | |
| | |
| | |
| | |
| | |
| | |
| | |
| | |
| | |
| | |
| | |
| | |
| | |
| | |
| | Drive home |
January 9th, we left home very early to start our drive to Florida. When we got to customs, there was nobody there, so went fast. We stopped to have breakfast and to make our first purchase in the US for insurance purposes (hope we won't need it). Our drive down went so good, dry roads all the way, even in the Adirondacks where it can be a little dicey. There was very little traffic, so that was a big plus. We try to do around 600KM/360mi. We took a different route this time which we avoided all tolls. Our first stop was Johnson City, NY. We decided to take a different route what was suggested by friends and family, so from Albany we took the 90 toward the 86 then 81 then finally 64 before reaching the 95 in Richmond VA. There are no tolls at all on these roads.
January 10th, we stayed an extra night in Johnson City, NY as I was ill all night, did a lot of sleeping during the day and night and was ready to go when we got up.
January 11th, we left Johnson City NY and headed to the 81, beautiful scenery through the mountains, we had dry roads all day. Our next stop was Waynesborough, VA
January 12th, we left after breakfast as we alway do and today we had heavy rain and heavy fog most of the way. It stopped raining the last 45 min before we arrived at the hotel. Tonight we are in Santee, NC.
January 13th, we left this morning and most of the roads were very nice, but the bit to get to the 95 was terrible. So we will stay on the 64 next time. While I am here I will rebook the same hotels for our return.
We left Orlando at 8AM and was in the terminal at noon. We dropped off our luggage then circled around to the parking garage. We are on deck 3 and in the shade which we were pleased about that. We took our carry-ons with us back tot he terminal where we went through security then in the handicap line for boarding. The lines were long but we only had a couple in front of us so we got our sea pass card and away we went.
We were greeted with champagne, mimosa or orange juice. We proceeded to the Bistro on Five to meet our other CCers friends. There was a waiting time to be seated so we said hi to Mary then we were off to the buffet for some lunch. Our rooms were ready at 1PM. We went to our room, started unpacking what we had.
Muster drill was at 3:45PM and our station was in the Theatre. After the drill we went to the Sky Bar to meet our Cruise Critic friends. Many did show up so it was nice to meet so many of them after talking with them for the past couple of years. Carole was nice enough to make personalized permanent name tags for everyone that requested one. I will use our on all our future cruises.
Our diner was at 6PM in the Moonlight Sonata Dining Room were we have a table for 3. Service was very slow last night, I am guessing that it will improve as the cruise progresses.
Celebrity Show Time was a comedian Darrell Joyce. He was very funny, clean joke telling. He had us all in stitches. First our Cruise Director was Sue Dunning (she has to be one of the best Cruise Director that we have ever had) introduced us to the Celebrity Orchestra, singers and dancers. Then she had the Activity Manager and team come out telling us what to expect as activities during our cruise. Once Darrell had left the stage, Sue closed off the show with a song, she is an excellent performer.
After the show, there was line dancing, I tried it a bit but just was too tired to dance so we came back to our room and called it a night.
Today we have sunny skies and 21C/71F. The seas are relatively smoothed. We had breakfast in our room as we had a Cruise Critic meeting at 11AM in the Sky Lounge. Many CCers showed up for this event. Sue, our Cruise Director welcome us and introduced some of the senior officers that came to meet us. We then chatted with another couple from our Roll Call.
Tonight is the first of three formal nights. We decided not to do the formals, so we will be going to the Oceanview Café. We were not the only ones that skipped formal night. They do have a chef cooking steaks, salmon, pork chops to your liking.
We did not go to the Captain's gala toast where he introduces all his senior officers.
Celebrity Show Time - Edge the Show - production show which is a classic rock and pop meet cutting-edge technology in this evocative production spectacular with the singer, dancers and orchestra. Since we saw this show two years ago we decided to go back to our room and make it an early night since I did not sleep much last night so hopefully I will make it up tonight.
A beautiful sunny day at sea with 26C/79F. Another quiet day for us, did go and see the glass blowing and went to the Fabergé talk.
Before dinner we went to listen to Beacon Street Duo they are a Classical String who were performing in the Ensemble Lounge. Since we , Tickets for our Elite cocktail, which we get 3 drinks per person from 4 -7PM in most bars. We met another couple from the mid-west before Mary joined us. Mary organize our group of 8 for Qsine.
Tonight we are dining with some Cruise Critic friends at Qsine. We were a table of 8 which is just the perfect size table, they sat us at a round table so we were able to converse with everyone at the table. The food is great, little mouth size portions but there is so much, you get to taste lots of different foods.
Celebrity Show Time - The Unexpected Boys - they do a Four Seasons tribute act which is fantastic. They have opened for Diana Ross, Dionne Warwick, Deborah Cox and Chubby Checker. We only caught the tail end of the show but what we saw was very good.
We went to the 50's & 60's that was in the Quasar, we stayed about 30 min then we went to the Abba Mania sing along and dance in the Sky Lounge, that was a more lively group. Everyone was signing along. Then Sue, our CD sang a song, she is a great entertainer and fabulous CD.
Woke up to a beautiful day in Aruba, sunny skies and 28C/84F. We had nothing planned for today so after breakfast we took a walk into town on the main street where it is full of shopping everywhere you look there are shops. We are docked at the furthest terminal so our trek into town was much longer. It was nice to be out in warm weather. Stephen did a snorkelling tour with Celebrity.
We had a very light lunch then I went to the Solarium to try out the pool. There was about 10 people in the pool. It was at a nice temperature, love that pool as it is inside.
We went to the Passport Bar for our Elite Cocktail as it is just outside the dining room, this way we can carry in a glass a wine for diner.
Celebrity Show Time - Fred Klett - comedian which is family oriented with observations from his life, childhood, marriage and children that anyone can relate to. He has been on Showtime, NBC and has worked with Jay Leno and Jerry Seinfeld. Fred was really funny he interacted with the front row, told stories of growing up with 10 kids in his family, so jokes on cruising, marriage. We were in stitches the whole time.
Interactive Theme Party with Live@Sky was held in the Sky Lounge. The Celebrity Orchestra, singers and dancers did a 30 minutes show dressed like the WACS in the 40s, but with much sorter pants. It was a great show, we really enjoyed it. They are so lively you can help but get into the mood.
Another beautiful warm day ahead with 26C/80F, but if felt lot warmer in the sun. We had breakfast then headed out for our walk to all the shops around, not that we shop but it was a nice walk. We did cross over the pontoon bridge to the other side. It felt smoother than last time for Norman on his scooter. We visited lots of stores and walk around then when we wanted to cross back the pontoon bridge open to let some boats through so we had a nice wait before they closed the bridge. We went to try the ferry, which is free, that crossed the same water way but we could not get on with the scooter, Norman would have to walk on so we went back and waited for the pontoon bridge to close. We finally crossed, did some more looking at the flee market type of stalls on our way back. It was a nice walk, we were out for a few hours. We are in Curaçao from 7AM to 11PM since our next stop is Bonaire and not fare. Stephen did a Celebrity Island Tour.
We stopped in the Passport Bar for our daily Elite cocktails before going to diner in the dining room. The Blue Velvet Band Jazz Quartet they are a good band and we love there type of music.
Celebrity Show Time - Bobbie Eakes she is an international known for her double platinum recording artist. I know her from The Bold and The Beautiful where she played Macy for many years and use to sing once in awhile with the character Thorne which we saw him on a past cruise. I use to love hearing them sing together.
Mixology 101 watching a professional Flair Bartender Edgar and he shows you how to mix a drink with style.
Caribbean Night at poolside - the house band Sonata perform as the Caribbean start set in.
As we were docking we had some showers. Our temps are 27C/82F. I ordered breakfast in our room it is much easier when I have a tour.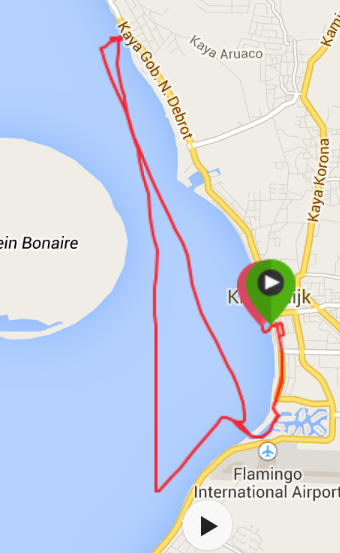 Today's tour was organized by Karen and Mary a snorkelling excursion on www.compass.com sailboat with Captain Wim and his skipper. We were 10 in the sailboat, he only takes up to 14 per outing. Stephen went in and said it was the best snorkelling so far. Bonaire is known for its snorkelling. They served us drinks and some sandwiches. We were picked up at 8:30AM by bus to the sailboat which was about 20 minutes away. We boarded and we were offered a non alcoholic drink and spoke about the safety rules. Then we were off sailing to the spot where they stopped for the snorkelling for about an hour. We were server non and alcoholic drinks, some little sandwiches and relaxed a bit before returning to the dock. We were back at the ship by 12:15PM.
I met Norman in our room, showered and we were off for some lunch. One thing on a ship you never run out of food. We then came back to our room. I then went back out to book a future cruise but since the 2017 Bermuda cruises are not out yet, they set up a dummy reservation as we would get more onboard credits that way, then I just transfer it to a cruise that I really want to do.
We went to the Passport Bar for our Elite cocktail before dinner.
Celebrity Show Time - Pete Matthews Comedy Juggler - He started juggling when he was 11 years old and was the youngest street performer ever to perform his show in the main piazza at London's World famous landmark "Covent Garden". He is now recognized as Britain No. 1 comedy juggler and has performed his unique show across the globe. We don't usually like jugglers but Pete is very funny comedian kept us in stitches all during his performance. If you ever get a chance to go to one of his shows and want a laugh don't miss him.
We had sunny with some clouds today with 26C/80F temperature. Today we decided to eat lunch in the dining room, it is only open on sea days. Later we went to the Café Al Bachio for our cappuccino and free Italian Gelato.
We returned to our balcony room and watched a movie, we have free movies on demand where you can pause and it will keep for 48 hours.
Tonight is the second formal night so we are eating in the Murano French speciality restaurant and we will have our cocktail in the Ensemble Bar.
Celebrity Showtime - Eclipse - The Show which is a European style theatrical circus celebrating this incredible phenomenon, the Eclipse with the Celebrity singers, dancers and specialty acts the Stars of the Celebrity Eclipse. We did skip the show, we have seen it a few times though we like the show by time our diner was over the show had started. We went back to our room and watch a free On-Demand movie
We arrived in Barbados with a brisk Caribbean shower with 27C/80F. We had breakfast in our room as I have a private tour with Stephen starting at 9AM.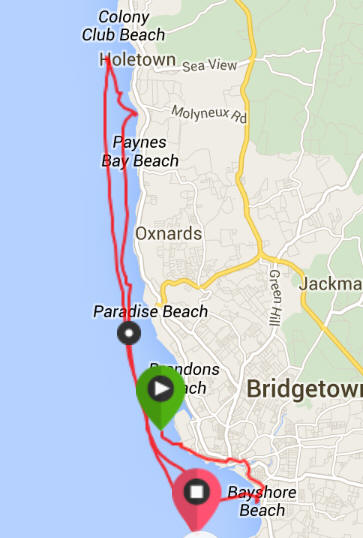 Our tour today was a snorkelling tour with Boladortours which we were to meet at Gate 2. When you dock in Barbados the pier is very long and, of course, we had the furthest spot. The port provides shuttles busses to bring you to the terminal and they also provide a handicap van for wheelchair or scooters. Stephen and I walked to the terminal as the line for the shuttle was very long. In fact we arrived before the first shuttle, it is about a 10-15 minute walk. We met our taxi driver that was taking us to the catamaran. We boarded the catamaran from a beach about 15 minutes by taxis. This I was not expecting but the crew was very good in assisting us to board. This catamaran can hold up to 40 but they only take 14 at a time, today we were only 8 so lots of room and 3 crew. Our first stop was very close and it was snorkelling with the turtles. Danielle, one of the crew, had some food and the turtle was following her. Our other crew members were the captain Jimmy and Nick. There was another couple from the ship Risa and Rich and two more couples from local hotels. After the turtle stop and everyone had boarded, the sails were hosted and we were off at a great clip to our next destination to snorkel and see the ship wreck and lots of fish and reefs. I did not snorkel but all said it was beautiful. Stephen took lots of photos that you will be able to see. Once everyone back on the catamaran, we move over a bit and had lunch. It was local made food, we had flying fish, chicken, macaroni and cheese made Barbadian style and rice with some black eyed peas. There was also cold slaw and salad. We had an open bar all day. This was a 5 hour tour. We had beautiful weather until it was time to come back, we had another bought of liquid sunshine, for someone who did not go into the ocean I was wet most of the time, just as I got dried out it poured again.
We had our cocktail hour in the Passport Bar before entering the dining room for another wonderful dinner.
Celebrity Showtime - Laszlo & Claudia who are violin sensation. They were favourites as studio musicians for Paul Anka, Michael Jackson, Barbra Streisand, Shakira and many others. Energetic and elegant, these two virtuosos delight audiences with their fiery gypsy music, tango, jazz, classical, Broadway show stoppers and more. They were great, funny and got a well deserved-standing ovation.
We woke up to beautiful warm day with a high of 28C/83F. We had breakfast in our room as I had an excursion with Mary and our little group.
We met at 9:15AM at the tent area outside the ship. We then proceeded to find a taxi for the 10 of us. We were going to spend a day at The Rendez-vous Resort on a day pass. The taxi charged $5 each person each way. We arrived at the resort and signed in and pay our amount $65/pp for 9:30PM to 3:30PM which included all amenities at the resort, beach chairs, towels, drinks from the bar, lunch buffet, pool. This is a beautiful resort, mostly for honeymooners or couples sharing a special anniversary. Since both Mary and I were alone, we went as partners. It was not a problem, the staff could not do enough for us. The lunch was really good. When it was time to leave, no one wanted to leave as it was very relaxing, one of our group called our taxi and we were back at the ship in no time.
We skipped the cocktail tonight and we watched the sailaway from our balcony before going to diner in the Moonlight Sonata Restaurant.
Celebrity Showtime - Justino Zoppe's Magic and Beyond - It was an intimate evening of magic, as he captivates his audience by combining his personality, hilarious comedy and touching, true life stories-blowing visual magic. We found this show a little slow, it could put you to sleep.
We arrived in Antigua with beautiful skies and 28C/82F. We again had breakfast in our room as it is easier when I have a private excursion.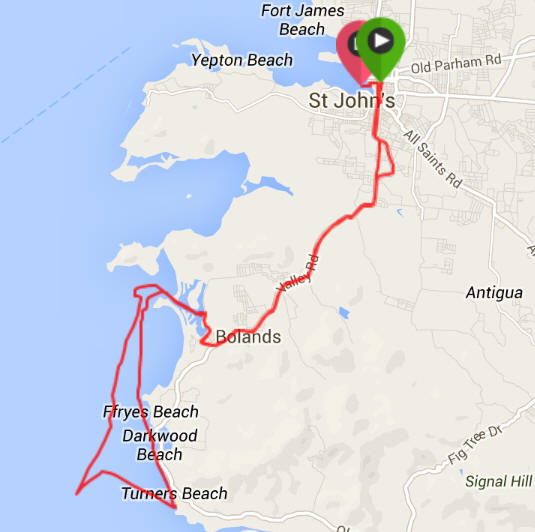 Today we were meeting Mary and the rest at 9AM under the tent area outside the ship. Our snorkel tour was with Cool Cats which are docked in the Joly Harbor which is about a 20 minute ride from the dock. Mary had arranged for Captain Wayne to pick us up at the port. We were 11 today. Once we got to the Catamaran, we all boarded and our mates were Alex and Lucy. Our tour was from 10AM to 2PM. We sailed until around noon where we set anchor and those who wanted to snorkel or swim were invited to do so. Stephen said that the water was not clear as they are affected by the storms up North. Alex said that the water was the clearest it has been in a while. While people were off swimming, Alex BBQ some chicken breast on the back of the catamaran and Lucy prepared the rest of the lunch in the cabin. This is a catamaran that has 2 bedrooms, small kitchen with a table and bench inside that I believe would convert into another bed if needed. We spent the day outside but mostly under the canapé for those who wanted to stay out of the sun. Those who wanted to sunbathe when up front on the trampoline. After lunch we set sail again back to the marina where Captain Wayne was waiting for us to shuttle us back to the port. We had perfect weather, perfect seas and perfect company, as you can see where I am going with this, it was a perfect day on the water.
Tonight we have the Senior Officer's Cocktail Party for all Select, Elite, Elite Plus & Zenith which is held in the Sky Lounge.
Celebrity Showtime - Solomon Jaye - he channels the vocal flavours of John Legend, Luther Vandross and Stevie Wonder with the iconic dance styles of Michael Jackson, Sammy Davis Jr. and the acrobatic flare of Gene Kelly. He was accompanied by the Celebrity Orchestra. Jaye was a very energetic entertainer, this was his first time performing on the Eclipse. We enjoyed his singing very much
We arrived in St. Kitts, sunny skies at 25C/77F, looks like we will have a wonderful day. Again we in breakfast in our room as Stephen and I have a private tour in Nevis today.
We met everyone at 8:45AM this morning in the Passport Bar. Tom had organized this tour on our Roll Call, we were 18 in our group. We met our tour organizer Thenford Grey and we boarded a bus for a short ride to the ferry terminal. We were taking the 9:30AM ferry. The ferry ride to Nevis was 40 minutes. The seas were relatively smooth. Once we reached Nevis we were met by our driver/guide Hermaline. We were 10 in her van and the others went in a second van. We toured the island and she gave us lots of information. Our first stop was a museum then we continued our tour of the island. Our next stop was a little chapel with a great view of the ocean and ships. Next we stopped at a hot spring spot where many of us soaked our feet in 109F water. Our next stop was lunch at the Montpelier Estates. We visited first then we all sat down for lunch. We have a private area with a U shape table. We all had lunch but found the bill was excessive for what we had. After lunch we continued our tour of Nevis island and she dropped us off at a beach where some stayed to enjoy it and Stephen and I boarded a speedboat back to St. Kitts where another driver was waiting for us to drive us back to the ship. We got to tour more of St. Kitts island which was nice.
We watched sailaway from our balcony before going down to diner.
Celebrity Showtime - Wayne Hoffman - who is recognized as one of the top mentalist in the world. Unfortunately we missed the show, I was so tired after our day out that we came back to our room and made an evening out of it.
Celebrity Late Showtime: Sue Denning - One Woman Show. We have seen her show before and would have liked to see it again. Maybe next year when we are back on the Eclipse.
Another beautiful day for our last port of call. We have sunny skies and 26C/78F. We had breakfast at the Oceancafé since we did not have any tour planned today. We ran into Stephen and we decided we would try to get a taxi to do a tour.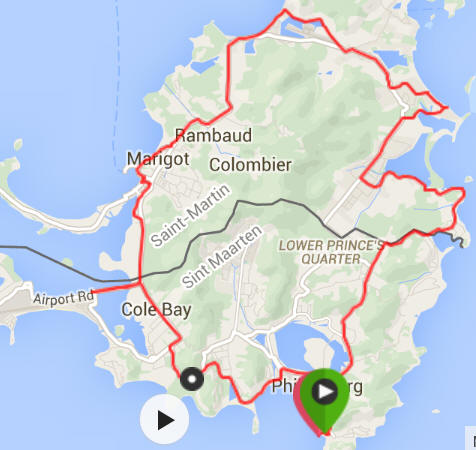 Once we got to the taxi stand we found out that there is a taxi stand for accessible transportation. We were able to secure a tour with them and two other ladies from Princess Regal. The two wheelchairs and 3 of us board and were on our way for an island tour. This was the first time that Benjamin, our driver was giving a tour. Besides the lookout point and Orient Bay Beach the rest was all new to us until we go the Marigot on the French side. As you know the island is divided in two countries, Dutch is the side that we dock and the French side where the capital is Marigot. We had a great tour with our guide and it was nice to only be 5 in the accessible small bus.
We watched the sailaway from our cabin before going to diner.
Celebrity Showtime - Hard Day's Night - A Tribute to the Beatles - they deliver an exciting re-creation of a Beatles concert from the "touring years" and the Abbey Road era, the captures all the thrill that fans have missed over 40 years. They provide the costumes, boots and haircuts. We absolutely loved this show, what is not to love about the Beatles music.
This is our first sea day on our way back, we have clear skies with 30C/86F. Today we had a farewell luncheon organized by Ann & Ern. We were about 30 that attended. It was well organized, we had lots of wait staff tending to all our needs. We were on the Port Side where the open seating luncheon was on the Starboard side. We were all alone. This luncheon was for the Cruise Critic Roll Call for the ones that wanted to attend. It was nice, got to share lunch with Ann & Ern. We had a great time chatting with them.
We will go to Elite cocktail in the Ensemble Bar as we are dining in the Tuscan Grill tonight. It is the last formal night in the Main Dining Room so we opted to forgo the formals. In the specialty restaurant the dress code is smart casual which is fine with us.
Celebrity Showtime - Ovations - it was a production show that took us on a whirlwind tour of the most famous shows of Broadway and London's West End. The Celebrity Orchestra, singers and dancers perform in this show. Both of us enjoyed the show very much, if you like Broadway songs then you would love this show.
This is our last sea day and the weather is beautiful with sunny skies and 25C/77F. We had breakfast in the Oceanview Café then went back to pack as we put out our suitcases by 11PM tonight.
We went to the Passport Bar for our final Elite cocktail before diner in the main dining room.
Celebrity Showtime - Miguel Washington - comedian that has appeared on many television shows. Also the winner of the Karaoke also sang for tonight. Sue Denning opened the show with a song then the winner of the Karaoke, voice of the Eclipse, sang a song for all of us. Miguel then came on stage, he kept us all in stitches, very good comedian. We enjoyed his sense of humour very much.
We met Stephen at the Tuscan Grill where the Elite gather for debarkation. They serve croissants, coffee, juice and water. We were called around 9:15AM and we made our way down to the terminal to collect our luggage and find a porter. It took a while for the porter but we were at our van and all loaded by 10AM and we were off. We were to meet a friend of mine and her husband but instead of calling their cellular I called their home number so they did not get the message. We did stop later for some lunch before taking the toll roads. We got back to Stephen's in Orlando at 3:15PM. We unpacked, did laundry and ready to go again.
We had a great cruise, great seas, great weather. All our private tours we great, we had lots of fun. The ship was in good shape, our room was immaculate. The service in the dining room was good, they were very attentive to us. The crew that we met always greeted us with a smile and hello. We enjoyed the shows we saw except one, so that is a good ratio. We will be doing this cruise again next February 7th, 2016.