Cruise to Caribbean

Southern
Feb 7 to 21, 2016
Celebrity Eclipse: Cabin 7145 Balcony - H/C
Left home Jan 9 and returned April 7, 2016
Spent our time in Orlando, FL pre and post cruise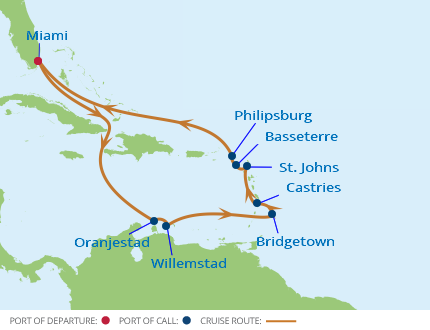 | | |
| --- | --- |
| | |
| | |
| | |
| | |
| | |
| | |
| | Willemstad, Curaçao |
| | |
| | |
| | |
| | |
| | |
| | |
| | |
| | |
| | |
| | |
| | |
| | Drive home |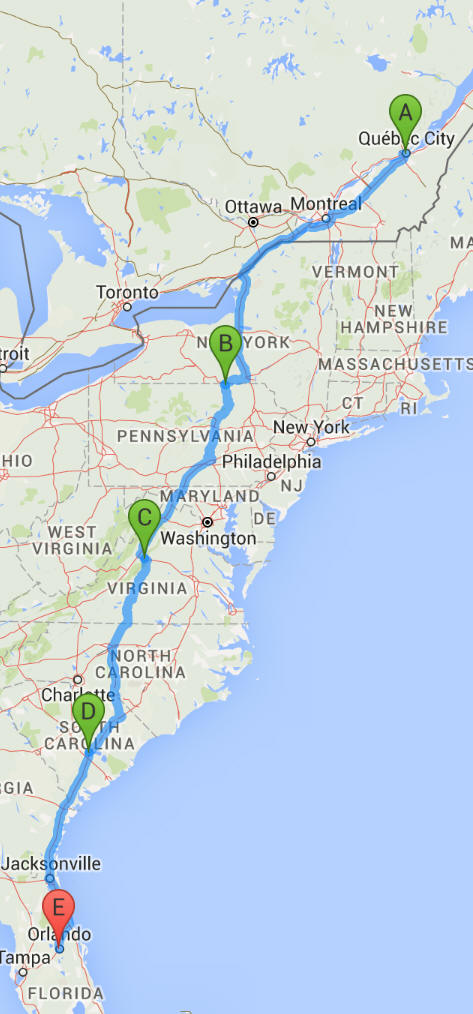 January 9th We drove from home to Sayre, PA on our first day. We had drizzle all day, some rain and high winds which made keeping the van steady difficult. We were glad when we arrived at our destination for the night.
January 10th Our second drive was rain in the morning but it finally stopped in the afternoon which made it easier for our drive to Waynesboro, VA were we spent our second night.
January 11th Our third drive was sunny all day and a little warmer during the day. Our stop tonight was Santee, NC where we have stopped many times.
January 12th Our last day drive was again sunny all day and warmer. It was nice to finally see Florida and make it to our final destination in Orlando, FL for the next 3 months.
It is a 3.5 hours drive from Orlando to Miami. We left early around 8:15AM for our drive to Miami Cruise Port. We arrived at 11:30AM, dropped off our bags to the porter then proceeded to park our van in the multi level garage on deck 4. We did find a handicap parking just across from the elevators.
We quickly got in line for the security check then registered for the cruise. We were on the ship in no time. It was a very smooth embarkation. We waited at the Bistro on Five until our cabin was ready. We met some of the Cruise Critic friends while we waited. Once we heard the announcement that our cabin was ready, we dropped off our carry-on luggage. We started to unpack and before you knew it our luggage had arrived. Once unpacked, it was time for the Muster drill, which our station is the theatre on deck 4. After the drill we were meeting our Cruise Critic friends at the Sunset Bar on Deck 15 for our Sailaway.
We left the port at 4:30PM. It was nice meeting some of the people we had been chatting with over the last couple of years.
We are on the early dinner seating which is at 6PM. We are at a table for 7 (table 202. We met only 3 of our table mates who are from Windsor/Toronto, ON. I am thinking that the other two were probably at the Super Bowl party held in the theatre. We did go and watch some of the Super Bowl thought it is not really our interest but I did have a couple of boxes on a Super Bowl Pool. Since we did not watch all of the game, we still don't know if we did win something.
Since there was no show this evening, we did go back to our cabin to turn in as it was a very long day. We put our clocks ahead an hour since the islands that we are visiting are on Atlantic Time. We will get our hour back at the end of the cruise on the two last sea days.
Today is a warmer day 24C/75F sunny and calm seas. We got up early as we had our Cruise Critic Connection Party at 10:15AM in the Sky Lounge. We were able to get some croissants and coffee in the Sky Lounge. Many people showed up, it was one of the biggest gathering that we have been to.
Super Bowl Pool we did not win this time, the last time we joined one we won with the final score which gives 40% of the pot.
After the meeting we stayed to play Officers vs Guests are you smarter than a ship's officer. The guests won. They gave us 15 questions to answer and our group got 10 right but the winning group had 12 right answers.
We had lunch in the dinning room as they serve lunch on sea days.
Beyond the Podium with Howard Bayewitz: Lies My Teacher and other Grownups Told Me - Mutiny on the Bounty. He is very interesting history professor, we will try and come to his other lectures.
We both took a little nap before dinner and the Elite cocktail.
Celebrity Showtime: Rock City an epic stadium style concert featuring iconic rock anthems staring the cast of the Eclipse. Our host is our Cruise Director Jane. We were able to sit in the first row of the theatre, they have a special elevator that brings us down here. It is better than sitting all the way in the back of the theatre. A little trick that Vicki taught us. We both loved the show, good music. All the artists are very good. It is nice to see new production shows this cruise.
The temperature is getting warmer 26C/80F. It is sunny with some clouds.
We just made it to the late breakfast this morning, it is a very relaxing day.
Beyond the Podium with Howard Bayewitz: Dutch Treats - Aruba, Curacao and the Dutch Empire in the New World. These are very interesting talks.
Matinée Showtime: Nicola Ward she is one of the production vocalist on board and has devised her own one woman show that takes you on a musical journey filled with iconic artists, musical mash ups & feel good anthems. She has a great voice, great showmanship she reminds me of Céline Dion.
Celebrity Showtime: The Filharmonic - their are an unique band in their musical talent and cultural diversity. With Los Angeles as home base, the group of Filipino-American youngsters who were featured in NBC's hit musical competition. "The Sing-Off" has much to sign about. I enjoyed the show very much but Norman not so much.
Interactive Theme Party: Groove - The sights and sounds of psychedelic 60's come alive in the interactive party featuring the Singers and Dancers. Relive the fashion, music and atmosphere of this groovy era.
We are in Aruba from 8:30AM to 7:30PM. It is sunny with temperature of 31C/87F. We had a late breakfast then went of the ship. The main shopping area is just a block up from the terminal.
We walked around the shopping area for about an hour before we came back to the ship. We have been here a few times now and have toured the island a couple of times. So now it is just a relaxing day on our balcony.
We sat out on our balcony watching all that is going on. We are docked on the port side so we see all of Aruba. It is perfect sitting here with a light breeze and shade, just perfect.
Celebrity Showtime: The UK's Premier Comedy Juggler Pete Matthews - he is widely recognized as the UK's Premier Comedy Juggler, Pete's early career kick started with a record breaking summer season and several primetime television appearances. With his infectious enthusiasm, rapid-fire wit and highly skilled juggling, Pete Matthews should change our opinion, without a doubt, of jugglers. We normally are not great fans of jugglers but Pete Matthews is very funny in his presentation, he had us in stiches.
Interactive Theme Party: Live@Sky - Inspired by the modern renaissance of swing, led by the likes of Michael Bublé, Christina Aguilera and Harry Connick Jr. The Cast, Orchestra and Activities Staff combine our twist of some of the greatest hits of the era. It was a very high-energy jump, jive and wailin' great time! This is a fun party, we had great seats so we were able to enjoy the whole dance show.
We are in Curaçao for two days. Today it is windy, sunny with temps of 30C/86F. Since I have a tour this morning we ordered room service for our breakfast. It is always easier that way.
Today my tour was organized by Peggy from our Cruise Critic Roll Call. The tour was called East Side Tour (Irie Tours). First we drove over the Juliana Bridge, where we had a great view of Willemstad. Then we passed through the old Jewish neighbourhood, we saw all the old Jewish Mansions that are being restored. We also visited the Curacao Liquor distillery, here we saw how the 'Blue Curacao' is made and taste the different flavours. After the distillery we went to the Spanish water area, which is a beautiful residential area in the Spanish Water Bay. The last stop was at the Curacao Sea Aquarium Beach, I stayed there for 1 hour, we had a choice of 1,2 or 3 hours at the beach. After this nice stop, we were brought back to town.
Celebrity Showtime: Jordan Bennett in The Feel Good Concert - He is an acclaimed entertainer of film, TV and Broadway. His surprising one-man show with all types of music, a touch of humour and a bit of the unexpected. The LA Times said: "Jordan Bennett is often quite mesmerizing." He was OK as an entertainer but not much more for us.
This is our second day in Curaçao. The temps today are 30C/86F and sunny. We ordered breakfast in our room again as I was going to take the 5 hr tour with Irie Tours today which visits the West side of the island. I was not feeling good when I woke up so decided not to go and make it a late morning and sitting our our balcony day. It is cool on our balcony with a nice warm breeze and watching people go buy. I am now feeling better, I had a very bad soar throat, I thought I might be starting my bronchitis but it seems to be going away.
Since we are going to Qsine tonight we decided on a very light lunch, ice cream & cookies, not the most healthy but satisfying.
Tonight we will go for our Elite cocktail in the Ensemble Lounge as we are meeting up with Cruise Critic friends for a dinner in Qsine specialty restaurant. Qsine offers bite size portions of many types of food, so the more you are the more you can taste different kinds of food. We were 9 for dinner. The food is really good but there was no room for desert. We could go back around 10:30PM tonight, some will do but for us it is too late to eat something sweet or eat anything.
Celebrity Showtime: Illusionist Ryan Joyce - who was truly a man of many top hats. With his exciting brand of magic, mystery and mischief, Ryan presents a show that was guaranteed to capture our imagination and rekindle our sense of wonder. The tricks he did were great but we have seen them many times. He does a lot of talking and less tricks. Tonight we sat in the first row of the theatre, we get a great view from that angle.
A beautiful sunny day at sea with temps of 30C/86F. We skipped breakfast this morning and doing lunch in the dinning room. We only eat two meals a day.
Beyond the Podium presents Howard Bayewitz: Chocolate - the gift to the world from the island and South America.
Ryan Joyce: Hypnotic Show - this was his hypnotic show. This was a fun show, he had 20 people on stage, about 5 were sent back after is was clear they were not hypnotised. We had lots of laughs.
We picked up 2 cappuccinos to enjoy in our room before we get ready for the Elite cocktail.
Celebrity Showtime: Liam Ryder - he grew up near Chicago and has been playing piano since age four. He has performed live on Good Day LA, Good Day New York and The Tonight Show with Jay Leno. Liam just released his debut solo album and is excited to continue writing more. He was a very good pianist and signer. We enjoyed the selection of music that he chose.
ABBA Mania Sing Along & Dance Night - they had all the words up on the screen so we could all sing along together.
Today was sunny with temps of 28C/83F. I had a private tour today so we ordered breakfast through room service. Norman stayed on the ship today.
My private tour was with Calabaza Sailing Cruises. The rates were $110.00US per person for the five hour lunch cruise and was limited 12 guests and this provides a more intimate and personal setting. Transportation from and to the port was included, banana bread upon boarding, hors d'oeuvres, buffet lunch, dessert and of course drinks. Lunch was rice, pasta, couscous, garlic bread, green salad, mixed salad, bean salad, vegetable or coleslaw, fish and either chicken, pork, ham or beef. They did two snorkel stops, one at the turtles and one at a reef and/or wreck, another stop for lunch and a swim. I did not snorkel but was able to take a photo of the turtle when he came up for air. For the reef snorkel they chose a spot where its easy snorkelling, its not the number one reef on the island, but then again there is no current and struggle along. They do feed the fish and the turtles, without food neither fish nor turtles would make an appearance. The crew were in the water with those who snorkelled at both stops, they guided or provided assistance if needed and they are very good with the underwater camera and taking some really fantastic pictures, which will be emailed to us after the cruise. Masks, snorkels and fins were provided and they have snorkel vests if needed. They also have two bathrooms on board, boys and girls. There were plenty of shade and sunny spots on the boat for the fair skinned and for the tan lovers. Getting into the water was via a swim ladder at the back, any difficulties, the crew stood by to give you a helping hand. They leave from Bridgetown, the Careenage at 9:30am and return at 2:30 p.m., pick up time at the port was 9:00 am. It was a very nice day though we did have a few rain showers but did not dampen any ones spirit.
Celebrity Showtime: Chandelier which is one employee's memory of a night in the most opulent hotel of all time and the dark secrets that lie within. The casts singers and dancers and the Celebrity Orchestra were all part of the show. Very good production show, we enjoyed it very much.
Today we arrived at 8AM and it was sunny with some overcast and temperatures of 28C/83F. We slept it today as we did not have any tours planned. We had the late breakfast at the Ocean View Café then went out to see the shops.
Just outside the ship is a little shopping area with lots of nice stores. They also have free Wi-Fi which was pretty good considering a lot of people were downloading their emails and what ever... We came back to the ship after visiting all the shops. We went for ice cream then back to our room to sit out on our balcony. It is warm out there when the sun it out but in the shade not so bad.
Celebrity Showtime: Gareth Oliver - he takes the art of ventriloquism to a whole new level. Boasting a spectacular finale, this is a crazy show, oozing originality, packed with surprises and delivered with energy and conviction. He is the guy with the Big Hair who Simon Cowel and Piers Morgan, respectively describe as "Very talented
and terrific!". This was the funniest show we have seen. He is very talented.
Today we arrived in St. John's at 8:30AM with sunny skies and a temperature of 28C/82F. Since I had another catamaran tour today we ordered breakfast in our room. Norman is staying on the ship today. We were docked on the starboard side today and we are on the Port side facing another ship Mein Schiff 3 TUI Cruises.com a German ship which should help to shade our balcony.
My tour was a 4 Hour Lunch Cruise - Private Exclusive Charter - Jolly Harbour - Cool Cat on a 48 foot catamaran. This was my 3rd time doing this tour. The cost is $67.50 USD pp plus $12 pp for shuttle both ways payable at time of service, cash payment is required. We all met at the tented area at the bottom of the gangway at 9:20AM. We then proceeded the Security Booth to meet our driver who took us for a 20 minute ride to the marina. The tour actually started at 10AM. We met Wayne, our Captain and his daughter and boarded the vessel. We went on our way and stopped around noon for lunch in a quiet beach area. Our lunch consisted of grilled marinated chicken (grilled on the back of the catamaran), assorted salads, snacks, dessert, plus an open bar with local beer, red or white wine, rum punch, soft drinks and water. There was snorkel equipment - snorkel vest, float noodles, life vests available but the ones that went into the water only went swimming. Most of us stayed on the vessel. We were brought back to the pier near 2PM where our driver was waiting for us to drive us back to the ship. This is an excellent tour, so relaxing we were only 11 people plus 2 crews on the vessel.
After I came back we went for ice cream then retreated to our balcony where is was shade and a light warm breeze.
There is no Elite Cocktail tonight and they have instead a Officer party from 7:45PM to 8:30PM where you can mingle with all the officers and the captain. They also serve cocktails.
Celebrity Showtime: Tricia Kelly - she was a seasoned professional who had done it all, from the Hollywood Bowl, to the front lines of Iraq. Combining power ballads, tender love songs and hilarious impressions ranging from Cher to Louis Armstrong, Janis Joplin to Julie Andrews. She was a one woman variety show for all ages. She did some good impressions but too short. She only sang about 2 full songs. So we were not all that thrilled with her.
Today we arrived in St. Kitts at 8AM and we left at 5PM. It was sunny with lots of clouds and temperatures of 29C/84F. We had an Accessible tour today so we both went on the tour. We ordered breakfast in again this morning.
A couple of days ago we received, in our cabin, a notice that there were two accessible tours available to the scooter community. One for St. Kitts and one for Sint Maarten. Since we had done the Sint Marteen one last year we decided to skip it for this year. We did book the St. Kitts Accessible City tour for today. The tour consisted of a 3 hrs tour around St. Kitts. We had a lift bus, 4 scooters and 3 companions. In order to accommodate everyone, 3 scooter people sat in the bus benches and Norman stayed on his scooter for the whole trip. Half way through the tour we stopped at the Marriott Hotel and Resort for a 50 minutes stop. Such a beautiful resort, took some photos. One thing that we learnt about St. Kitts, you are not allowed to swear, if caught you can be arrested and put in jail. All the children wear uniforms and each school's uniforms are different. A lot of buildings are constructed with volcano ash as this is a volcanic island. Half of the beaches are black because of the volcanoes and the other half are white sand as they are shielded from the volcanoes. The low income families get a house from the government which they pay $150US per month for 25 years then the house is theirs. They are small, but well maintained which consisted of 2 bedrooms, 1 bath, living room and kitchen with a view of the sea. Those people earn $3 US/hr. They stopped the production of the sugar cane in 2005 so their main income now tourist. Today there was 3 ships in port with us, Celebrity Silhouette and Carnival Sunshine (docked at another pier). At our pier, their was a big shopping area just off the pier, it was the biggest that we have seen on this cruise. It was nice to do a tour with Norman.
We went again to the Passport Bar for our Elite Cocktail before dinner, this way we bring in a glass of wine for dinner. We do this every night. We also have been enjoying the music that is being played by the bands on board. Tonight was Bella River Duo.
Celebrity Showtime: The Music & Humour of Virgin/Higher Octave Recording Artist Doug Cameron - he has long been a favourite on jazz radio internationally. As arranger & composer as well, Doug has 10 CDs to his credit which feature many of his own compositions, a number of which were performed tonight. We missed the show, I was not feeling good, so went to bed early instead.
Interactive Theme Party: Motown - this was at the pool on Deck 12. They played the classics of Motor City Soul which came alive as the cast and musicians performed the best of this unforgettable era. Temptations, Four Tops, Supremes, Martha and the Vandellas and many more. We were sad we missed this one as we both love Motown.
Today was our last port of call, Sint Maarten. We arrived at 8AM and departed at 5PM. We had nice sunny skies today with temperatures of 28C/82F. Since we were not doing any excursions today we had breakfast in the Oceanview Café.
After our breakfast we went out to the shopping area, there are 6 ships in port today which meant over 20K people roaming around. We are docked on the port side the second ship behind the Regal Princess. On the other side is the Celebrity Silhouette and behind her is Costa Magica. At the next dock beside us is the Allure of the Seas with the Celebrity Equinox who is overnight here in Sint Maarten. Celebrity is doing overnights in all it Caribbean itineraries. Ours was Caraçao.
We walked down to all the shops of the port and then back to the ship to have our ice cream cone before enjoying our balcony which was in the shade this afternoon.'s
Celebrity Showtime: Jayne Curry is one of UK's most in demand female entertainers. Her warm inimitable stage presence and humorous observations on life, combined with show stopping vocals and hits from some of the worlds greatest divas, ensure her show delivers the 'feel good' factor after every performance. We missed the show again tonight just not feeling up to it. Instead we watched a movie on the Demand channel call Souffriere.
This is our 4th sea day of this cruise. It was sunny with temperatures of 23C/74F. The seas are a little bumpy today but nothing that cannot be dealt with.
We had lunch in the Dinning room as they serve lunch on sea days. It is nice, quiet and you get served.
Oceans Ahead: How our Ships Move with Accommodations Maintenance Manager Nino - He showed us about the Eclipse's systems, from Azipods to propulsion & energy saving designs in this informative talk. He was from Croatia and it was very hard to understand him, we left towards the end of his presentation. It was very informative what we could understand.
We later went for a cappuccino and tea at the Al Bacchio. Also we got our complimentary gelato, so good...
Celebrity Showtime: Topper - story about Sir Stuart Peabody and his collection of eccentric friends lived in a giant hat with the Celebrity signers, dancers. This was a fantastic show, loved the costumes, the decor, so different. All were great singers and dancers with the specialty acts. It was nice to have 3 new productions shows this time on the Eclipse.
Meet the Captain and his Officers - Captain Dimitrios Manetas was there at this informal gathering. We went around and shook all of their hands and told them that we had a great cruise.
This is our final sea day of this cruise. It was sunny with lots of winds and temperatures of 23C/74F. The last day is always a sad day when we have to pack but since we are still in vacation mode until April it is all good. We are returning to Orlando until beginning of April.
Mary from our Cruise Critic Roll Call organized a farewell luncheon. It was nice to see some of the cruisers we met earlier on this cruise. We had a nice lunch.
We went back to our room to do some packing as we wanted to go to the Matinée Show at 2:30PM.
Spot Light Matinee: A Musical Xtravaganza featuring the Guest Choir. Also featuring the winner of 7SeasIdol, Member of the Solitaire, Bella River Duo, Our Cruise Director Jane sang also with the Eclipse Orchestra
Variety Showtime featuring the Doug Cameron & Jayne Curry - they are back by popular demand (these are the two shows we missed). They will sing all kinds of music.
We have #27 luggage tags which means around 9:30AM we should be off the ship. They were ahead of time we finally got off around 9AM. In Miami, the luggage was delivered via a turnstile so needed to wait until ours showed up. Once the luggage retrieved, we found a porter that brought the luggage to our van in the parking structure across from the terminal. We could not find our way out of the parking complex, the down ramps were all blocked off, went around for about 15 minutes before we finally got out. We were heading to the 95 North, again the signs were not there, so we ended up at the terminal again until I finally saw a 95 sign. We headed to Ft. Lauderdale to meet with our friends from home, Monique & Normand, to have a late breakfast. It was nice meeting them. We then headed out back to the 95 North towards Orlando.
We had a great cruise, great table mates, great shows, met lots of our Cruise Critic friends which we went on some tours together. The food in the dinning room was good and in the Oceanview Café. The weather was perfect. The only down part of the cruise was not having Sue Denning as our Cruise Director. Jane was just OK but she sure was not Sue Denning.
March 17th
Today was my son's birthday, he took the day off work and we went to visit the Orlando Eye and Sea Life. The Orlando Eye takes about 20 minutes to do the whole tour. When you get on with a scooter, they stop the Eye for a moment while Norman boarded the pod. Regularly you just get one while it is moving, it moves very slowly. The view is spectacular though it is totally flat Orlando, not even a little hill in the horizon. We got there when a school outing was boarding but it did not take took long before we were on it. We were the only three in our pod, they board by groups.
After we went to Sea Life which is an aquarium, very nice, lots of different fish but much like most aquariums. We then walk outside, it is a nice area with different stores. We stopped at Ben & Jerry, so good the ice cream before our return home.
March 23rd
Today we visited Holy Land. This park is mostly about plays from some of the bible excerpts which last about 30 to 40 minutes each. The actors are very good and the production shows are well put on. It takes all day to take them all in.
April 1st
Today we went to the Kennedy Space Centre. It had been 11 years since we were there last. Lot has changed. We started with the bus tour which took us 2.5 hrs before we were back at the Visitor's Centre. All buses have a lift that can take one scooter/wheelchair. There is a bus every 10 minutes so not a problem. The lift is small but Norman's scooter just fit on it. We really enjoyed our day, the IMAX movie and all the others movies and exhibits. We decided that we will