Cruise to Caribbean Western
Feb 20 to Mar 3, 2017
Celebrity Equinox: Cabin 1026 Concierge - H/C balcony
Left home Jan 9 and returned April 8, 2017
Spent our time in Orlando, FL pre and post cruise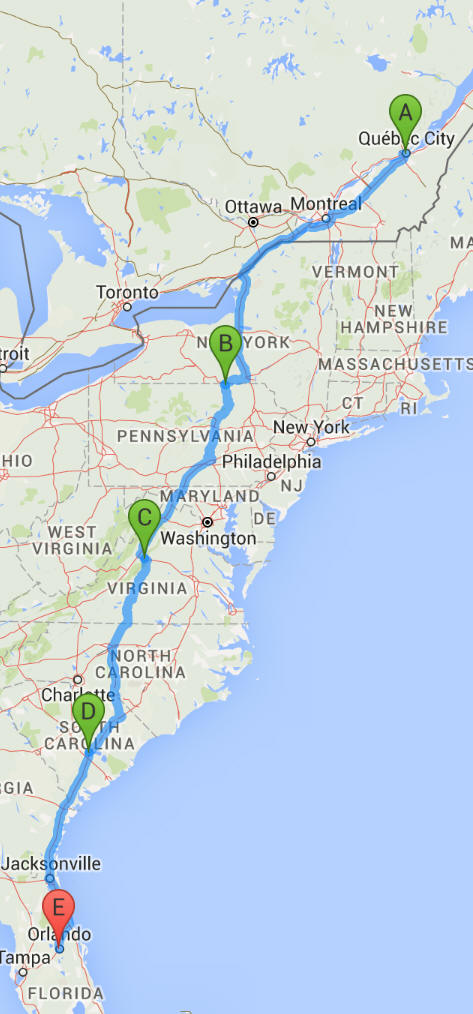 We took 4 days to drive to Orlando. We had nice weather all the way which is always nice during this time where you just never know.
We drove part way to Port St. Lucie where we stayed overnight in a hotel. We spent the day with some friends from back home.
We left around 9:30AM for our drive to Port Everglades in Fort Lauderdale, FL. We arrived at 11:30AM. We dropped off our luggage and parked in the overload parking at pier 19, our ship is at pier 18. We manage to get the last handicap parking spot and we are only a few minutes walk to the check-in.
We went through security. We checked-in, , got our seapass and boarded the ship. All and all it took about 30 minutes.
We have a Concierge Balcony this time so we were invited to the dining room for lunch, this was wonderful as walking around the ship with our carry-ons, rollator (that Norman needs in our cabin). Our cabin was ready at 1PM. But before we headed to our cabin I needed to check our table assignment in the dining room. Even though I always ask for easy access that is not what we got. We changed to a table for two but the people next to us are very nice so we talked a lot with them, it should be a nice dining experience.
We had muster drill at 3:15PM with sailaway at 4PM. We were over 500 from our Cruise Critic Roll Call and a lot showed up. Some friends I had not seen in 10 years and others it had been 2 years. Always nice to see familiar faces.
Celebrity Showtime: Comedian Robbie Printz, Robbie show is a exploration of the pitfalls of getting older, being a husband and father, and the reality of adulthood absurdities; delivered with high energy and a fast pace that keeps us laughing from start to finish. We really enjoyed the show.
Our Cruise Director is John Grantham and Activity Manager Justin which we have had before, he is lots of fun.
After the show we retired for the night as we were very tired from our day. It is always exhausting the first day on the ship.
Nice clear and sunny day today. Our temps for today 27C/81F. We have our Cruise Critic meeting at 11AM in the Tuscan Grill so we had breakfast in our room. Since we are in Concierge class we get more items on our list to choose from.
We headed to our meeting at 11AM. Love this time of day as we did not have to rush this morning. Many showed up at the meeting, this roll call was started in Dec 2014 (when we booked this cruise), we had over 11,000 posts. Mary made a spreadsheet that kept us all organized with private tours, private meeting for activities on the ship and more. She did a wonderful job. Our CD John was there and so was the Hotel Manager and many more officers. It was their largest gathering of the Cruise Critic that they ever saw.
We then stopped at the El Bacio for a cappuccino and a sweet. We sat with a couple from Newfoundland, very nice couple.
Then I went to Modern Line Dance Class with Activity Manager Justin, it was fun, I was surprise I could do it.
Since we arrived yesterday we are having trouble with our key to enter the room. The only thing I can figure out is when we have a drink (we have the Classic Drink Package) and they swipe our card it somehow stops working to enter our room. This was the third time we had to get our card change and we are only on day 2.
Celebrity Showtime: LIFE - A euphoric feel good show filled with a sense of Life, Light and Love. Featuring the Celebrity Equinox Production Cast Singers, Dancers and Speciality Performers.
Silent Disco Party, every one is wearing headphones so you don't hear the music but people are dancing and singing, very funny to watch.
Woke up this morning to nice blue skies with temperatures of 27C/81F. The are calling for showers later today. We are in port from 8AM to 4PM. This is a tender port. We had breakfast again in our room.
I am on a private tour with Dexter Tours organized by Sally from our Roll Call. We are 18. We met at the Passport Bar and left from there. There was no problem getting on a tender, there were no tender tickets as we have seen in the past, so it was great and fast. Dexter met us when we got of the tender. We boarded his large van and private car for a 20 minute ride to the marina where is sailboat is docked. We boarded the sailboat, we were given directives and off we went. Our first stop was swimming with the stingrays. Lots of other boats were there also with their passengers. We stayed about 40 minutes there. Most people got off the boat and did swim and touch the stingrays. I was one that did not swim with them. It would have been too difficult for me to get down the ladder. Our next stop was for snorkelling. The could supply all the equipment that one would need. We stayed there another 40 minutes or so. Again I remained on the boat. When all was done we sailed back to the dock then boarded the van and car to drive back to the dock where our tenders were waiting for us. It was about a 3.5hrs tour. I enjoyed it very much, anytime I am on a boat I am happy. Norman stayed on the ship.
When I got back to my room, guess what, my key did not work again. Before I left the ship I got a bottle of water so my card was swiped. We went down to Guess Services and asked if we could have two keys each so we would have one for our door and one for purchases. So that is what we have now. Let see if this continues to work.
Celebrity Showtime: Jordan Bennett in the Feel Good Concert. He is an acclaimed entertainer of film, TV and Broadway fame performs his surprising one-man show with all types of music, a touch of humour and a bit of the unexpected. The LA Times said: "Jordan Bennett is often quite mesmerizing".
Today we arrive at noon and depart at 8PM. It is a beautiful sunny day with temperatures of 32C/89F. We had breakfast in our room as I do have an excursion once we dock.
Gregg from our Roll Call organized a day at a beach resort called Maya Chan. We met the organizer outside the port where they had many taxi vans waiting to take us. We were 100 from our roll call. We were driven to the resort about a 20 minute ride on some roads that I will never complain about our pot holes. It was a really rough ride. Once there, nice resort. We were greeted with a welcome drink. We were shown to our chairs. We had two umbrellas, two long chairs and two strait chairs with a little table to put our drinks on. I spent the day with Mary, Kim and Doug. Mary and I did not go in the water but Kim and Doug had a nice time in the water. They also had free Wi-Fi. Lunch was served around 3PM. It was a tortilla buffet. Excellent food. We were asked what time we wanted to leave and go back to the ship, so we opted for 4:30PM.
Got back to the ship, had a quick shower then we both went down to the dining room for supper.
Celebrity Showtime: Amy Lee. I was tired from my day so we opted to skip the show tonight.
Today we are in Cozumel from 7AM to 4PM. Another beautiful sunny day with temperatures of 28C/82F. We had breakfast again in our room.
My excursion today was organized by Bill from our Roll Call called Cozumel Bar Hop. I did this excursion 2 years ago and really enjoyed it. I left the ship, the pier is very long but when I reached the end of the pier we were all stopped by security checking our bags that we did not have any food, fruit.
There was a dog sniffing our bags and a manual check by a security guard. We have to walk all the way past all the stores to where the taxis wait. There was our bus was waiting for us. Our guide was Colleen from Vancouver BC. She has been in Mexico for 22 years and has become a Mexican citizen. We travelled to the other side of the island where there is no electricity. Our first stop was the most beautiful place, we get a welcome drink and you can buy more if wanted. Our second stop was Coconuts Bar & Grill. This bar was built on a hill so there are steps to get up there. The steps are uneven so must be careful, there is a rope on each side of the steps to help which I did use. This bar has some animals like a dog, a Cockatoo, a Macaw and an alligator. Our third stop was Playa Bonita Restaurant-Bar. Here the drinks that you order come in large size glasses, they also have a jumbo drink you would need to share it as really large. Our fourth stop was Reggae Beach & Bar. I sat out on the beach with Pat & Kerry, it was nice and relaxing. All bars we got a welcome drink and you could buy more or order food. Our guide Colleen with Christian were the best, very informative about the island. I would recommend this tour if you come to Cozumel.
I got back to the ship around 2PM went to our room and Norman had not had lunch to we went to the Ocean Café for some lunch.
Celebrity Showtime: Comedian Michael Ziegfled - his quick-witted banter & off-the-cuff rants that trademark his performance as seen on "Saturday Night Live", "The Tonight Show", the movie "27 Dresses". He also toured with James Brown. He also performed for Her Majesty Queen Elizabeth II. We enjoyed his performance very much, he had us laughing from start to finish.
Today was our 2nd sea day. Sunny out with a few clouds. We were able to sleep in, I have not had good nights sleep since on the ship so this was welcomed. We missed breakfast but went for lunch in the dining room.
I had booked a massage for today and since they changed my appointment so I got complementary Persian Garden. I got a special yesterday where they were giving free neck messages in the Grand Foyer. 80 minutes for the price of 50. The time went by fast. Spent about 20 minutes in the Persian Garden on a hot bed, nice a relaxing. She also offered me a hot stone message complimentary on our 3rd sea day, she said it would be great for my fibromyalgia. Looking forward to this pampering. It is one way to spend my on-board non refundable credits.
Back in our room, watching an on-demand free movie called Me Before You. Good movie, which can be paused and held for 48 hours on that spot. Very good movie, we both enjoyed it.
Celebrity Showtime: Elysium - A journey through the seasons to a land of paradise known as Elysium. This was our second production with the cast singers and dancers. This was a great show.
We were up early this morning, we have clear skies and temperatures of 21C/69F. We had breakfast at the Oceanview Café.
How to Sound Like a Local - our CD John gave us the ins and outs of how to pronounce. Mario, our head of housekeeping, who lives in New Orleans for the past 12 yrs gave us some insight on what to do and don't and what to see and don't. Very informative.
We had lunch at the Ocean View today. We don't know when we will have dinner as we will be off the ship at that time to visit New Orleans.
We are cruising slowly down the Mississippi River at 8nts/hr. Nice and relaxing before we arrive at the Julia Terminal were we will all have to pass through Customs & Immigration. We all have been given a time to be there. When we passed through the immigration process we are free to go and explore New Orleans.
Once we got to Julia Street Terminal, we needed to go though immigration but since there was an medical emergency we were delayed getting off the ship for 45minutes. Our scheduled departure was 5:25PM so we had to add 45 minutes to that. We finally got off we were #2. The walk through the terminal was very long to get to immigration then again very long to get to Julia Street were we could go outside. I did not time it, but I will tomorrow. We did that and walk up Julia Street to Convention Centre Blvd. This is where we have to start to get to our destination for our tour in the morning. It was getting dark so we went back to the ship and arrived at the dining room at 7PM. We had time to eat and make our way to our room at 8:30PM and they were still calling number 12 to go to immigration. I am glad we number 2.
We are making a early night as we have a big day tomorrow.
Today it is warm 24C/76F, sunny with some clouds. We ordered breakfast in our room as we had an 11AM tour and needed to get to it.
We left the ship around 9AM and walked to the Decatur St./St. Peter St. where we were meeting our Cruise Critics friends to start our tour Voodoo & Cemetery Tour. It took us 1.5hrs to walk there. Our tour started at 11AM. Our guide Dario was excellent. While we were walking two men from our roll call took care of Norman to make sure he did not loose the group. They also watched me if I was hanging behind. It was very kind of them to do that. We walked to St. Louis Cemetery No. 1. He gave us the history on why they bury above the ground. New Orleans is situated below sea level so that is why the above ground as the land is very soft and the bodies could float away. I did take lots of photos of this cemetery. Norman enjoyed the tour very much, it was very scooter accessible tour. We walked back down to Bourbon St. We walked most of Bourbon St. Lots of people wearing Mardi Gras garbs. At one point we were walking in the street and the people on the balconies were trying to throw the beads in Norman's basket but was missing it and hitting Norman so we moved back to the sidewalk. Every corner has the cut outs for scooters but most bars and restaurants don't have access for scooters/wheelchairs. We did find a restaurant/bar Café Beignet where it was accessible and it had tables and chairs. I needed to rest for a bit. They also had live music so it was enjoyable break.
We finally reached Canal St. where the Trolleys run. All Trolleys have lifts for wheelchairs so it makes it easier to get around. I did not know that when we started out but nice to know. We took the trolley to the end of the line and instead of taking another trolley to Julia Street we walk to the Riverwalk which is a giant mall of outlets. We have never seen such a big mall, we walk and walk back to the terminal and finally back on the ship. We got back at 4PM.
We were both tired when we got back to our room. We rested a bit before dinner. We ate at our usual table.
Celebrity Showtime: Eric Buss - magician, comedy and one-of-a-kind contraptions into a non-stop ride of mischief and mayhem. His magic was good but the delivery was so-so.
It is cloudy with some sunny periods with temps of 27C/76F. We had breakfast in the Oceanview Café.
We started out off the ship with the intention of going to the Riverview Outlets but found out they are closed today because it is Mardi Gras it is like a sacred holiday. We went off walking a bit around before returning to the ship.
I am still very stiff from yesterday so we decided to relax on the ship in our cabin. We are facing the port which is nice. Out of all our ports of call this is the first time we are docked on the Starboard side. We can see one of the parades from our balcony. We were not able to get to the parades yesterday or this morning and it would have been hard with the scooter. We are happy with what we did our time here in New Orleans. We were able to catch one of the parades from our balcony and took photos of each float that we saw.
Being Elite Plus we each get 240 minutes of Internet, which is very nice perk.
Celebrity Showtime: Jayne Curry - she is warm inimitable stage presence and humorous observations on life, combined with show stopping vocals and hits from some of the worlds greatest divas, ensure her show delivers the feel good factor after every performance. We are so tired for our two days in New Orleans that we skipped the show tonight.
A nice warm day today with temperatures of 27C/80F and sunny skies. We had breakfast in the Oceanview Café, met a lovely Canadian couple from BC and we chatted for awhile.
Cruise Director John as a stuntman and actor - he did acting and stuntman in Los Angeles for over 20 years before becoming a cruise director. He is one of our best cruise directors we have had. He talked about how he became and actor and what drove him to be a cruise director. We found out that Cruise Directors are the 7th officer to command the ship in case of emergency. They have a 4 month contract and 2 months off. They typically do 2 contracts a year.
Beyond the Podium - Lisa Didier - The History of Forensic Science
Canyon Ranch - I had an 80 minute hot stone massage - wonderful especially after the two days we had in New Orleans. I was able to use up my non-refundable on-board credits.
Celebrity Showtime: Topper - Sir Stuart Peabody and his collection of eccentric friends live in a giant hat! Starring the Celebrity Singers, Dancers and Acrobatic performers. We missed the show, we are still recouping from our two days in New Orleans. We saw this show last year on the Eclipse.
Another beautiful day, clear skies, we have been very lucky with the weather during this cruise and the seas have been smooth except for one night slightly rocky.
We had breakfast at the Oceanview Café before going to our first event.
Oceans Ahead - Secrets of the Ship's Navigation with Staff Captain Matthaios - very interesting talk about the running of the ship, how they manage on the bridge. After the talk there was a Q&A.
Farewell Luncheon - organized by Mary. We were about 100 that participated in this luncheon. We had to sign-up on the Roll Call. We were served on the Port side away from the others that came for lunch in the dining room. It was nice to see some of the people we had met during our cruise.
Celebrity Matinee Showtime: A Broadway Cabaret - The Production Singers as they go through a journey of some well-known classics from Broadway and the West End. It was a very nice show put on by the 6 singers and orchestra. Each singer had a solo. I enjoyed the show so much.
Spent the rest of the afternoon in our room packing as this was our last day on the ship, we disembark in the morning.
Celebrity Showtime: Comedian Rondell Sheridan - He has been on the Tonight Show, the Late Night with Conan O'Brian, Showtime, Comedy Central and many more. I loved the show very much, good clean comedy.
We got an announcement that the Pier 18 where we were scheduled to dock, there was a tanker truck overturned filled with oil and we were asked to dock at Pier 25 and that they would provide free shuttle to the parking for pier 18. We were parked at Pier 19 as that is where the overflow went. I was just hoping they would have an accessible shuttle for people with wheelchairs and scooters.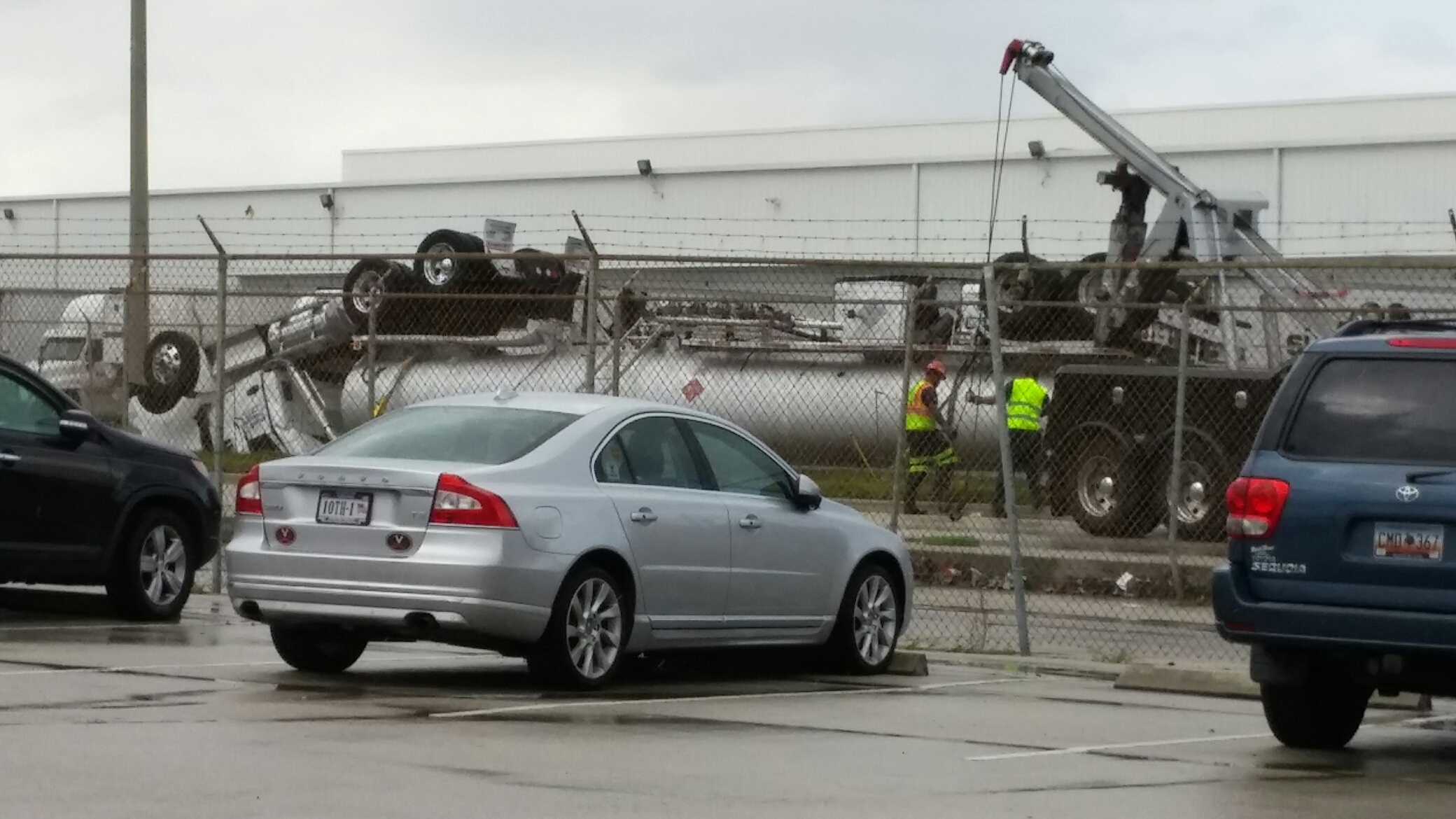 We had a departure lounge for the Concierge group with continental breakfast while we waited for our number to be called. We were debarking on deck 2, we made our way to deck 2 then found our suitcases and a porter to take and suitcases to the shuttle. But first we had to pass Customs and Immigration. Once outside we had to wait for the accessible shuttle and that is when the skies opened and we all got drenched like we had just come out of a shower. We dried up quickly and got the shuttle and he took us to the parking lot. I saw a man from the terminal and asked if he could help us with our suitcases and walk to our van with us and he did. We loaded up the van and off we went to visit some friends that are vacationing near Fort Lauderdale. We had lunch with them then we were on our way for a 3.5 hours drive to Orlando where we are staying until beginning of April.
We had a great cruise, nice weather, nice port of calls especially Mardi Gras in New Orleans which was the highlight. Even though we were not able to see a parade up close, we did have a great time on Bourbon Street.
The service was impeccable. Anytime we met a crew member they said hello to us no matter who they were.
The food was good, we have no complains, always cooked to our specifications.
The shows were very good. We always love the shows.