Cruise to Caribbean East & South
Jan 13 - Feb 3, 2012 B2B
(Celebrity Equinox: Cabin 6141 Balcony 2B - H/C)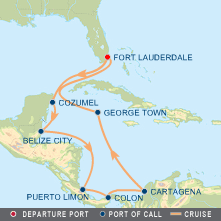 We had an early direct flight today, 6:35AM, I was able to upgrade to First Class when I check-in on-line. Norman was very happy and had no pain associated with flying coach. The thing I did not understand this morning as Montreal Airport has a curfew, can't fly out before 7AM, so why book flights at 6:35AM, makes no sense to me. Of course we arrived later than scheduled, that could not be helped. Once we gathered our luggage we proceeded to the landing where the hotel shuttles pick you up. I called the hotel to advise them that we had arrived. Checking in went well, we have an H/C accessible room with roll-in shower, perfect for Norman's needs. We are staying at the Candlewood Suites in Fort Lauderdale.
We left the hotel around 12:20PM for Port Everglades. There are lots of ships in today. The Equinox is at Dock 18. We ordered a handicap taxi which made it much easier for Norman. We were not far for the pier, the taxi cost $12. At the hotel, they were charging $8./pp for a shuttle to the port and we would have been cramped, so we made the right decision.
We got to the port, unloaded the taxi, gave our suitcases to the porters and proceeded to the security, then the check-in, then boarded the ship. We had learned on Cruise Critic that Bistro on Five was the place to go to have lunch on boarding day. They charge $5./pp, you are served at your table, get a nice lunch (either crepes or paninis) with a soup, desert and coffee. We did not have to fight to get on the elevators as we board on deck 5 and the Bistro is on deck 5. The announcement was made around 1:15PM that the cabins were ready. We were just starting to eat, so we took our time, let the traffic thin out and proceeded to our cabin. We have a handicap accessible cabin with a balcony. It is the identical cabin as we had last February on the Equinox.
We had the muster drill at 3:45PM and sailaway was at 4:30PM. I had organized a sailaway at the Sunset Bar on deck 15 for our Cruise Critic Roll Call. So we all met after Muster drill. I had made name tags for everyone, so it was nice to finally put faces to the names that we had been chatting with, for some, over a year. We had perfect weather; it was about 21C/70F, no wind, just perfect.
We had diner in the Silhouette Dining Room, this is the main dining room, we are on Deck 3 at a table for 8 with easy access, but for last night we were only 6 at our table. We all chose the prime rib and it was nice and tender as usual. It is one of my favourite meals on-board. We have very nice tablemates, so it should be a pleasant 10 days of dining.
Celebrity Showtime: An Equinox Welcome which consists of a snippet of the different entertainment we will be getting during our cruise. We had the Celebrity Orchestra, then the Celebrity Singers and Dancers, the Comedian (which was very funny), Top Shelf - the A Cappela Quartet.
After the show, finished unpacking and turned in for the night.
Woke up this morning, it was a little overcast but the sun did come out later in the morning. The temps are 27C/80F mid afternoon. The seas are very calm; we need to look out to know that you are at sea.
We had breakfast in Michael's. There are a lot of Elite on this cruise; there were lots there for breakfast.
We had our Celebrity Connection Party at 10:15PM. We have over 83 registered on the Cruise Critic Boards and about 42 showed up. Again I made name tags for everyone, which again makes it easier to find people you have been chatting with on-line. Our Cruise Director Jane was there. Celebrity provided the venue which was the Cellar Master's and provided refreshments also. It was well attended and everyone seemed to have a good time.
We also went to a Wine Tasting Seminar help by the Captain's Club. There we tasted 4 different wines and each was explained to us by the comelier.
We had lunch on Deck 4 at the Silhouette Dining Room. We had a nice lunch and again we are being served, which is always nice.
After lunch we came back to our room to enjoy some quiet time.
We went to the Elite cocktail and sat with one of our CCers couple, Jolene and Robin and we had a very nice time. We found out there are 412 Elites on this cruise. This event is held in the Sky Lounge.
Tonight is the first of two formals on this cruise. We met the third couple, at our table, and they are from Edmonton. They all made sure that Norman had the easiest access to the table, which we found very nice of them to do. The special that I usually take is the rack of lamb, which did not disappoint me one bit.
Celebrity Showtime: Equinox - The Snow - which was a celestial event celebrated in the European style theatrical circus. There were lots of contortionist, acrobatics, areal events. Excellent show.
We turned in after the show.
Today is warm and sunny, 25C/77F. We had a late breakfast in the Oceanview Café. This was our first time up there since we boarded.
We went to the pool deck and listen to B-Sharp: Steel Drum/Caribbean Entertainer. He seems to play at the pool every noon, at least while we are at sea.
We attended the Captain's Club Celebration where they serve gourmet tastings and cocktails. They also award the member with the highest cruise points; today the couple had 80 cruise points since 2003. The Celebrity Orchestra was playing, two of the Celebrity singers where there, the Captain also spoke. All the senior officers were there to greet and mingle with all of us.
Went again to the Elite Cocktail, there are lots of people at this event every night. I guess the free drinks are the draw... met one of our table mates there.
Dinner tonight was interesting; we lost the other Canadian couple and gained a North Carolina couple. Our table has been interesting, for sure.
Celebrity Showtime: "Showman" Craig Dahn - He is an excellent pianist and does tributes to the music of Elton John, Jerry Lee Lewis, Winifred Atwell, Liberace, Celine Dion and Lady Gaga. So as you can see the music was varied. He started off with the original Phantom of the Opera music and moved into the today's version of the music that was very interesting. Another great show.
After the show, there was a 50s & 60s Dance Party with the live Party Band, D'Revelation. They started off with a name that tune, off course we all new, then proceeded to play lots of our favourites. It was very lively and everyone was singing, including us.
It was hard to go to sleep; we were still pretty revved up from the dance.
What a beautiful perfect day today. We are in St. Thomas today from 8AM to 5PM. The temperature today is 26C/79F and sunny with some clouds.
We are staying on the ship today, so we got up late and skipped breakfast but had a nice lunch in the Oceanview Café. Love their setup, with lots of stations around with different foods, so you don't have to wait in line, you just go to the station that you want. It is a great system. We met the Assistant Maitre D' Alex, he was on the Infinity with us and he recognized us. It is amazing with all the people they see, they can still remember past cruisers.
Since we are taking it easy today, we went to see a movie "Beginners", the one that Christopher Plummer won a Golden Globe yesterday for supportive actor.
We spent the rest of the afternoon, enjoying our balcony and looking at million dollar yachts. The weather was the best.
We had reservations at the specialty restaurant "Silk Harvest" which had oriental meals family style, which means they put the meals in the middle of the table and you can then sample some of each meal. I would suggest at least 4-6 so you can enjoy more selections. We were only the two of us. Great service.
Celebrity Showtime: Comedian Louis Johnson - this is how he is introduced to us: If Richard Pryor and Bill Cosby had a kid, the result would be Louis Johnson. Johnson's energetic conversational style brings the audience to a comfort level that allows him to, as Rocky Mountain News states, "wander into tough subjects and still get a laugh." This comedian is very clean and very funny. We did laugh for the 45 min show.
Today was a very rainy day, glad that we stayed in. The temperature was 28C/82F. The showers came and went very fast.
We had lunch in the Oceanview Café again today.
Took pictures from deck 14, 15 and 16 of St. Kitts. Very colourful buildings.
Spent the afternoon, on our deck reading, relaxing this is what cruising is all about. We have been to these islands before, have done the circle island tours either with the cruise line or by taxi, and in St. Kitts we have done the train ride also which was very nice.
Backstage Tour for the Select and Elite is always very interesting to find out how the singers, dancers and acrobats got here. We saw where there costumes are stored, where they get fixed by the tailor and he also has washing machines and dryers to keep the costumes clean. We also saw the quick room change were they put a towel on the floor and lay out all of their costumes in the order that they will be warned. On stage the production manager explained all the technical parts of the stage, the parts that lift and how all of that is done on a computer with joysticks.
We went to our Elite cocktail, talked with a couple from Toronto, and then we went to dinner in the main dining room.
Celebrity Showtime: Vegas Headliner Tony Pace, he has an unbelievable vocal ability, hilarious musical comedy skill, and an amazing endless supply of explosive raw energy to the stage. He is known, in Vegas, as the Ultimate Performer and The Man With The Voice who just happens to be funny. We both enjoyed his performance very much.
We turned in after the show.
We arrived in Barbados for 9AM and we are here to 6PM. It is sunny with overcast (already had a quick shower) and the temperature today is 28C/82F.
We had a late breakfast at the Oceanview Café and we should be good for the day. We really only eat two meals a day while cruising and that seems to be plenty for us.
We decided, again, to remain on the ship. This cruise, the ship is our primary destination. We just love sitting on our balcony and watching what ever is going on. In port today we have the Carnival Victory, Freewinds (small cruise ship belonging to the Scientologists), Eclipse (large yacht) (please read article unbelievable) and ourselves.
Went to the cocktail and then to dinner. Had filet mignon, very tender...
Celebrity Showtime: Limelight - The Broadway Dream - A celebration of Broadway favourites, past and present. Another fabulous show by the Celebrity singers and dancers along with the orchestra.
After the show, we went up to the Sky Lounge for the Super Hits of the 70s Disco Party with Party Band D'Revelations, very energetic party.
Another beautiful day in Dominica. The temperature is 27C/81F with no humidity to be felt on our balcony.
Had lunch at the Oceanview Café, we both had sandwiches today, we were not very hungry. Took some photos from deck 14 of Roseau, Dominica then went back to our balcony to read, relax and watch what is going on in port.
Lawn Games with the Officers - this is again an Elite function; we missed this function as we took a nap an slept through it. We will try to make it next cruise.
There is no Elite cocktail tonight as they are having the Select and Elite Senior Officer's Cocktail from 7:45 to 8:30PM in the Sky Lounge. We went after dinner but there were too many people, could not find a place to sit, it was a success, great turn out.
Celebrity Showtime: Livewire featuring a whirlwind of music in true Celtic Spirit. They showcased their talents as they performed a variety of beautiful orchestrated arrangements in their own unique style. This is a married couple, he plays the electric guitar and she plays the electric violin. I am not sure if everyone liked this type of entertainment, but we sure did. Celebrity do have great entertainers.
We arrived here before 8AM. We are here from 8AM to 5PM, so lots of time if you want to shop. Since we are not shoppers, we find it funny to watch people rushing out to shop for jewellery. It is overcast today and the temperature is 27C/81F, just comfortable.
We have an earlier breakfast at the Ocean View Café, but did not eat much. I took photos from Deck 14 of the landscape of Philipsburg. We are the only ship here today, so it is nice to be able to see the mountains in front of us. We are docked on the Port side and that is the side we are on, so we can watch all the people walking by from our balcony. We have had good use of our balcony, we don't have to worry about getting chairs, and ours are always available. LOL
We had a small lunch at the Master Grill, this is where they grill hot dogs and hamburgers, which are very good, not as good as Norman's but good. The trick here is we did not have to make them.
It has been great to be able to connect to the Internet in our stateroom and balcony, no need to carry around laptop for hot spots. The connect speed has been pretty fast.
We went to the Elite cocktail before dinner.
Celebrity Showtime: Illusionist, Martin Brock- 27 year old Martin comes from Copenhagen, Denmark and presents a completely fresh and modern take on the art of illusion. His show is one of the most popular in the Celebrity Fleet, it is unique and not to be missed.
A beautiful sunny morning today, it is 26C/80F. Being at sea today we will be a little busier.
It was the brunch today for 10h30 to 1PM so we avoided that and went to the Oceanview Café for a peaceful breakfast. I then had to go and straighten out some of my next passages that I bought so the final result is I bought 2 next passages for Celebrity and 1 for Royal Caribbean. For the Celebrity we get for each cruise 2 Friends/Family that if booked on the same cruise as us, will get the same on board credit (OBC).
Cook This, Not That this is a culinary demonstration highlights ways to get the most flavour and nutrition for less calories when cooking at home. It is a fun show hosted by our Activity Manager Justin and our Executive Chef Eddie.
International Crew Talent Show - crew members entertain us with their hidden talents.
Elite Cocktail followed by the second formal night of this cruise. On the menu there is lobster tail always a big hit with passengers but I had mother's pork chop and Norman had duck ŕ l'orange.
Celebrity Showtime: Remix - music and motion...Remixed, this was another production show with the Celebrity singers, dancers and orchestra. Another great show. I can't say enough how great these shows are.
Overcast today 26C/79F. We did breakfast again in the Oceanview Café, this time I tried the waffles, they are very good.
We went to see the Glass Blowing (they come from the Corning Museum) and watch them make two pieces, the first piece he made was a goblet and the second piece was made by Jamie and she made a vase with angle wings. I took photos of the process she when through. it is amazing to watch.
We spent more time relaxing on our balcony watching the ocean go by. This cruise has the calmest we have ever been on, we hardly ever feel the ship moving in the whole ten days.
Elite Elegant Tea was being served in the Silhouette dinning room it was good and we sat with Ginger and Karen from CC.
Elite cocktail and final dinner of this first cruise.
Celebrity Showtime: A Voyage to Remember- this was a gala evening of entertainment featuring special appearances by stunning illusionist Martin Brock, the A Cappella sensation Top Shelf and the Production Cast and the Equinox Orchestra. We did not go to the show we opted for the movie "Brides Maids". I am sure the show was a hit.
When we got back to our stateroom, we had a note from the Hotel Director thanking us for choosing to do a back to back, gave us a nice water bottle holder with a water bottle and 20% off any reservations at the specialty restaurants if we book for Monday evening.
We arrived in Ft. Lauderdale early this morning it is 24C/75F, so it will be a perfect day for sailaway. I am just loving this weather, wish I could spend the rest of the winter down here, oh well, by time we get back home winter will be on its way out and spring will be coming.
The debarkation went well passengers were still getting off just before 10AM. For the back to backers we gathered in the Ensemble lounge, we are 85. This is becoming very popular. We were escorted off the ship, went through immigration (all the officers said to me, so you are staying on, have a great cruise). Then we were escorted back to the ship, this time we used our new SeaPass (card that is used on the ship for everything including getting into your stateroom). The first time you use your SeaPass you get your picture taken. We left the ship at 10:10AM and we were in the Oceanview Café by 11AM. The buffet only opened at 11:30AM but it was nice to find a table before the new guests arrive with their carry-ons. We came back to our room before they made the announcement, our stateroom attendant let us in as all the fire doors were closed. We had made that arrangement with him this morning before we left our room.
We had muster drill at 3:45PM as sailaway is at 4:30PM. I organized another sailaway party with the Cruise Critic Roll Call Members and made name tags for everyone. Over 50 showed up for sailaway, it was great to get such a good turnout. We watched Ft. Lauderdale get smaller and smaller as we got on our way for our new itinerary.
We have early dining in the Silhouette dining room. I had made a request to be on deck 4 near the glass partition so it would be again easier for Norman to get to his seat with his scooter. We got a terrific table #410. It is a table for 6 and two other couples have joined us, one from Edmonton AB and the other from RI. It should be a great 11 nights ahead.
We decided to skip the show tonight as we did not sleep well last night so need to catch up on some sleep.
A beautiful sunny warm day at sea 27C/80F. The seas are very calm we do not feel the movement of the ship.
We had breakfast at the Elite - Michael's Club this morning, love the cappuccino and smoothies, fresh squeezed orange juice.
This morning was are Connection Party for the Cruise Critic Members (which Celebrity provides a venue and refreshments) and we also had a gift exchange organized by Trish. I made up name tags for everyone, it was a success we had 51 members show up.
We are going to try the one of the series Behind the Podium with Destination Speaker Dr. Dan Premo - today the talk is about 1492 and Beyond. An overview of European conquest in the Western Hemisphere and the enduring consequences for both the "Old" and the "New World".
We ate lunch at the Oceanview Café, they a variety of food and I find the food very good and reasonably hot.
Another beautiful afternoon on our balcony, it has been a great time spent on the balcony in these calm seas.
Before dinner, we went to the Elite cocktail at the Sky Lounge. Tonight is our first formal night of this cruise.
Captain's Welcome Toast where Captain Michael Karatzas cordially invites us all to join him for a Welcome Aboard Toast.
Celebrity Showtime: Equinox - The Show - a celestial event celebrated in this European style theatrical circus.
We skipped both the Captain's toast and the show as we did that last cruise. We chose to come back to the room and get ready for tomorrow for my tour. Turning in early as I will be up very early in the morning, at least for me. I have a wake up for 5:30AM.
Up early this morning as I have a tour and have to be at the end of the Pier by 8AM and we only get the all clear at 8AM, should be interesting. Today should get up to 26C/79Fand there is a chance of rain, so bringing rain gear.
We ordered room service for breakfast as I find it easier than the buffet when doing tours.
My tour today was Tulum Mayan Ruins Express. We arrived at Playa del Carmen from Cozumel by tender (the seas were pretty rough and we did lots of rocking and rolling) where our bus was waiting for us. We relaxed in the comfort of our air-conditioned bus as we enjoy a scenic drive to Tulum while our English speaking native guide offered a colourful narration and explained the history and life in the Yucatan as well as the mysterious Mayan culture. We had a 20-minute restroom stop along the way to the ruins.
When we arrived at the ruins, our guide escorted us through the walled Mayan city and shared the secrets, facts, myths, and legends of this long forgotten society. We saw the Temple of the Descending God, the House of the Chultun, and the House of the Columns.
After experiencing Tulum, we returned to our bus and enjoyed a complimentary bottle of water along with a lunch which consisted of a ham submarine, banana, some nuts and cake on our ride back to Playa del Carmen, where the Federal ferry was waiting to returned us to downtown Cozumel (this ride was not as rough as this morning). The tour ended in downtown Cozumel which allows us time to explore and shop. From there, we (JP, Linda and myself) took a taxi back to our ship on at our own expense ($7.US).
Elite Cocktail followed by dinner.
Celebrity Showtime: Comedian Al Ducharme. He combines outrageous impersonations with uproarious parodies to deliver dynamic observational humour. With his brainy wit and zany sound effects, Al brings the peculiarities of everyday existence of life. Some of his sound effects were funny, but the jokes not so much.
We had another beautiful day, with some clouds with temperature of 29C/81F. Ordered room service again this morning for 6:30AM, we were up at 5:30AM this is way too early, haven't done this early since I retired.
My tour today was "A Tale of Two Cities", this was a half day tour that focus on the contrast between the ancient Mayan city of Altun Ha and the modern day Belize City. Althun Ha (Mayan for Rock Stone Water) thrived as a trading post to the Mayan World during the Post Classic and Classic periods. The site became famous by Dr. David Pendergast of the Royal Ontario Museum when he discovered the largest carved Jade Head depicting the Sun God Kinich Ahau. Today, Belize City is home to approximately 35% of the country's population and remains the commercial capital of the country. The city tour portion of the tour includes such historical sites as the Redbrick St. John's Cathedral and the colonial mansion which was once occupied by British Governors and has now been converted to a museum called "House of Culture."
We saw lots of kids in different uniforms, which depict the schools that they go to. If they skip school, they are escorted back and get a whipping, the boys on the rear and the girls on the hands from the school and the same when the parents find out.
Their first language is English, Belize is the only country in Central America that English is their first language. Their second language is Spanish and third is Creole but the English Creole. Belize is part of the British Commonwealth.
We saw also lots of houses partly constructed, they will build a wall and when they run out of money work more then build another and so on until the house is completed. Their roads are very narrow, in lots of cases only one real lane, so you have to pull over to let an oncoming car past.
Our tour ended at the Belize Tourism Village where complimentary refreshments and live entertainment was provided before returning to the ship. I gave my free drink away and walked towards the tender dock. Celebrity had the cold clothes and cold water before we boarded the tender. The tender ride was 30 minutes each way plus around 45 minutes and for loading and unloading. The reason we are docked out so far is the shore is too shallow, Belize is about 80 inches under sea level that is why their houses are built mostly on stilts and they park their car under their houses.
When we left Belize, the rudders were kicking up lots of sand in the ocean I took a photo of that.
Beyond the Podium with Dr. Dan Premo - today's talk was about the intellectual and cultural achievements of the Maya. The Maya created one of the most advanced civilizations of the Americas that made them so exceptional and yet so vulnerable to decline.
Elite Cocktail, would you believe we only have diet coke and our new friends Nancy and Jerry from London, ON have been joining us every evening.
Dinner at the Silhouette dinning room.
Celebrity Showtime: Livewire. We saw them on the last cruise so we did not attend. We were so tired, that we turned in early.
Another great weather day 27C/80F. We had a good nights sleep and we are ready for our day. We had breakfast at the Oceanview Café and talked with Peter and Ray from Woodstock, ON for awhile. They were very interesting.
Beyond the Podium with Bob Szaro - Life at the Top of the Tropical Forest. The Smithsonian Tropical Research Institutes has two canopy cranes to explore the life in the canopy. Bob is a Naturalist
Beyond the Podium with Dr. Dan Premo - Costa Rica: Central America's Democratic Paradise is long considered "different" from the rest of Central America. We are going to find out why.
Next I attended a computer class: The iPAD, iPOD and its Wonders - the Online Manager gave us some tips, tricks, shortcuts and popular APPs. I did learn about three new things that I did not know. I have an iPOD touch.
Elite cocktail with Wendy and Jerry before dinner.
Celebrity Showtime: Illusionist, Martin Brock - since he is the same illusionist as last cruise we will be skipping this show.
Woke up to another beautiful day in the Caribbean, we are in Puerto Limon, Costa Rica and the temperature was 29C/84F. We had breakfast in the Oceanview Café as my tour only starts at 1PM, so we are enjoying a restful morning on the balcony. The sun will be on the balcony for the afternoon. We are in port from 7:30AM to 7:30PM.
My tour today was Old Banana Route Train Adventure - We left in an air conditioned bus and travelled to Estrada. Along the way our driver stopped and picked up a bunch of bananas so we could each try a freshly picked banana, it was very sweet, very nice. Once we arrived at our first stop, which was the banana plantation, our guide took us into where all the banana trees were and he explained why they keep the bananas in a blue plastic bag that is so they all ripen evenly so it serves as a hot house. We saw the flower before it become a banana, and then he showed us very tiny bananas growing under each leaf. Then back on the bus for our drive to the train.
We travelled the world's famous historic, narrow-gauge tracks on the railroad they said "... couldn't be built!..." This was the railroad that gave birth to the banana industry and turned that fragile, delicious banana into a leading export crop. This train ride took us along the Caribbean Sea shore line, lined by hundreds of tall coconut trees. Pass glimpses of hidden homes and admire the crystalline rivers.
Our tour guide acquainted us with an insight into yet another astonishing region of Costa Rica. We learnt about the important roll of agriculture in the Costa Rica's economy, while we just sat back, relaxed and enjoyed a delicious snack on the train.
We did make a stop along the way on a beach where we could get off the train, if we wanted to soak our feet in the sea. Some did, but I chose not to get off the train. Once we reached our destination, our bus was waiting for us to return to the ship.
Elite cocktail with Wendy and Jerry before dinner.
Celebrity Showtime: Limelight - The Broadway Dream, this is the second production show and we did see it last cruise, so we chose to simply go back to our stateroom and watch a movie on TV. I have an early morning so did not want to stay up too late.
Today we woke up again to nice sunny day with temperature of 32C/90F but we have a nice breeze so very tolerable. We had room service for breakfast because I do have an early tour today. We are in Panama from 8AM to 6PM.
My tour today is Panama Canal Tour even though we had just done the Panama cruise in October I wanted to see the locks from a smaller vessel as you don't see the walls of the canal on a large ship. My tour started with a bus ride down the Transismic Highway that connects the city of Colon with the city of Panama and it is the only road that links the Pacific and Caribbean Sea.
We arrived at Gamboa Docking facilities where we embarked one the ferries, ours was the Tuira for 600 pax and the Fantasia del Mar that has a capacity of 400 pax followed us in the Canal. We had 10 bus loads of passengers so they split them up between both vessels.
We started the Panama Canal Journey by navigating through the second set of Locks call Pedro Miguel Locks from the Caribbean Sea; we did not do the first locks which are the Gatun Locks that have 3 steps. Our time to arrive at the Pedro Miguel locks was 1:30PM but the Captain was able to get us through at 1PM. After finishing the first step at Pedro Miguel, we cruise down the Miraflores Lake to the Miraflores Locks that are the third locks from the Caribbean Sea or the first locks at the Pacific entrance, this lock consisted of 2 steps and arrived at Gaylard Cut which is the Pacific side. This is were we disembarked and boarded our buses back towards the ship.
Gaylard Cut is one of the most important parts of the Panama Canal, as here is where the Continental Divide is located, and where most of the hard work of the Panama Canal took place. Here landslides and disease where among the issues that the U.S. had to resolve to be able to finish the construction of the Panama Canal.
Elite cocktail with Wendy and Jerry then dinner.
Celebrity Showtime: Ventriloquist Jimmy Tamley - he is one of the most sought after specialty acts in the UK. He is known for his incredible vocal skills and excellent comedy and characterisation. His unique approach to the art of ventriloquism challenges the usual perception of this fascinating art. We really enjoyed his act, good comedy.
We woke up again to another great looking day this is the dry season for all of these ports so it is a good time to visit them. We are in Cartagena from 10AM to 5PM. Today I have a private tour organized with some of our Cruise Critics friends so we ordered room service again. We were able to watch the Captain arrive in Cartagena and this time we are docked on our side which is the Port side or Left side.
The 15 of us met at Guest Relations this morning for 10AM then left the ship all together. Claudia (www.toursclaudiavidal.com) was waiting for us on the pier with our small 18 passenger bus. From the pier we headed towards La Popa hill for a fantastic view of the city, here we could see the sky scrappers, the poor districts, the forts, our ship and also the Grandeur of the Seas which is docked next to us. We visited the Monastery and Chapel of Our Lady of the Candle. This is the time of year were they do a novena and locals are not allowed up the hill with their cars, so they have to walk, the big celebration will be February 4th. We then road down the hill and headed for the San Felipe de Barajas Fort for a panoramic view from the bottom. When we got there all the tour buses were there, it was horrendous gridlock of busses.
Our next stop was the Dungeons, which are handcraft shops. From the fort, we moved on towards the old city. We got off the bus and did a leisure stroll in the old walled city admiring glamorous and legendary houses and plazas, passing by the Cathedral, the Inquisition Palace, Bolívar's plaza. At the end of the walk we visit the Sanctuary of Saint Peter Claver.
Then we headed towards the modern areas of the city to see the architecture, Claudia showed us the building where she lives. It is a condo. She has a live-in maid and all condos have a maid's quarters with a private bathroom. We saw all the skyscrapers and at the end the forts by the bay. We then drove to make a stop at the Pierino Gallo shopping plaza for emeralds, where we got refreshments and the history of the emeralds of course we end up in a jewellery section selling emerald jewellery.
There is no Elite cocktail tonight it was replaced by the Select & Elite Senior Officer's Cocktail party which occurred between the two dining times. This is where we get to mingle with the officers.
Celebrity Showtime: Greg Bonham "Up From Down Under". He is directly from Las Vegas the Aussie Powerhouse entertainer is ready to rock the house with his dynamic vocals and sizzling trumpet playing. From 'Australian farm boy' to being dubbed 'The Voice of Vegas' this is a fun filled, fell good show not to be missed. We last saw Greg on our Bermuda 2011 cruise, still a great show.
We had a very rock and roll night which finally put us to sleep. At one point there was a wave that hit our patio door, we are on deck 6.
This morning it is overcast with temperatures of 27C/82F. There was the grand brunch in the Silhouette dining room, we opted for the Oceanview Café for breakfast, not too many people there so much better for us.
This is our second formal night. We opted for a specialty restaurant called the Tuscan Grill which is an Italian steakhouse. There is a cover charge of $30pp and we got a $20 OBC because we could not go on the first night (which they had a 20% for back to backers). I had been sick the night before so was not feeling all that great on the first night of this cruise. I asked if we could do it another night, first I was denied, but then I spoke to an officer that we knew and we got $20 OBC for dining at a specialty restaurant. We found out that if you dine in a Specialty restaurant on formal night the dress code is smart casual so Norman will not need to wear his suit tonight. Another way to get out of formal night is to dine in the Oceanview Café which they have great food also.
Celebrity Showtime: Remix which is music and motion remixed by the Celebrity Singers and Dancers along with the Celebrity Orchestra. This was the last performance for this group of dancers, they had an 8 month contract and they are going home at the end of this cruise. There is a new group that came on for this cruise to start their contract. They have been rehearsing all week so they will be ready for the new cruise. They are trained in Ft. Lauderdale for 7 weeks before boarding the ship. All the costumes have to be fitted to the new group. The show Remix was great Celebrity does a good job with their shows and guest performers.
We woke up this morning to a beautiful sunshine and temperatures of 29C/84F. Since I have another tour today, we ordered room service for breakfast. This way we do not have to rush up to the buffet before my tour. This is a tender port and there are 5 big ships in town (2 Carnival, 1 Holland American, 1 Royal Caribbean and us).
My tour today is Downtown Walking Tour. This tour is a self guided electronic tour. We get our own personal electronic tour guide which gives us concise and video instructions. We had 11 destinations to go to. Our first was Historic Fort George. I saw City Hall, Heroes Park, the Clock Tower, Peace Memorial, the Law Courts (were they still were the wigs and robes as they are under the British Laws), the Library, the National Museum, The Craft Markets, Historic Elmslie Church and the Seamen's Memorial.
This is a very safe island, and with all the tourists from all the ships, the shops must do a great business.
After lunch at the Oceanview Café, we went to see a movie: Moneyball with Brad Pitt. Very good and a true story.
We went to the Elite Cocktail and Wendy and Jerry joined us. Then off to dinner.
Celebrity Showtime: Lindsay Hamilton - she is a star of London's West End, she has played in many most coveted roles in musical theatre history, including the roles of Eva Peron in Evita and Fantine in Les Misérables. Her astonishing voice and personality make her show a night to remember.
As we approach Ft. Lauderdale, is it getting cooler, today it is 23C/73F. We slept in this morning so we missed breakfast, but not to worry, lunch will be served shortly. We never go long without any food.
I went to the glass blowing auction the glassblowers always auction off 4 pieces, one from each of the artist and one collaborative piece. These pieces were made on this cruise. The pieces went for $475, $610, $700 and $1500. The last piece the money goes to breast cancer research and the other money goes to the Corning Glass Blowing museum for training of new glass blowers. Our Auctioneer was the ventriloquist Jimmy Tamley.
This is always a sad day when we have to pack. Our luggage must be outside our door before 11PM tonight.
Elite cocktail with Wendy and Jerry, the next time we will see them will be on our February 9th, 2013 cruise. Next we were off to dinner with our diner mates which is had a great time with, one couple from Edmonton, AB area and the other one from Maryland.
Celebrity Showtime: A Voyage to Remember featuring encore performances by Ventriloquist, Jimmy Tamley and Grey Bonham, singer and trumpeter, the A Cappella group Top Shelf and the Equinox Orchestra. This was another great show.
Our suitcases are outside our door. We will be on our way in the morning.
We woke up at 7:45AM this morning, being debarkation day. We took our time then headed the Elite lounge located at Tuscan Grill. They had coffee, tea, water, orange juice and Danishes. We decided that was enough for our breakfast and it was nice and relaxing there. There were lots of room as many passengers had already left the ship.
When our number was called we left the ship, but once in the Terminal it was a real mess. I was able to get a porter, gathered our luggage. A couple of older ladies wanted a porter and they were also taking a taxi so the came with us. Our porter headed for the handicap isle but we were stopped as they would only let the two of us but not the ladies. They had to get back in line. We headed then for a shorter line and convinced one of the terminal employees to let the ladies come with us. We went through the immigration & customs with no problem and out to the taxi line. There were no handicap vans so we did manage with a taxi SUV since the scooter folds.
Once at the Avis car rental, I had received a preferred customer card in the mail and found out that once you go for your car, there is an electronic board with names and car placement numbers. My name was there with C16 as the placement for the car. When I got to C16 my name was on the dashboard, this was the easiest rental pick-up ever. One of the employees said she would back the car up to where Norman was sitting with with the entire luggage.
Car all packed we are now heading for Weston, FL where we will stay in a timeshare condo for two weeks. I was able to secure both an A & B side so we invited my brother and my sister-in-law to join us. When we got to the reception, we were able to register right away, it was about 11:30AM but our condos were not ready. We all went out for lunch and shortly after we were given our keys. The condos are beautiful and super clean. It will be our home now for the next two weeks.
We were on the Equinox for 21 nights, it is a beautiful ship, love the Solstice class. Our stateroom was beautiful, had lots of room, which is essential for Norman to get around with a rollator in the room and to be able to turn the scooter around.
The food was very good in the main dining room and at the buffet. We love how they have the different stations at the buffet, so no lines and no waiting, you just go to the station that has what you want to eat.
The entertainment is always great, the production shows are not to be missed and the guest performers are mostly very good to excellent.
The staffs are always very helpful, always greeting you with a smile. They can't do enough for you.
Love the Elite perks, the ones that we really use are the free Internet (90 minutes each per cruise per person), free laundry (30 wash and fold - one per person per cruise), one free dry cleaning per cruise per person and as you probably notice is the Elite Cocktail every night from 5-7. We dine at 6PM so we are able to take advantage for the first hour.
Our next cruise will be in September on the Summit doing the New England/Canada for 14 nights.
Feb 5th, 2012, the weather was very humid so we decided that a visit to Sawgrass Mills Mall would be the thing to do. This Mall is the largest mall in the US. There are lots to see, lots of people shopping.
Feb 6th, 2012, we had lots of rain today, so again we decided to do an interior activity, we went to see the Packard Automobile Museum, lots of original Packards in there original state. Took lots of photos with the description of every one. We viewed a movie about the history of the company. We then went to the Olive Garden for dinner, always love that restaurant.
Feb 11th, 2012, we finally had a nice day that we decided to do the Jungle Queen Riverboat Dinner Cruise. We arrived a little ahead of time and found that they had reserve parking for handicap. We boarded the boat we had reserved seating with lots of place for the scooter. The cruise consist of an hour commented tour of Bahia Mar, Venetian Isles, New River, Millionaire's Row, Downtown Fort Lauderdale, Harbor Beach, Little Florida, Large yacht Storage Basin, Riverfront New River Jungles, Port Everglades intercostals Waterway before arriving at their private island where our dinner was awaiting us. They had reserved a place for the four of us for easy access with the scooter. Once seated, we were served baked beans, potato wedges, ribs that fell off the bones, BBQ chicken, cold slaw and for desert chocolate cake with coffee. After dinner we were treated to an outdoor theatre where we had a juggler and ventriloquist as entertainers. We did not think the juggler was that great but did enjoy the ventriloquist. After the show we boarded the boat for our return to the place we started.
We did enjoy seeing how the other half lives, some of these houses are so big and beautiful and the yachts well unbelievable. Also some of the yachts people actually live on them all the time. The city of Fort Lauderdale rents out the docks.
Feb 13th, 2012, today we visited Butterfly World which has 6 giant aviaries with butterflies, hummingbirds and other birds flying around amongst the beautiful bushes full of colourful flowers. They also have a butterfly museum with a live bug zoo. Across from the suspended bridge there is a macaw landing. There is a lorikeet aviary where you can feed the lorikeets and they will come on you, some kids had 6 of lorikeets on them.
Feb 15th, 2012, today we visited Morikami Museum and Japanese Gardens that are located in Delray Beach, FL. It was about an hour to drive there but well worth it. It is a century old connection between Japan and South Florida. This is the brain child of George Sukeji Morikami. When George was in is late 80s he donated this land to Palm Beach County with the intention that it remain a park to preserve the memory of the pioneering Yamato Colony. It is a very serine place, beautiful paths to walk and enjoy the vegetation around the beautiful lakes and waterfalls. We took the tour with a wand that explained what we were seeing, well worth it. We finished our tour by dining at the Cornell Café which serves very delicious reasonable meals. This day was thanks to a new friend that we met and will be sailing next February with. I however forgot my camera, so did take a few photos with my cell phone. We are intending on returning next January.
Feb 17th, 2012, today we returned home. We drove to the airport; I dropped Norman off with all the luggage and got a porter to take him to the counter while I return the rental car. It was funny it was the same porter as last year. When we got to the counter we were told that the plane was already 35 minutes late. We went through security and then had some breakfast while we waited. Our flight was uneventful we arrived in Montreal with temperatures +3C and very little snow anywhere. We are home now; we had a great time and now back to reality until the next trip.