Cruise to Caribbean East & South
Jan 31 to Feb 21, 2014 B2B
(Celebrity Equinox: Cabin 7141 Balcony 2B - H/C)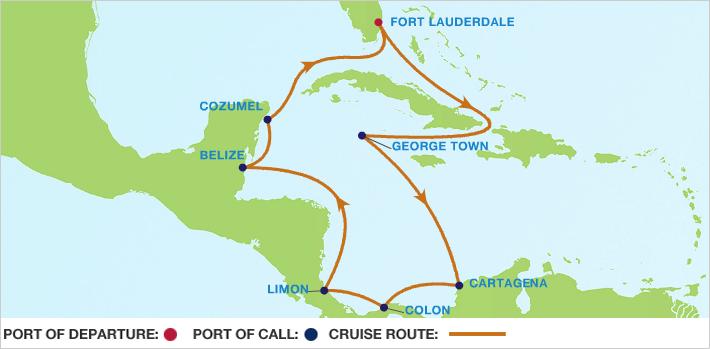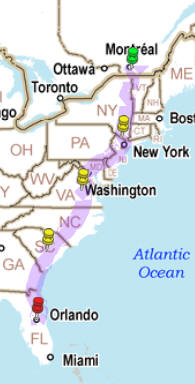 January 18th, we left at 7AM home to try and beat the boarder traffic since it was a Saturday. The driving was about 5hrs +, we did stop for breakfast in Plattsburg, not far from the boarder. At the boarder we went right through so I was happy about that. We stopped for lunch somewhere on the interstate 87 when we got out of there, there were big snow flakes falling but we ran out of them quickly but the roads were dirty so when I got to the hotel I filled up the washer fluid in the van.

We arrived around 2pm but wanted to go and find a grocery store which I did, bought a few stuff and we were back at the Hotel around 3pm.

We are staying at the Best Western in Ramsay NJ, the same hotel that we stayed when we cruised last summer. We have a handicap room as I have made all our reservations ahead of time. Norman really needs the bars in the bathroom.

January 19th, we have a great trip today, weather was great and roads dry. We left at 9:15am and arrived at our hotel in Glen Allen, VA at 3pm. We made good time. We are meeting a cousin of mine for the first time and will be going out to supper with Dinah, Jay and Jeffrey.

We had a great time getting acquainted. We will try and meet again on our way home.

January 20th, we arrived around 4:30pm today in Santee, NC, we did close to 600km but we stopped longer for lunch.

It was a nice sunny day, it is 20C here and we are parked next to a palm tree, the first signs of warmer weather.

January 21st, we arrived at my son's, in Orlando, around 5PM. We missed all the snow storms, great timing.

We did around 600km (360 miles) per day of driving.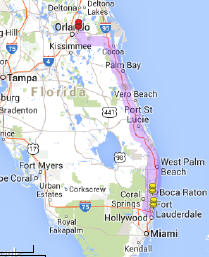 We left Orlando at 8AM today in the pouring rain. We had a 3h30m drive to Port Everglades, Fort Lauderdale, FL. Halfway through our drive the rain stopped. I am now thinking we will be able to have our SAILAWAY with our Cruise Critic friends.
We arrived at the port around 11:30AM, I was able to drop off our bags and left the carry-ons with Norman while I went and parked the van. We are at terminal 18 but the parking was at parking lot 19 on the other side of the terminal.
I walked back to the terminal to find Norman then we proceeded to do our check-in. This was very fast, once through security, we walked right up to the teller got our keys to our stateroom and we proceeded to board the ship. We were greeted with Champagne as we boarded. Since the staterooms were not ready until 1PM, we just walked over to The Bistro to have some lunch. It is easier to eat there as it is on the same deck at we board, so no elevator to take with our luggage. It is quieter and we are served, we find it more enjoyable than taking the elevator and going to the buffet.
Once our lunch finished we heard the announcement that the staterooms were ready. We then proceeded to find our stateroom.
We had the best surprise a mother could ask for, my son Stephen, whom we have been staying with in Orlando, surprised us on the ship, he had booked this cruise to surprise us and what a surprise, both Norman and I were in total shock, but nice shock. He will be with us for the next 10 nights on this first leg of our back to back cruises.
We had the muster drill at 3:30PM then we went up to the Sunset Bar, on deck 15, to meet our new friends from Cruise Critic. We met on the roll call for this cruise and chatted with everyone for over 18 months. Now we finally get to meet face to face.
We are trying to arrange that Stephen can join us for dinner in the dining room we are hoping by tomorrow the Maitre D' will have been able to accommodate us.
After dinner we went to the Equinox Theatre for tonight's show. Our Cruise Director is Paul Baya and the show tonight was a comedian Fred Klett. We enjoyed his show, it was clean, funny anecdotes, we were in stitches.
After the show, we all retired to our staterooms as the first day is a tiring day, with the packing, travelling, unpacking and all the rest that goes with a first day on a ship.
Today is our first sea day and what a beautiful day it is with temperatures of 25C/78F and sunny skies. I did not have a good sleep last night so I opted to miss the Connection Party that was being held in the Cellar Masters at 10:15AM. This was the first time that I ever missed one but I only got to sleep at 5AM, I am glad that I met most of the Cruise Critics at our SAILAWAY.
Stephen met us for lunch, we opted for the Silhouette Dining room, and we had a nice lunch.
Beyond the Podium by John Nichols who is a retired history teacher and the subject today was "You're Cruising the Same Seas as Columbus". We did learn new events concerning Columbus, very interesting talk.
Since we both were so tired from our lack of sleep, we both had a nap to catch up on some of our missing hours of sleep.
Tonight is our first formal evening. We did get our new table for four (#305) so we will be able to all eat together. Stephen opted not to do formal nights so he ate at the Oceanview Café.
On the first formal night there is always the Captain's Gala Toast (Captain Michael Karatzas) where he introduces his senior staff officers, he does a toast. Wine, Champagne and non alcoholic drinks are provided.
Showtime tonight: production show "Limelight" with the Celebrity singers, dancers and orchestra. When it started I was not sure if I was going to like it, but it did grow on me. It was a good show, lots of singing, dancing of Broadway Shows tunes.
Tonight we put the clocks ahead one hour.
We woke up to another beautiful day at sea, temperature 23C/75F. We had lunch in the Bistro. Norman took off to go to the restroom and bump into a chair in the Ensemble lounge and rip part of the skin off his left arm. When he came back to the Bistro, the Manager immediately called the nurse at the Medical Centre. We went down, the nurse bandaged his arm up tightly as he is on blood thinners and he will go back tomorrow to have the bandages changed. We filled out an incident report and there are no charges for the visit to the Medical Centre.
I went to see the Hot Glass Show where they make pieces of glass, as one is making one is commenting and the third is the assistant to the one making. They each take their turn either making, assisting or making comments. They will answer any questions that are asked by the audience. I have seen this done in many other places but here they take the time to explain every step that they are doing to make this piece. There is never the same piece made. The one making decides when he or she will be doing that time. It is very interesting to watch. I have watched them on the Eclipse also, it is very entertaining.
Showtime was the Super Bowl in the Celebrity Theatre, which was projected on a big screen. There was a tail gate party first. You should see the food that is laid out...a full buffet... We stopped there for a few minutes, no place to sit, so we are now in our stateroom watching the game on our TV.
What a beautiful morning in St. Thomas, blue sky, turquoise ocean and temperatures 26C/79F. I had a bad night, did not sleep at all, so we decided to stay on the ship and recoup some of my lost sleep. We went to the Medical Clinic to change Norman's bandages, we will have to go everyday for awhile. We went for a light breakfast at the Oceanview Café then came back to our room. I tried to sleep was able a little off and on with not great success.
Stephen was out all day on a sailboat where he did some snorkelling, there was a buffet served on the sailboat. He had fun though he found that the snorkelling was not as good as Tahiti.,
We met Stephen for dinner in the Silhouette Dining Room. After dinner we went back to our room as I was still not feeling great. We went to bed around 8:30PM and I did manage to sleep the whole night, what a relief...
Celebrity Showtime: Vocalist - Jayne Curry, she sings songs ranging from the theatre to some of the world's greatest divas, accompanied by the Celebrity Orchestra. We did not see the show so cannot comment on it.
We both had a great night sleep. It is sunny with some clouds with temperatures 23C/73F. We went down to the medical to get Norman's dressing changed then up to the Oceanview Café for breakfast.
We went of the ship into the port where there are lots of shops we did a little shopping it was nice just to walk around. They do have a shuttle that will bring you to and from the stores for a tip. You could have your photo taken with green velvet monkeys on your shoulder, we did not oblige. The nurse told us that one of the passengers got bit by one of the monkeys while taking a photo of them on their shoulder so think twice before you do this.
We are now Elite Plus as Celebrity added more levels. We are really enjoying the new perks especially the free Cappuccino and the extra minutes for the Internet. We use to get 90min/person and now we get 200min/person/cruise.
We met Stephen for dinner. He had a nice time today on his tour. He went to the Rain Forest. On the way there and back he got a history of the area.
Celebrity Showtime: Production show Remix which is a high energy tribute to pop, rock and international music starring the cast of the Celebrity Equinox. I am always amazed at the quick change into their new costumes. We enjoyed the show very much.
Love and Marriage Comedy Game Show in the Equinox Theatre hosted. This is a hilarious twist on the classic Newley-Wed Not-So-Newly Wed game show. There are three couples, one newlywed 3 weeks, one 8 years wed, one 35 wed. It is a very funny show. We get a great laugh out of it.
Today it is more overcast but you can still see the sun with temperatures 25C/77F. We both slept well last night. We were down for our daily change of Norman's dressing at the Medical. The nurse is happy how it is healing and is glad that we will be on the next cruise as she wants to see how the finish product will look like. We then went to the Oceanview Café for breakfast.
Once breakfast finished we headed out to the little shopping area in Barbados Terminal. This is a long port and we are docked the furthest, therefore the port provides a complimentary shuttle to the terminal. Celebrity arranged for a Wheelchair Accessible Shuttle Bus to take us from the ship to the Terminal. There was a lift so Norman was able to drive onto the lift. I did take a photo of this shuttle for those who might be interested. We walked around the terminal, visited some shops and when we were finished we boarded the same shuttle back to the ship. There is free Wi-Fi in the terminal.
Once on board, I went swimming in the pool in the Solarium while Norman watched me. We then came back to our stateroom for a little nap, that kind of a day.
We have reservations tonight at Murano, one of the specialty restaurants I asked if there would be any specials, so the Maitre D' gave us each 20%. Sometimes you just have to ask. We enjoyed our meal, Stephen had the lobster that was cooked at our table and Norman and I had the Chateaubriand for two. The service was superb but not sure if we would return even with the 20% discount.
Celebrity Showtime: Garett Oliver and his wife Alice. Garett is a ventriloquist that appeared on Britain's Got Talent the same year as Susan Boyle. He came in 11th in that contest. This was a great show he had the audiences in stitches.
After the show we went to listen to Elaine Abras Quartet - they perform jazz numbers and others.
It was another beautiful day sunny with clouds over the mountains. The temperature today is 27C/80F much better than home that is for sure. We did our daily visit to the medical the wound is healing very nicely then off to the Oceanview Café for our late breakfast. We only have two meals a day, breakfast and dinner. We both don't eat as much now this being our 37th cruise we know what to expect.
We took a little walk of the ship to see the stores, not much here, there are lots of tables set up like a flea market but I found the tables hard to get to. There are lots of taxis ready to take you on a tour. We have visited before so we just came back on the ship to sit on our balcony facing the town.
Just watching from our balcony, people strolling back at 4:42PM and we have to be on ship by 4:45PM as we sail at 5PM. Some love to cut it close.
As we were sailing away, I was able to take a photo of a beautiful rainbow.
Every night we have enjoyed the Elite cocktail but tonight is the Senior Officer's Cocktail Party which will be from 7:45PM to 8:30PM, between both dinners. We don't usually go as there are too many people for this gathering but if you do want to mingle with some of the officers it is a good place to meet them.
Dinner tonight is in the Silhouette Dinning Room with Stephen. Stephen had a good tour, they went to the rain forest, Trafalgar Falls and Sulphur Springs and he was able to swim at the falls.
Celebrity Showtime: Seonaid Aitken - Instrumentalist/Vocalist. Her name is pronounced "Shona". She is an extraordinary entertainer, not only as an outstanding violinist, but also as a pianist and vocalist. As the star of the famous performing group "Barrage", Seonaid has toured the globe and performed in many world-class venues often for heads of State. Seonaid and her talents have been featured with critical acclaim in various television performances for the BBC, CBC, PBS and the Bravo Network. We enjoyed her show very much and Norman especially since she comes from Scotland.
A beautiful day in Sint Maarten with temperature 26C/78F. We went down to the medical again today and there were other passengers there today, so far it has only been us when we went then up to the Oceanview Café for a light breakfast. Neither of us was very hungry.
We took a walk around the port area, very nice area with some nice little shops. It is very airy and very nice. We are docked next to a ship call Thomson Dream, this ship has no balconies, and it looks strange. I did talk to some people from that this and it started in Barbados yesterday and it is doing a 14 night cruise around the Caribbean. It is not handicap friendly as the gang plank only has stairs. We have a ramp and a pool boy is there to push the wheelchairs off and on the ship, very nice service.
Stephen came to our stateroom for sailaway, we were docked on the portside the side that we are on. He had a good day with his tour. He did a Catamaran snorkelling tour then took a taxi to visit more of the island.
We are dining at the Silhouette Dinning Room with Stephen tonight.
Celebrity Showtime: Comedy, Music & More of David Lucas. He has been a professional for 43 years in show business. He has performed in Las Vegas, Atlantic City, for our Prime Minister and for three US Presidents. He is a comic and juggler, did some pretty awesome juggling on a moving ship. We enjoyed the show...
It is a very beautiful sunny day today on our first sea day back to Fort Lauderdale with temperature of 28C/82F. We did our daily visit to the medical, Norman's arm is starting to look good, and probably by the end of the second cruise it will hopefully be all healed. We then did breakfast in the Oceanview Café despite there was a lovely brunch in the main dining room. I just find it hard to manoeuvre back and forth to the table, since we don't eat very much it is easier at the buffet.
Today is the Hot Glass Auction where they choose 7 pieces that were created during this cruise to be auctioned off six will be for tuition fees back at the Corning Hot Glass Museum and the last piece for Breast Cancer. While I was there they got for one piece $600 and another one $400 so they were doing great.
Beyond the Podium with John Nichols - Island Life: How it effects the People and their Lifestyle. He put on a very nice talk about what he has found out over the years by asking his taxi drivers about their life on the islands.
Tonight we have reservations for Tuscany which is an Italian Specialty restaurant. The food and service was impeccable. We will definitely do it again.
Celebrity Showtime: Equinox - The Show which is a celestial event celebrated in this European style circus. This Theatre was created for this show. This show resembles a lot Cirque du Soleil, all acrobatic, what these people can do with there bodies is unreal. We saw this show in 2012 and it is still a great show.
Tonight we put the clocks back one hour.
What a beautiful day today, sunny, with temperatures of 25C/77F and not a lounge chair to be had. We did our daily to the medical then a short breakfast as I wanted to go to the dining room for lunch.
We went to see the Star Chefs Competition where two of the chefs, with the assistance of two guests, showcase their culinary skills as they contend for the coveted best chef honours. It is Celebrity's take on Iron Chef. Each team get one minute to choose the elements that will be used in the creation of their masterpiece. They have 15 minutes to cook and plate their creation. Then three members of the audience get to try the dishes out and vote on them. The winning team won the Celebrity Chef book of recipes.
We had lunch in the Silhouette dining room, had Pad Thai which we both like with shrimps.
We came back to our room where Norman does what he does best and I watch a movie called The Great Gasby. The free movies on demand can be paused then at any time resumed watching. It will hold the pause for 48 hours.
Celebrity Showtime: A Voyage to Remember with the appearance of comedian David Lucas, instrumentalist/vocalist Seonaid Aiken, the Stars of the Equinox and Paul, our CD, sang with Candice "The Prayer". Paul surprised us with a great signing voice.
We said goodbye to Stephen as he leaves us now and we will see him when we finish our second cruise.
We arrived in Fort Lauderdale very early this morning. Stephen was off and in his car in about an hour or so. We took a leisurely time as we needed to be in the Quasar Bar for 10AM. I had made some provisions so we would not need to go to the buffet this morning. Around 10:30AM we were rounded up (all 44 of us that are consecutive cruisers) to go off the ship and through immigration. That process took almost an hour as we had to wait until all the passengers had left the terminal before the immigration officer would see us. We were then led back on the ship with our new sea pass card in hand to re-board the Equinox. By this time they had let some of the early passengers' board also. We went directly to the Oceanview Café for some lunch and waited until 1PM when our rooms were ready. Norman did his thing (looking at the inside of his eyelids) while I went to Guest Relations to bring my credit card authorization form, then to Shore Excursions to drop off my selections then to the Ilounge to create my internet accounts for this cruise. I needed to create an account for each of us then select the $99.99 package for each account which gave us 208 minutes each. I then drop off my free internet package ticket for the same amount of $99.99 that will show on our account and bring the balance to zero.
At 3:30PM we had Muster Drill, this is done before we leave the port. After Muster Drill, we went to the Medical to have Norman's bandages changed before we can join our friends from Cruise Critic for Sailaway, his arm is healing very well.
We then went to the Sunset Bar to meet our friends from Cruise Critic. By this time the ship had already sailed. I talked with some of my friends before we headed to dinner.
We headed for our new table #200 (a round 8 person table) and we met our new tablemats. Two couples are from Pennsylvania and one couple from New Jersey. We are going to have lots of fun and laughs with them during this cruise.
Celebrity Showtime: A taste of what's to come with our CD Paul Baya. The singers, dancers and orchestra put on a great show and one of the specialty acts did her act with 7 hula hoops. It was a nice beginning of what is to come.
We woke up to a beautiful sunny sky with temperatures of 26C/79F. We had our Connection Party with our Cruise Critic friends at 10:30AM in the Cellar Masters. This event is sponsors by Celebrity. Celebrity furnishes refreshments and our CD Paul was there to great us with some of the senior officers. We all introduced each other and Carole, our group leader, had us all grouped together for a group photo. It was nice to put faces to the people we have been talking with for over a year.
Beyond the Podium with Dr. Gary H. Kramer - The History of Astronomy. His talk was very informative and interesting. We hope to see more of him during the cruise. He is a Canadian that worked for Canada Health Department. He is since retired.
Since this was a sea day, the Silhouette dinning room is open for lunch. We had a great lunch, relaxing as it is nice to be served.
We went to the medical for 4PM instead of the morning. Then we came back to change for dinner. Before dinner we went to the Elite Cocktail. The cocktail was being held in the Sky Lounge as it was last cruise.
Tonight was our first formal night on this cruise. Everyone looked so nice.
Celebrity Showtime: Captain's Gala Toast and Showtime: Limelight with was a production show with the singers, dancers and orchestra. Since we saw this show last cruise, we decided to skip it. We went back to our stateroom to watch a movie called "Prisoners" with Hugh Jackman.
I was very sick last night so not much sleep. It is sunny with temperatures of 28C/82F. We told our stateroom attendant not to bother with our room this morning. We finally did get to sleep. I am sure it is something I ate.
This is a tender port and the tenders are furnished by George Town. We both stayed on the ship. We watched the SAILAWAY from our balcony and saw that there were other ships here today i.e. Celebrity Silhouette, Holland American Westerdam, one Princess Ship and one Carnival. We went to the medical at 5PM and tomorrow could be his last time. We went for supper in the Silhouette dining room and are having a great time with our tablemates.
Celebrity Showtime: Comedy Juggler Charles Peachock - this was a high-energy performance. He was on America's Got Talent and finished 11th the year he was on. It was a good show as far as a juggling show, not Norman's favourite type of shows.
We have been very lucky with the weather it is another sunny day with temperatures of 26C/79F. We both had a good night rest so we were ready to tackle the day. We had breakfast at the Oceanview Café.
Beyond the Podium with Dr. Gary H. Kramer - Life on the other Planets it does not seem likely that there are life elsewhere but who knows for sure...
We went to the Medical for the last time today, Norman's arm is healed up now, it was a long process but the medical teem did a great job.
We did go to the Elite cocktail tonight it seems we were missed as we did not go for the past two nights.
Celebrity Showtime: Sheonaid Aitken - Instrumentalist/Vocalist. Since we saw her show last cruise, we skipped her show.
We woke up to cloudy skies with temperature of 30C/86F. We had breakfast on our balcony one thing that I like with this class of ships is the table on the balcony is regular height.
I had a tour today and I needed to meet in the Theatre to be assigned my bus. My tour was Cartagena by sea by land. We were bussed a short distance to board our little boat. This part of the tour consisted of visiting the three parts of the harbour. We got to see the tall condos and apartments buildings. There are still building more so the economy must be good. Our guide told us that 30% of the population is rich, 50% are poor. We got to see some of their military boats, submarine. We also saw the fort from the water. We then went to a place for shopping here the big thing is emeralds. There were lots of vendors with tables full of their goods, they are a bit aggressive but I just say no thank you. We then boarded the bus and went to visit San Felipe Fortress. We climb the fortress from the street to the top I must tell you that is quite a climb. Our guide stopped at different levels to explain what we were seeing we even went though a tunnel were we could not see our hand in front of us. Once we got to the top, I took lots of photos our guide explained more the working of the fort. We had a little rest before our descent. I was having a tough time coming down and a gentleman helped me all the way down. People are very nice, when they see you having a problem someone will step up to help. Once we boarded the bus, we were driven back to the ship. The tour was for 4 hours.
We had lunch at the Master Grill, they have very good hamburgers.
We spent some time on the balcony then had a short nap.
We got an invitation to do SAILAWAY from the Helipad, but since it is not handicap accessible, we decided to watch it from our balcony.
We met our tablemats in the dining room. As we were leaving, every woman received a single rose complementary of Celebrity.
Celebrity Showtime: Jay Mattioli, Electrifying Magic & Comedy. He became one of the youngest magicians in history to be awarded by his peers "Champion of Stage Magic" twice. He was also a quarter finalists on America's Got Talent. This is a very high energy show for all ages.
Today it is cloudy with temperature of 31C/87F. We are docked on the Starboard side so we cannot see the people getting off the ship. Our stateroom is on the Port side. I had another bad night last night so I decided that I was not going to go on my tour. My tour would have been interesting as it was about the new canal. We had an early lunch in the Oceanview Café. I am not eating much. I slept most of the day and got us just in time for supper.
We ate in the Silhouette dining room with our tablemates.
Celebrity Showtime: Lovena B. Fox is a singer, actress and songwriter. She has performed on Broadway. Her lead vocals on 4 top 10 singles won the group 2 Juno awards (Canadian Grammy). She was inducted in the British Columbia Entertainment Hall of Fame. We enjoyed her show very much she is very energetic and great vocals.
Tonight we put our clocks back one hour.
Today it is overcast with temperatures of 28C/83F. We are again docked on the Starboard side but there is not much to see from the ship. We had breakfast in the Oceanview Café. We saw two of our couple tablemates having their breakfast.
We stayed on the ship today there was not much at the port and most of the tours I had done before. We had a nice relaxing day, Norman watched the inside of his eyelids and I watch two movies in our room. There are pretty good and recent movies offered for free. I watched "Christmas with Holly" and "Family" with Robert DeNiro. We later went to have a Gelato every Captain's Club member gets a coupon for a free Gelato. While we were there we each had a Cappuccino and talked with one of the bar tenders.
Celebrity Showtime: Remix with the Celebrity singers, dancers, and orchestra. It is a high energy tribute to pop, rock and international music. We did see this show last cruise, but we still enjoyed it seeing it again.
Today is it sunny with some clouds with temperatures of 26C/79F. We skipped breakfast as we wanted to go to the seminar.
Beyond the Podium: with Dr. Gary H. Kramer - The Science of Star Trek - where he shows all the blunders that were made during the series and film.
We then went to the Brunch at Sea in the Silhouette Dining Room it is nicely presented with lots of ice carvings. You could get anything you would want to eat for breakfast or lunch.
Beyond the Podium: with Dr. Gary H. Kramer - Scientific Theories that Were Wrong - he showed us some of the theories in all walk of science that no longer correct. He is a very interesting lecturer.
We spent some time in our stateroom, Norman checking the inside of his eyelids (his favourite pastime) and me on the computer, going around the ship, having a cappuccino and watching a movie (The Internship).
We went to the Elite Cocktail but staying away for any alcohol.
We met one of our other couples in the Silhouette Dining Room, one couple has gone to Murano for a romantic evening and the other couple went we don't know where.
Celebrity Showtime: Comedy with Steve Caouette - where he combines impressions, improv, sound effects and classic stand-up comedy, he pushes the 'comedic envelope'. He is an amazing impressionist and can create a perfect reproduction of a celebrity then bring that celeb into our everyday life. He had the audience in stitches he plays off the audience, very funny.
Nice sunny day again today with temperatures of 27C/80F. This is a tender port. We had breakfast at the Oceanview Café then I went down and took a tender to Belize City. Norman stayed on the ship as he would not be able to manage the stairs to get to the tender.
I walked around all the shops then I took the tender back. It takes 30 minutes each way by tender, so it is laborious.
Celebrity Showtime: Travis Turpin Vocalist and Guitarist. He is a superb entertainer as a vocalist with a rage of vocal styling from Broadway to Pop to Country and Opera and is also an accomplished guitarist. He also does vocal impressions and he knows how to put his audience at ease. Great performance...
Celebrity Central Showtime: Alan Chamo who is a Master of Mentalism (Magic of the mind) brings a unique form of mind-bending entertainment that leaves us laughing and scratching our heads in amazement. Great show...
Beautiful sunny skies with 28C/82F. We had room service for our breakfast this morning. I have a private tour at 10AM so it is just easier.
I had a wonderful private tour today that was organized by Carole from our Cruise Critic Roll Call. Our tour was called Cozumel Bar Hop which consists of visiting 4 bars on the East side of Cozumel Island. We met our tour guides Greg and Sylvia at our meeting place just outside the terminal. We were forty on the bus and all came from our Roll Call. We had a beautiful air conditioned bus. We left there and drove over to the East side where there is no electricity, the bars use solar panels. Our first stop was Punta Morena that is the most luxurious beach where you we enjoyed our free drink and then some ordered more. Also the nachos are very delicious with a hot sauce that I did not try. Our next stop was Coconuts which is perched on top of a seaside cliff and offers breath-taking views. It is fun-filled groovy atmosphere with amazing food and great margaritas. There is something to say about the wildlife there also. Next was Playa Bonita which was a favourite since 1979 with enormous cocktails and great views of the ocean. Our final stop was Rasta's Reggae Beach-Bar also known as The Bob Marley Bar and they are famous for having the best coconut shrimp on the island, the ones that had them really enjoyed the shrimps. This tour is not advertised on the ship tours you have to book it on-line but well worth it. You are seeing a part of Cozumel that you don't get to see and it is beautiful scenery. Most people travel by moped even sometimes with their families on one moped. The drinks are safe as they only use purified water for their water and ice-cubes.
Tonight is our second and last formal night on this cruise.
Celebrity Showtime: Equinox - The Show which is a celestial event celebrated in this European style circus with their own production cast. This theatre was created for this show. We saw this show on our last cruise so we decided to watch a movie instead.
It was a nice sunny morning at sea with temperatures of 26C/79F. We decided to eat breakfast the Bistro of Five, they are a crêperie, we both had a breakfast crepe then we shared a desert crepe, yummy yummy.
Beyond the Podium with Dr. Gary H. Cramer - the solar system, it was a very interesting talk.
Liar's Club Comedy Game Show with Steve Caouette, Sin City comics Jason and Kathleen and our CD Paul, they show a word and each of them give a definition and we have to decide who is telling the truth.
We went back to our stateroom to start the packing process, then off to the Elite cocktail to say goodbye to some of our new friends. We had our final dinner with our tablemates. One of the couples will be on our next February 15th cruise.
Celebrity Showtime: A Voyage to Remember with Steve Caouette, Travis Turpin, the Stars of Equinox and a surprise performance by the cast vocalist Candice and our Cruise Director, Paul. Excellent show...
Today was disembarking day. We were scheduled for 9AM but finally got of the ship around 10AM, found our suitcase minus one wheel, so now it only has 3 wheels. We passed immigration the process is slow as they have cut back the number of agents. Since we are handicap and with a porter we skip a lot of the long line. I did convince our porter to bring our luggage to the parking lot, we were in lot 19 and our ship was docked at peer 18.
We spoke to our friends Monique and Normand and we were meeting them at a restaurant in Deerfield Beach about 30 minutes from Fort Lauderdale. We had a nice time with them before we started our drive to Orlando.
We had about a 3hrs drive from Deerfield Beach to reach my son's place in Orlando where we will be staying until March 5th before we are back on our way driving home. We will reach home my March 8th.
We met my brother and SIL at my son's home and we went out for dinner at Olive Garden. We had a great time. They are staying for a few days in Orlando and they will be back here tomorrow.
Feb 26th, we went to the Titanic Museum here in Orlando. They offer a tour every hour on the hour so we took that tour. Our guide pretends that she is a steward in first class and she worked on all three ships and survived. She told us some interesting stories but I found that they did not have many artefacts from the Titanic. It is nice to see but the one in Branson is still our favourite. We have been there twice and intend on going back in May.
Feb 28th, we went to Disney World EPCOT for the day. The prices now are $100.11/person including tax and parking is now $15. We had the most perfect day for weather, low 70s not a cloud in the sky. We covered the whole park, the new world and all the countries. Stephen and I did most of the rides and Norman did a few with us. Norman likes to people watch so he was happy to do that.
We had a good drive home everyday the roads were dry except for the first day where we did get some rain. The only day that we had some traffic was Friday as we went through Washington, but we did still travel at 100km/hr just could not use the cruise control.
We are home now, as planned on March 8th around 5PM, until our next road trip, Branson, MO in May 2014.
We enjoyed our cruises very much, the first leg when my son surprised us on the ship. We had calm seas all the way sometimes you actually have to look outside to see you are at sea...
Our second leg was also great except we have very poor wait service in the dining room. We are looking forward to our next Caribbean cruise next February. We will be doing a 14 night on the Eclipse.