Cruise to Caribbean East & West
Oct 23 - Nov 6, 2010 B2B
(RCCL Oasis: Cabin 6232 D5 balcony - H/C)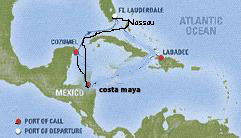 We arrived in Ft. Lauderdale on the 15th and stayed our first night at the Hyatt Place, a really nice hotel that I got on Priceline for $70. We had a suite with a bedroom and living area. We also had a continental breakfast included. We met our Cruise Critic friends Joe and Becky that will be on our Feb 12th cruise. They were going on the Oasis a week earlier than us.
On the 16th we moved into our timeshare condo at Pompano Beach. We are staying at the Wyndham Vacation Resorts and our unit #559 is in the Ocean Palms building. The resort expanses from the ocean to the waterways. We are facing the waterways. Some nice yachts pass by. We have a one bedroom condo with all the amenities, including a Jacuzzi, washer and dryer, dishwasher, all the comforts of home.
We left the condo around 9AM and headed for FLL. I left Norman at terminal 1 and brought back the car rental. Found & loaded a taxi and on our way to Port Everglades - Oasis. The taxi cost $25 with tip. We arrived at 10:45AM and we were on board the Oasis at 11:15AM. The embarkation is very fast, you line up by decks. They take your photo directly at the check-in desk and then off to board the Oasis.
Norman needed assistance to push his scooter up the ramp. Once on board, you arrive at the Royal Promenade, Deck 5. It is huge, indescribable, very nice...
We had lunch at the Park Café in Central Park Deck 8. We met some of our Cruise Critic friends Rev, Pat and Cindy there.
At 2PM we met our Cruise Critic friends that we have been talking too for the past 2 years at this informal meeting at the Scooner Bar. It was nice putting faces to names. We had a large turnout
At 4:15PM we had our muster drill. Ours is located at the Café Promenade, which was nice, we were able to sit and visit with our new friends Sue and Joe from Cruise Critic. We watched the safety drill on the TV screen and no life jackets needed for this drill.
Sailaway was at 5PM, we decided to stay on our balcony for sailaway. We had nice weather, lots of people cheering us on, even some swimmers as you will see on our photos.
Our dining is in the Opus dining room at 6PM on deck 4, table 451. This is the most inaccessible table we could have had. We saw our head waiter, Kirk and he is doing everything in his power to have us changed to a table near the door. When using a scooter, it is hard to navigate between the tables and chairs when everyone is already sitting. We should have a note in our cabin sometimes tomorrow.
This ship is big, lots of walking. So our next event was the show at 9:30PM which was the Broadway show Hairspray. For all the shows you need reservations, which we did on-line before we left. The only thing that was wrong with this scenario was, they were having a rehearsal so we could not get in before 9PM. So we waited outside the doors and of course as people arrived, it was getting very hot being in a small area. Once the doors opened, our sea- passes were scanned and we were allowed in. There is a bid area reserved for handicap, which was very good. This show was excellent, it was nice to see a big production show. It lasted 90 minutes.
After the show, we headed back to our cabin to retire for the night.
We arrived in Nassau at 7AM and we have to be on-board at 1:30PM. We got up at 9AM, slept really good, can't feel this ship moving. Our beds have a mattress pillow which makes for a very comfortable sleep. We decided to have breakfast at Johnny Rockets which is free for breakfast. It was nice hardly anyone there. There were some rehearsing going on at the Aqua Theatre and we saw 2 groups of new employees, that boarded with us, getting a tour of the ship.
After breakfast, we did our own tour of the ship. Took lots of pictures. We went to the pool area and Solarium. There were lots of people but also still lots of chairs available. Did I mentioned that this ship is huge, it is huge...
We are a full cruise, we have well over 6,000 passengers on the ship but we don't feel crowded.
Today the weather was perfect 29C / 84F, sunny with some clouds.
We got a notice that our table has been changed to 410A, which is right at the entrance of the Opal dining room, can't get more accessible than that.
We have new table mates, Toby and Barbara, that also needed to be near the door. They are from Vancouver Island, BC and also members of our Cruise Critic. In talking we found out they will be on of Feb 12th Eclipse cruise.
Our show tonight was Oasis of Dreams, in the Aquatheatre, at 9PM. Since it was formal night, we decided to change back into our casual clothing to enjoy the show. When we got to the show, we were told it was cancel due to the ocean waves and that it would be rescheduled.
We went to the Schooner Bar to hear the piano player Ed Manego, we were not to found of his music so we decided to make it a night are go back to our cabin.
Today started out foggy then cleared up to a warm 32C / 89F. Since we were having our Meet and Mingle from Cruise Critic at 10:30AM, we decided to order room service. Did not like the eggs, so won't be doing that again.
We got ready early so our stateroom attendant Corazon could clean up our room as our room was the first in the cabin crawl that was being held after the Meet and Mingle. Since we needed to be at Dazzles which is on Deck 8, we went to Deck 8 Central Park and stopped in at the Park Café to have a bite since I did not have much for breakfast.
We went to Dazzles for our Meet and Mingle. This is put on by the Royal Caribbean for our Cruise Critic group. They have door prizes, coffee, tea and some Danish and cookies. We were able to talk with some of our new friends. When the meeting was over, we were doing a cabin crawl which consist of viewing different cabins in different categories. Ours was the first on on the list to be viewed. We finished with one of the Crown Loft (Barbara and Butch) and they had a wonderful spread prepared for us.
Since Norman did not come on the tour, I went back to get him and we went to the Opal dining room for lunch. We had a nice lunch with 2 other couples.
After lunch we took a short break back at the cabin then we went out discovering again. Checked out the Royal Promenade to see what was going on there then we went up to see the Flowriders and Zipline. The Wipeout café serves hot dogs and hamburgers with fries, will have to try them out sometime during the week. Watch some boys shooting hoops.
Went for diner at the Opus Dining Room, we love our table and tablemates, so life is good. Norman and I both had the lamb shank, it was very tender.
After diner we had reservations at the Comedy Club with Joe Yannetty and Craig Carmean. We loved Joe, he played off the audience but Craig was not so funny.
We tried to go the Love and Marriage Game Show, but it was already packed, standing room only, we will try again next week. This is usually very funny. We then decided to go back to our cabin for the evening. We get very tired, lots of walking, wondering were do I get my frequent walking miles, LOL.
Well today, we are in St. Thomas, docked at Crown Bay. If you want to take a Shuttle to the main street for shopping, it is $4. per person. It is a beautiful day 28C / 83F, there are some clouds but mostly sunny.
We got up around 9:30AM showered and went to Johnny Rockets for breakfast. While there we had a downpour, so we move into the dining area. The rain only lasted minutes, but it really comes down.
After breakfast we took a walk around the ship, when up to deck 16 to take pictures of St. Thomas. We watched the NCL Sun dock next to us, it looks so small but I know it really isn't. We are not getting of the ship, the ship is our destination. It is so relaxing, just love it. We visited the Windjammer (the buffet restaurant) and had a very light salad and frozen yogurt.
We returned to our cabin to enjoy the balcony, facing some of the mountains.
We have a busy night tonight, so we decided to eat at Johnny Rockets for dinner ($4.99/pp). Before that we stood in front of the Boardwalk camera at 6PM so friends and family could see us on the Oasis.
We had tickets for the Oasis of Dreams, in the Aquatheatre (Boardwalk Deck 6) at 7:30PM (this was the rescheduling of the cancelled show), unbelievable. It is a little like "O" from Cirque du Soleil as the pool becomes a floor and opens at different depths of water. At on point the divers were so high (approx 100' they dove from the equivalent of Deck 17 to Deck 6 minus one Deck as there is no Deck 13). There were trampoline, acrobatics, synchronise swimming. You name it was there. The show lasted about 45min.
We made a mad dash (as mad as you can with a scooter and elevators) to the Opal Theatre for the Headliner Show at 8:30PM. We just made it about 2 minutes to spare. Tonight's headliner was Scott Record, he does lots of impressions, signing, tap dancing and he also a comedian. We were glad we did not miss it.
Then back to the Aquatheatre for 50's & 60's Rock 'n Roll Party with Center Piece for 10:15PM. Now the pool has become a dance floor. They had many of the passengers down dancing and a couple of contest (Twist dancing and see how long you could hold a note, the winner held his for 14 sec.) It was lots of fun, we were on such a high after that.
We went back to our cabin to relax and retire for the night.
We had a lazy start this morning, we both woke up at 10:30AM so by time we were ready to eat we had missed breakfast, but we will survive.
Another warm and sunny day with some clouds, it is 29C / 85F today, so most people are off the ship though there are still many on the ship. We again did not get off the ship.
We decided to eat lunch at the Windjammer Marketplace. I don't know why people complained about it, we find the food good, hot and with the different stations easy to get around. Of course we have only be there on port days, so not crowded.
Spent some of the afternoon at the poolside near the H2O zone, watching the kids in the pools, they have water guns and the squirt each other.
The ships that are in St. Maarten with us are NCL Sun, Ruby Princess and Carnival Dream.
Tonight in the Opus Dining Room I had a rack of lamb, was it every delicious.
Our show tonight was Frozen in Time Ice Show, it is amazing what they can do on such a small ice rink, excellent show, not to be missed.
We were going to go to the 70's Disco Street Party at 11:30PM but guess what, we were too tired, so we went back to our room and retired for the night.
Another great day, the seas are very calm, we can hardly feel the ship moving. Today it is 29C / 85F.
We missed breakfast again, what can I say, we are having a very relaxing sleep. We had lunch at the Windjammer's again then headed to the Aquatheatre.
At 12:30PM at the Aquatheatre there was a fashion show called Aqua Trends Fashion Show, which showed us the evolution of the bathing suits for both men and women.
At 1PM there was a Men's International Belly Flop Competition in the Aquatheatre. This is very funny and they have an underwater camera. Also they play instant replays, which make it very funny. We had lots of laughs.
Splish Splash Comedy Dive Show was cancelled due to rocky seas. We don't feel it but the pool's water was sloshing all over.
We went back to our cabin and found the 70's Disco Party that we missed on TV. It is quite a show. The Royal Promenade is wall to wall people watching your Cruise Director Richard Spacey and his crew dancing disco.
Tonight is formal night and Lobster tail is on the menu. Norman had two lobster tails and I had the Roast Beef, so tender.
Before our show we stopped in to hear two of the main singer of Hairspray, Tracy and Edna, excellent singers.
Our show tonight was Come Fly with Me at 9PM in the Opal Theatre, this show was beyond was we expected. There are aerial acts but also the Royal Caribbean Singers and Dancers. I must say all the shows were excellent and should not be missed. If you plan on going on the Oasis or the Allure, make sure to make your show reservation. You can go stand-by but you have to stand in line and wait until 10 minutes before the show and you will be let in but only if there is still room left.
After the show, we went to the Viking Crown Lounge to listed to Smooth Sailing Trio, they play dance music, excellent. When the took their break, which was over an hour they had been performing, we left and went back to our cabin to retire for the night.
Another late morning, but we made it for breakfast at the Windjammer's, I was able to indulge in my favourite smoked salmon & capers. Another warm day 29C /85F and sunny. The sun worshipers have had a great week.
We headed to the Aquatheatre for the snow Splish Splash at 12:30PM. You have to get there early if you want a good seat in the shade. Another excellent show put on by the divers.
After the show, we stopped at Johnny Rocket's for our 2 for 1 milk shake, can't remember the last time we had one, they are really good and so thick that we had to have a spoon.
At 2:30PM we have a meeting for the consecutive cruisers in Blades bar. We are 201 cruisers that will be back on for another week. They explained the procedure, we are to meet tomorrow morning at 9:45AM in the dining room to be escorted off the ship, go through customs then back on to enjoy the ship before the other passengers board at 11:30AM. They are also having a special lunch for all of us.
We had diner in the Opus Dining room, said good bye to our tablemates and will see them on Feb 12, 2011 as they are booked on that cruise also. Said goodbye to others that we had met during the week.
After diner we went to the Royal Promenade for the Farewell Dance Party, lots of good music.
We are back in our cabin now to retire as we have to get up early tomorrow as breakfast finishes at 8:30AM.
We have had a great cruise, weather was perfect, seas were perfect, we barely knew that we are on a ship. This ship is big, lots of walking involved. Elevators come fast, except for diner time, so we take an elevator up then go down, works all the time. When it comes to meals, you would think that it was the last meal that was going to be served. LOL
Access for the scooter is pretty good all over. Handicap seating for the Aquatheatre is non existent, so that makes it hard when you want to see the snows, we manages but just barely.
Even with 6000+ passengers, we never felt any more crowded than any other ship. It is amazing.
We enjoyed all the shows very much, would say they are a must see. The only show that was so-so was the Comedy Club, the first comedian was great, played of the audience but the second one could have stayed home. We have been told that there are two new comedian for the next cruise, so they probably change often.
We ate all our diners at the main dining room. We found the food very good, good selections.
Richard Spacey, our Cruise Director, is a very funny, one of the best cruise directors that we have had on any cruise.
We are glad we have a second week, as there are areas we still want to explore.
Well today is our turnaround. We got up at 7AM so we could get ready and have breakfast in the dining room, to find out it was a buffet, and I wanted to be served.
Another warm and humid day 28C / 82F with some clouds. Our neighbours (Susan and Bob) from last cruise gave us their bouquet of roses (Susan got them for her birthday cruise). They are so nice and it brightens up our cabin.
We had to meet in the Opus Dining Room for 9:45AM for all the consecutive cruisers (we are 201 that are cruising again). We left the ship and waited a few minutes in a waiting area in the terminal. We were giving our new seapasses and proceeded to Customs and Immigration. They only looked at our passports and we were back on the ship. It was 10:30AM. We came back to our cabin to relax and wait for our special lunch that will be served to all of us at noon.
The consecutive cruisers were invited to the Opus Dining Room for lunch. We ate with another couple from our Cruise Critics Keith and Trudy.
At 2PM all our Cruise Critic friends met at the Schooner Bar for an unofficial meet and mingle. It was nice to meet after talking for over two years on the boards.
At 4:15PM was the muster drill, our station is at the Promenade Café, same as last week as we have the same cabin. After the drill the Captain made an announcement that our schedule it being changed to stay clear of Hurricane Tomas. So now we are doing:
Ft. Lauderdale
At Sea
Cozumel instead of Labadee, Haiti
Costa Maya, Mexico instead of Cozumel
At Sea instead of Costa Maya
At Sea
Nassau, Bahamas instead of At Sea
Ft. Lauderdale
Tonight is the first night in the dining room so there is always some confusion for everyone to find their tables. We have the same tables 410A right in front of the door. We have our same waiter but a different assistant waiter and head waiter.
After diner we strolled in the Royal Promenade and just people watched for awhile then when to the Jazz Club to listen to Katia Lobozzetta Quartet perform. They are from New Zealand. They played some good jazz and some of their original music also.
After we went back to our cabin to retire for the night.
We woke up to calm seas, once again. We have sun and it is 27C / 82F, so another very nice day.
We had breakfast at Park Café on Central Park, it is really a nice place to be. Lots of plants, trees, like a small botanical gardens.
We had our Meet & Mingle party at 10:30AM at Blades. We mingles and Royal Caribbean plus Arvids our King Cracked CoCoNut (our group is named the Cracked CoCoNuts and many are wearing Cracked CoCoNuts T-Shirts). Arvids made up one t-shirt with all our names on the back and asked us to signed them, then the t-shirt became one of the door prizes. He also made up calendar magnets that had our logo on it. He worked very hard on this and we want to thank him for making this cruise so special.
After the Meet & Mingle, was the cabin crawl. We were able to see 6 different cabins which were Boardwalk Balcony, Balcony cabin facing the ocean, ours which was a Handicap accessible balcony cabin, Junior Suite, Owner's Suite and an Aqua Suite.
Our Captain gives us an update everyday and he said today that we should not feel any effect of the hurricane.
We had a very nice lunch in the Opus Dining Room then back to our cabin for a little break and enjoy our balcony. We are passing by Cuba now.
We enjoyed dinner at the Opus Dining Room. Lots of passengers were in Halloween Costumes.
After dinner, we went to the Royal Promenade to see the decorations and all the costumes. At 11PM there was the announcement of the winners for the best costumes and a Monster Ball Mash. We then had a little snack at the Café Promenade before retiring for the evening. We had a message waiting for us to tell us we turn our clocks back one hour tonight. All the messages are now on our TV and no more papers. We only get now is the events for the next day in paper and we can also find them on the TV screens in our cabin or around the ship.
We have some clouds but still sunny 28C / 83F. We had breakfast at the Windjammer again this morning, it is the only one that is open past 11AM. Slept in this morning and enjoyed the extra hour.
We docked in Cozumel at 8AM and all aboard is 6:30PM. This give a long day if you want to do some activities, like beach, parasailing or touring. We opted to stay on the ship, We have said all along that the ship was our destination. Not too many photos of Cozumel from the ship. In dock with us is the Radiance of the Seas, P&O Aurora and Carnival Dream. The seas are very smooth, we have not felt the ship move in many days and when it does, you really have to concentrate on the movement because it is so slight.
Tonight was formal night most dress up for this evening.
Our show tonight was the Comedy Live with AJ Jamal & Greg Otto. They were both excellent comedian, we laugh for the whole hour.
Next was the Love and Marriage, always a fun show.
Tonight we have to turn our clocks back again another hour, so we will enjoy another extra hour of sleep. I am almost sure we will loose them again during our two days at sea.
We are over 6,000 passengers again this cruise. It is amazing, you really don't feel the crowds except when there are events on the Royal Promenade, like last night. The Opal Theatre holds 1,400. This is really an amazing ship.
We arrived in Costa Maya around 8AM. Today's weather is 28C / 82F sunny wit some clouds. Another beautiful day. The seas as still very calm. I discovered this morning that the clocks did not go back an hour last night so don't know why we got that message, so fixed the clocks again so now we are back on ship's time.
We had breakfast again in the Windjammer. After breakfast took a stroll to take some photos. There is not much here in Costa Maya, it is pretty deserted. We can see a little town from the docks but and some shops at the docks, but that is it. The beaches are deserted and not clean. I was told that most of the people moved away after the last hurricane.
Speaking of hurricanes, we have not felt anything, we have had good weather, calm seas, so the route that the Captain has taken seems to be doing the trick.
Sat out at the pool deck for awhile. It looks like lots of people did not get off the ship or are already back.
Had a small lunch at the WipeOut Café, they have pretzel hot dogs.
Spent the rest of the afternoon in our cabin on our balcony, it is nice and quiet.
In the dining room tonight, our waiter only had us to wait on, so we got extra special attention.
Our show tonight was the Headliner show which featured The Texas Tenors who were featured on America Got Talent 2009. There group has only been performing for the past year, but they are terrific. If you ever get a chance to see them, don't miss it.
We have been so lucky with the weather, another nice sunny day with some clouds with a temp. of 29C / 85F. The seas are so calm, we don't feel the ship moving. The Captain is sailing at 13.5 knots in order to get to Nassau by Friday.
We were up a little earlier today, ate breakfast at the Windjammer's, had waffles for a change.
Spent the rest of the morning at the Aquatheatre so we would have chair for the Men's International Belly Flop Competition at 1PM. In the meantime, they had a fountain shows and a Aqua Trends Fashion Show. The Belly Flop Competition was a hit again this week, this is a very funny show.
We had lunch at the Wipeout Café again, love those pretzel hot dogs.
We again spent some time in our cabin as it is beautiful to watch the sea go by.
After dinner, we went back to Frozen in Time Ice Show, we saw it last week, it is very good show, the skaters do so much in such little space.
After the Ice show we found a place near the Schooner Bar were we could sit and watch the 70's Song Tribute. What a fun time. Richard Spacey is in deed the best Cruise Director. He is so funny. There are lots of videos on UTube that can be seen.
Tonight we turn the clocks ahead an hour.
I must say that this cruise is a real international cruise, everywhere you turn we hear a different language. There are also lots of kids aboard.
Well, surprise, surprise, we missed breakfast, so we had lunch at the Windjammer's. The weather today could be T-shorms with 28C / 86F.
We went to the Captain's Corner where the captain, Thore Thorolvsen, shares facts, stories and answers any questions from the audience. Very informative. Our captain has been with RCCL for 40 years and RCCL will be 40 years old on Nov 7th so our captain has been with RCCL since the beginning and he is very proud of the fact.
We spent some time at the Café Promenade people watching, always very interesting to watch people.
Tonight is formal night which means lobster night also. Our Head Waiter Sunil, waiter Rogelio and Assistant Waiter Caesar did a great job all week.
After dinner we went to the Opal Theatre on Deck 5 to see Come Fly with Me again. Since we sit in the handicap section in the back of the theatre, for this show it is best from Deck 5 as there are lots of aerial acts and we have a clear view. We saw this show last week, it is so good that we went back to see it a second time, don't miss it if you come on the Oasis.
After the show, we stopped at the Schooner bar to listen to Ed Manego on the piano. We enjoyed his music. We were later joined by Irene and Brian, Kathy and Randy our new friends from Cruise Critic. We chatted for awhile before we retired for the night.
It did rain in the evening but it did not affect us.
Today is overcast with temps of 29C / 85F. For those who think it is funny when we miss breakfast (and you know who you are) we just made it this morning. Most of the time we only eat two meals as that is enough. You could eat all day long if you wanted.
We are in Nassau today and we are here all day from 8:30AM to 4:30PM, much better hours than the first time we were here. We still remained on the ship. We have not been off the ship since we boarded. We have not felt like we were on a cruise, this ship does not rock. We have had calm seas, but even so, on other ships you do feel some movement but not on the Oasis, amazing.
Today is packing day as it is our last day on this beautiful ship.
We spent a quiet afternoon on our balcony, just love the balcony. There were lots of tour boats going by, some were partying...
After saying goodbye to the dinning staff, we went to the Schooner bar so we could watch the surprise goodbye with Richard Spacey.
Bags are all packed and outside our stateroom ready to be picked-up. We are scheduled to leave the ship at 8AM. Since we are Platinum, we will wait in the Opus Dining Room, Deck 3 where they will be serving a continental breakfast while we wait.
We woke up in Fort Lauderdale, Port Everglades this morning, this means the end of our cruise, so sad...
We had a continental breakfast in the Opus Dining Room Deck 3 for the Platinum and Diamond members. It was nice and quiet. Our tag number was already called but we were in no hurry to get off since our flight is at 12:10PM.
It was easy process getting off the ship and getting our luggage, going through immigration. From ship to taxi, approx. 15 min.
At the airport it took longer going through security than getting off the ship. We just found out our flight is delayed 15 min.
Our flight went well but the seats were so uncomfortable, we flew Westjet.
We have enjoyed ourselves very much on this cruise. It is a big ship, lots to do and see.
Because of the change in the itinerary, we had great weather and seas. Hurricane Tomas did not interfere with this cruise.
While in ports, we remained on the ship, as we had said that the ship would be our destination.
What I find lacking on the Oasis was about an hour between dinner and shows, there does not seem to be much going on. We had early seating. We have enjoyed our food in the Main Dining Room so did not feel the need to go to the specialty restaurants. We enjoyed every show we saw and saw some twice. The headliners seems to change every week and so do the comedians. We found our room spacious as were able to fit Norman's scooter and walker very easily (same amount of space as on the other class ships). We also had adequate storage space. What I have heard and seen of the regular staterooms with or without balconies, the space is smaller that on the other class ships (Voyager and Freedom Class) and a lot less storage space.
We have not ruled out that we would come back at some point but for now we have booked our future cruises on Celebrity until Jan 2012.
Until next time...