San Diego 2009
from Nov 11 to Dec 16, 2009
We had a great flight out to San Diego and was picked up by my son. We stayed at his new home for the whole stay.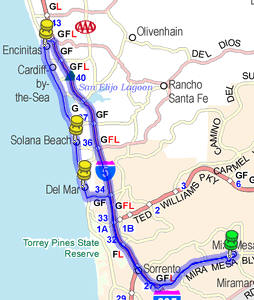 Nov 18th we took a drive up to Encinitas, CA. We had lunch and then drove back along the Pacific Coast line. We stopped at a few beaches to take some photos. Even if there were no one on the beaches, they are beautiful.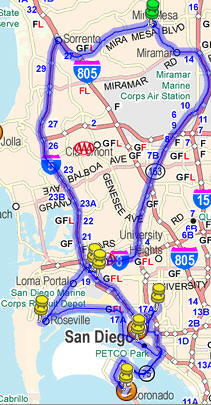 Nov 23rd we drove to Old Town and took the Trolley tour which is a hop on and hop off bus that takes you to different spots:
| | |
| --- | --- |
| | Old Town San Diego State Historic Park where you can visit Old Town Market, Historic District and many shops and museums. |
| | San Diego Harbor where you can visit the Maritime Museum, San Diego Harbor Cruises, Visitors Center and Midway Aircraft Carrier Museum |
| | Seaport where you can visit shops, restaurants and SEAL Tour of San Diego |
| | Convention Center where you can visit the Convention Center |
| | Horton Plaza Shopping Center which has department and specialty stores, Movie theater and restaurant. |
| | Gaslamp Quarter where you can visit William Heath Davis House, Historic District, boutiques, galleries and restaurants |
| | San Diego Bay front which has Petco Park, Embarcadero Marina Park and restaurants |
| | Coronado where there is a stop at the Ferry Landing or near Hotel Del Coronado and Coronado Beach |
| | Balboa Park which has many Museums |
| | Little Italy where you can shop, lots of restaurants and Antique Shops |
We did the whole tour, about 2 hours. We then went for lunch in Old Town and walked around Old Town.
Nov 30th we went to visit the San Diego Zoo. The weather was perfect, not a cloud in the sky. The first thing we did was take the bus tour around the park, which lasts 40 minutes. Most of my pictures were taken from the bus. Then, on foot, we did the Monkey trail on Easy Street. We wanted to see the Pandas that are located in Panda Canyon, so we went to Guest Services and they provided a shuttle for handicap. We were able to load the scooter on a lift. Once we were finished in the area, the shuttle brought us back to the main entrance.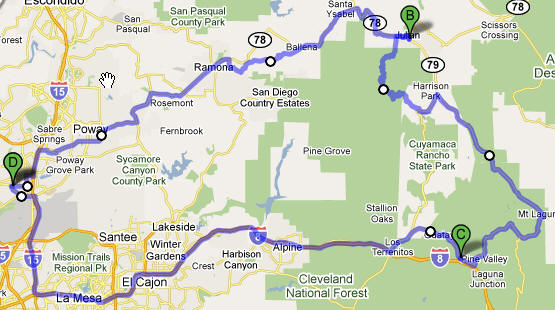 Dec 5th we took a drive down to Julian and Mt. Laguna where my son sometimes goes cycling. He wanted us to see what kind of climbs he does on this mountain. We stopped for lunch before returning to San Diego. It was a nice ride, lots of mountain views, we saw snow on the top of the mountains and on the side of the roads where the ploughs had passed earlier this week. The temperature up there was certainly at freezing point. Dec 7th we have had a very bad rain storm and all of the area that we covered from Julian to Mt. Laguna, on the 5th, is now under snow.